Craving some crazy for 2016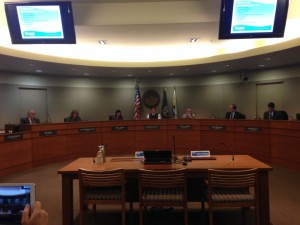 Reflecting on the Vancouver City Council's performance this year, there haven't been a lot of hijinks to blog about.
No shouting matches or punches thrown. Disagreements are polite. All council members come across as well-prepared, well-educated, thoughtful, earnest, good natured and articulate. I haven't observed anything underhanded, incompetent or embarrassing.
Given what I've seen of Ty Stober, who will be sworn in to his new council seat Monday night, the dynamic is unlikely to change. Another do-gooder with the city's best interests at heart. It makes me wonder what would have happened if wild-card candidate Justin Forsman had managed to unseat incumbent Bart Hansen in November's election.
Sigh. No fireworks, even when the council was outlawing them.
On the one hand, it's an example of what a smoothly functioning elected body looks like. On the other hand, for a journalist, it can be a little dull.
But still, I wouldn't trade the city beat for covering the Clark County Council, which seems to do something bizarre or outrageous on almost a daily basis. My fellow reporter Kaitlin Gillespie works so hard covering their antics that I sometimes wonder if she'll live to see 25.
Is it so bad, though, to crave a little more crazy in 2016?
A reporter can dream.