Communication breakdown at C-Tran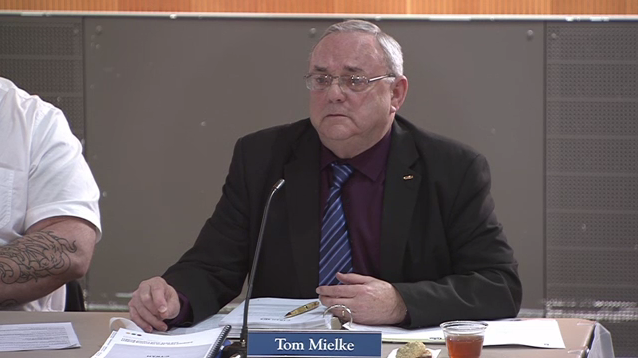 If this week's C-Tran board meeting was a game of musical chairs, Clark County Councilor Tom Mielke was the first one eliminated.
But just how did Mielke become the odd man out? That wasn't entirely clear during Tuesday's chaotic meeting.
Last fall, you'll remember, a 10-person committee voted to rearrange the membership on the C-Tran Board of Directors. The result dropped Clark County from three seats at the table to two.
The county has since challenged that outcome. At Tuesday's meeting, when the new board composition took effect, all three county councilors simply showed up and sat down like nothing had happened.
C-Tran asked the county to designate its two representatives back in November, but never heard back. So C-Tran put two spots for the county at this week's meeting, but left the names blank.
When the board clerk started taking a roll call, Mielke spoke up for the first county seat. Then Councilor David Madore announced himself present, before Councilor Jeanne Stewart added, "and Jeanne Stewart present."
Based on that order, C-Tran attorney Tom Wolfendale assumed Mielke and Madore would be the county's two representatives on the board. Wrong.
"I'd like to make a correction," Madore said. "Councilor Jeanne Stewart, I believe, is position one, and I would be position two, and councilor Mielke position three."
Madore continued: "And if the authorities find that the three is appropriate, then all three would sit. If two is appropriate, then the first two."
Wait, did Madore just boot Mielke off the board? Turns out, in December, the county had drafted a letter stating the same — that Stewart and Madore would be the two C-Tran board members, with Mielke the alternate. But when the county decided to challenge the new composition and threaten legal action, they never sent it. That left C-Tran to guess during the meeting.
Eventually, the board voted 7-2 to move forward with the meeting and accept the new composition. (Guess who the two no votes were?)
Then, without being called on, Mielke chimed in: "Councilman Mielke votes no."