Chronic confessions: Which local pols have tried pot?
Unlike other businesses they are asked to create zoning regulations for, pot has evoked some strong negative feelings from some local elected officials. Part of what's influencing their feelings, of course, is their personal opinions about the drug. So we thought it was fair game to ask whether they've ever tried marijuana.
We also thought it was no big deal to ask the question. Times have changed since Bill Clinton's ridiculous "I didn't inhale" answer in 1992.  President Barack Obama, who smoked pot when he was younger, recently said he doesn't think pot is more dangerous than alcohol to the consumer.  Obama topped the Marijuana Policy Projects list of Most Influential Marijuana Users, ahead of other high achievers such as Oprah, Clinton, John Kerry, George W. Bush, Michael Bloomberg and Martha "Of course I know how to roll a joint" Stewart.
So admitting trying marijuana doesn't doom public figures. According to a 2013 Gallup poll, 38 percent of American adults said they've tried marijuana, reflecting only a slight increase from a 1985 poll in which 33 percent of respondents said they've tried it.
From Gallup: "Gallup's trend by age reveals that widespread experimentation with marijuana first occurred among adults aged 18 to 29 between 1969 and 1973, rising from 8% to 35%. It then continued to mount, reaching 56% by 1977, and remained at that level in 1985. Since then, however, marijuana use among young adults has progressively declined. At the same time, as the bulge of young adults who tried marijuana in the 1970s ages and replaces older Americans who never tried it, the rate of all Americans who have ever tried the drug has increased slightly."
OK. Now about our poll.
I emailed Vancouver Mayor Tim Leavitt and members of the city council, as well as the Clark County commissioners and asked whether they've tried marijuana, in any form.
Tyler Graf queried officials in the small cities.
On the Vancouver City Council, the "yes" won by a 5-2 margin, with the oldest members saying no.
Larry Smith, 71: "Never have in my entire life and never will. I have never smoked, either."
Bill Turlay, 78: "Nope. Never been in the presence of anyone who was using marijuana. Don't even know what it smells like. Why do you ask? What does ever having tried it have to do with zoning regulations?"
Commissioner Steve Stuart said yes, joining Mayor Tim Leavitt and Councilors Bart Hansen, Jack Burkman ("I went to high school in the '60s and college in the '70s. Of course I've tried it.") Alishia Topper and Anne McEnerny-Ogle in the "tried it" crowd.
Big Stu has tried marijuana? Big surprise.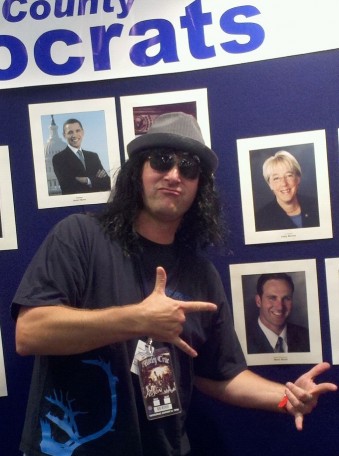 Commissioners Tom Mielke and David Madore didn't respond. As a reader reminded me via Twitter, we do have this undated photo of Madore, sent to us by his friend Josephine Wentzel.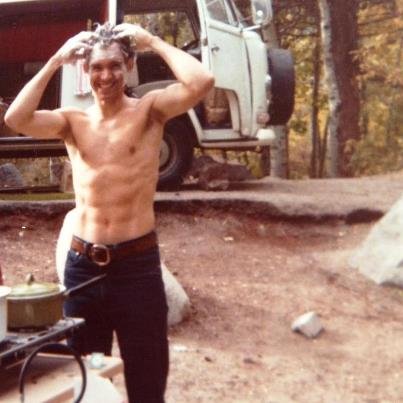 Is that a VW van in the background? Hmmm. Inconclusive, I know, but my first exposure to pot smokers was onscreen in "Fast Times at Ridgemont High." What can I say? It made an impression.
Tyler asked Ridgefield Mayor Ron Onslow, who, according to the state Liquor Control Board, won't have to worry about having stores in his city but, c'mon. It's Ron Onslow. We had to ask. He used to own a restaurant!
Onslow, 75: "The recreational choice was — what was it, Boone's Farm, Mad Dog 20/20? There was no marijuana when I was young."
Other officials:
Battle Ground Mayor Shane Bowman: "I've never done that."
Battle Ground City Councilor Adrian Cortes:  "To answer your question, no, never smoked it — ever. Same goes for regular tobacco cigarettes; however, I do enjoy a cigar on occasion."
Camas Mayor Scott Higgins: "I have never used marijuana in my life. I don't think that's any surprise coming from the only elected official in Clark County who's a minister."
Not even a moment of experimentation in college?
"I went to a Bible college," Higgins said.
Washougal Mayor Sean Guard: "Nope. Never went there."
Washougal City Councilor Brent Boger (an assistant Vancouver city attorney advising the city council on pot regulations): "Yes. Last time in the '80's. Three or four times in my whole life. It had no effect on me. I understand it's more potent now. I've been to Amsterdam two or three times since then and walked right past the coffee shops."