(CAPTION CONTEST) I'll get dat pesky county managew
Let me start out by saying I'm not trying to turn this into a battle between dueling blogs. I'm really not. But the latest from ClarkCounty.info is too great not to share.
Recently, I wrote about how someone scattered print-outs of a blog post from the conservative-leaning website lambasting Acting County Manager Mark McCauley on county employees' cars. Late last week, through a public records request, I got some security footage of the rascals involved. And the photos are amazing.
The images show a pair of men wandering around the Public Service Center's garage holding stacks of paper. Apparently pleased with themselves, the pair actually high-fived directly in front of the security camera.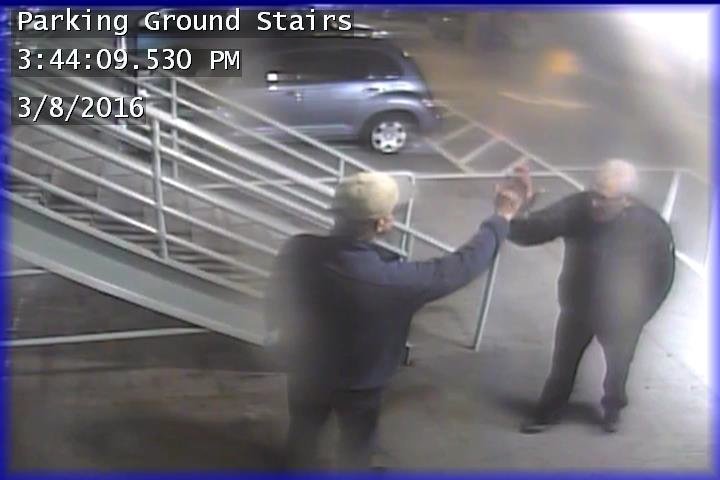 Republican Councilor Julie Olson reached out to Steven Nelson, a Republican precinct committee officer, to identify the men involved. I, in turn, reached out to the two men Nelson identified, including ClarkCounty.info founder Mark Engleman, asking for confirmation or denial, because, let's be real, this is hilarious.
I never got the answer to my question, but Engleman addressed the issue in a blog titled "Clark County public employees will suffer – They should know what is happening." Engleman later emailed me a link to the article, just for the record.
In that post, Engleman writes that members of the ClarkCounty.info team recently placed copies of the article criticizing the "interum [sic] county administrator."
"We know the dwindling readers of the prior paper of record, the Columbian, could care less about people putting flyers on vehicles," Engleman wrote. "Some, however, might care to know why citizens are done with the corruption and incompetence of our county government."
But guys, let's go back to what's really important here. How incredible is that photo of the two men high-fiving? What do you think they were even saying to each other at that moment? Submit your best captions in the comments below. The winner gets a sense of personal satisfaction and the right to high-five yourself.