C-Tran board: Call me maybe?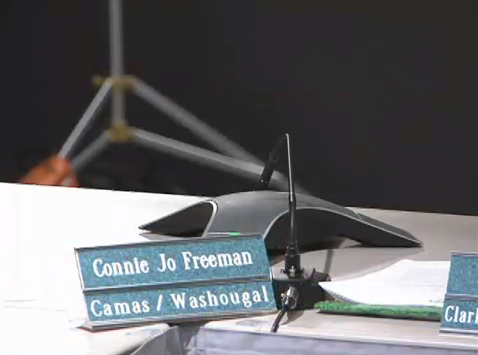 Following a couple of recent instances of telephonic governance, the C-Tran Board of Directors is considering setting new rules on how — and how often — board members can call in for meetings.
A C-Tran board member has participated in a meeting by phone on two occasions this year. Former County Commissioner Steve Stuart phoned it in for his last C-Tran meeting in April, and Washougal City Councilor Connie Jo Freeman called in last month. (Both meetings, coincidentally, involved key votes on bus rapid transit.)
At its meeting last week, the board discussed a draft policy that would limit phone participation to two times per year for each member. One possible version of the rule would allow electronic attendance only under certain conditions, including if that board member's alternate is also unable to be there in person.
The proposed rules drew a mixed reaction. Freeman said board members should be able to bring their experience to meetings even on rare occasions when they're not able to attend in person.
"The fact that we've served on these boards and we have the history, and we just happen to be out of town through no fault of our own, I really would like to see that we're able to (participate) on the board if we're physically able to," Freeman said.
Six of the board's nine voting members have alternates. The three county commissioners, and the board's non-voting labor representative, don't. Roy Jennings, the labor representative, said he'd prefer to see other members' alternates sit in if someone is absent.
Jennings pointed out that Freeman phoned in for last month's meeting while her alternate, Camas City Councilor Greg Anderson, sat in the audience. If board members are allowed to call in as they wish, Jennings said, "why do we have alternates?"
In general, sitting C-Tran board members bring a better perspective than their alternates, said County Commissioner David Madore.
"Some of these issues and some of these projects have a lot of depth to them and a lot of history, and realistically, the alternates are not tuning into all those conversations," Madore said. "The continuity we can bring, a more informed participation, is important."
"I would think it would be better to allow the board member to decide what they think is appropriate," Madore added.
Ridgefield Mayor Ron Onslow has frequently pinch-hit for La Center Mayor Jim Irish in recent years. Yacolt Town Councilor Lewis Gerhardt has also sat in for Battle Ground City Councilor Bill Ganley.
C-Tran doesn't currently have written policies on phone participation in meetings. The board didn't take any action last week.
All board members, by the way, were there in person.