"Boys of Steel 2: Not Faster Than a Speeding Bullet"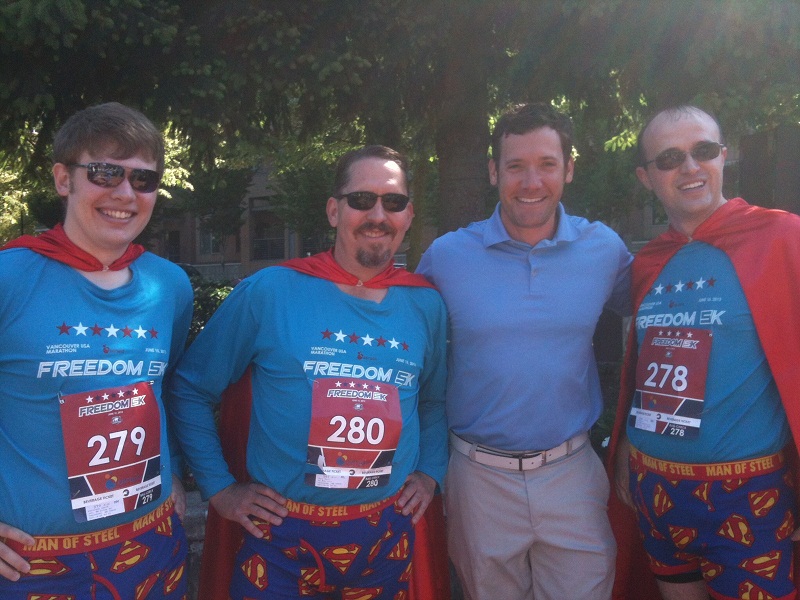 I'm not sure how much money contestants in "Dancing with the Local Stars" are raising, but they make for rich blog material.
Last week we had the "Boys of Steel," "DWTLS" contestants Jim Mains and Bart Hansen along with Harrison Lynch, the videographer for The Vancouver Side.
They were decked out in red Superman capes at a sneak preview of "Men of Steel," the same night some of the city's bachelors were auctioned off during a screening of "Magic Mike."
All of the contestants are raising money in advance of the Sept. 7 "DWTLS" and Mains raised $500 on Saturday. The winning bidder was able to pick what Mains, Lynch and Mains' Vancouver Side co-host, Gary Bock, wore for the Freedom 5k. Mains was warning everyone on Facebook it was going to be bad but — eh, it could have been worse. Here's the trio of, from left, Lynch, Bock and Mains with Vancouver Mayor Tim Leavitt: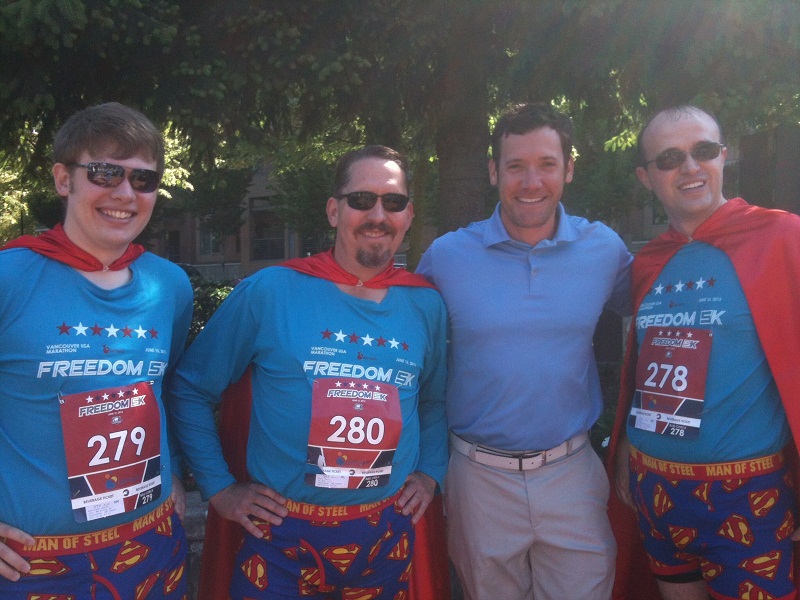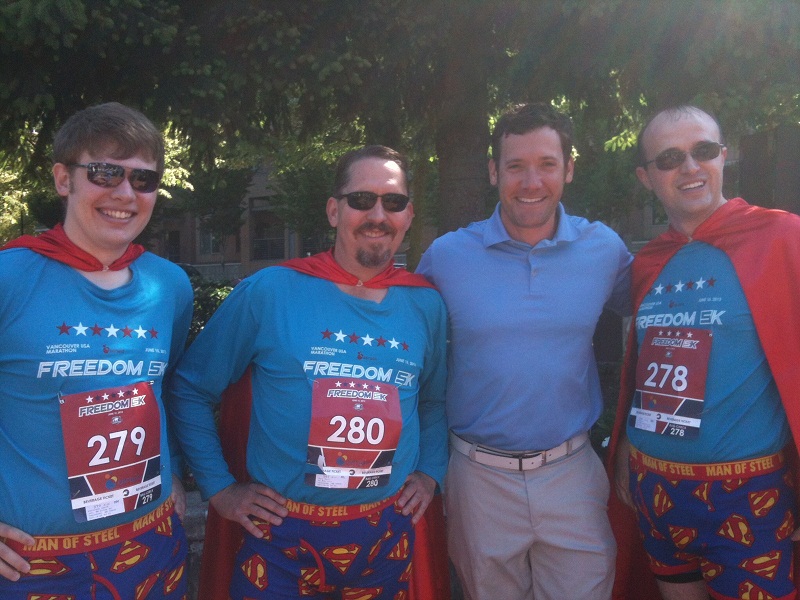 Now, about their times. Bock said he had to run slowly with Mains, to encourage Mains to finish the 3.1-mile route. Lynch couldn't run that slow, so he finished in 30 minutes, 13 seconds – an average mile pace of 9 minutes, 44 seconds. Mains and Bock? They ran 11 minute, 11 second pace. Now, they finished in the middle of the pack, and everyone who finishes is a winner, and rainbows and sunshine and all that.
Note that Hansen didn't join his Superman buddies for the 5k. That's because the Vancouver city councilor was resting to run his first marathon, which he did Sunday, finishing in 4 hours, 50 minutes. He ran 11:05 pace — so Boy Scout was able to run slightly faster than Mains and Bock for 26 miles, and Mains and Bock only had to run three.
Speeding bullets? Not quite.