A new Tesla for the councilman
Looks like someone bought a new toy.
Councilor David Madore posted a photo of himself with a shiny new Tesla S model on his public Facebook page. If you don't follow auto news, that's a $70,000 car. I can't tell what's shiner in the photo: the car or Madore's grin.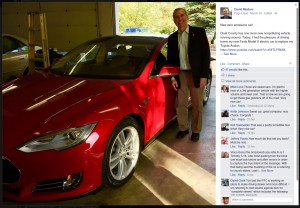 Don't get me wrong. Madore can spend his money on whatever he wants, and it's pretty cool that he used his money for a Tesla. They're amazing vehicles, and I'm frankly a little jealous. It's a zero-emissions vehicle. Plus it's got, like, a zillion cup holders. I'd love to turn my '96 Ford Contour in for a Tesla–Or any car, frankly.
But then again, perhaps that jealousy is not very godly of me. When Vince Bocci, who later added that he likes and voted for Madore, questioned the decision to post about the new purchase, Madore responded with, of all things, a proverb.
"There is an old proverb that says 'Thou shalt not muzzle the ox that treads out the corn,'" he wrote. "In other words, it is appropriate for wealth creators not only to focus on making others successful, but it would be inappropriate to begrudge wealth creators from also being blessed. That's not pride, that's thankfulness."