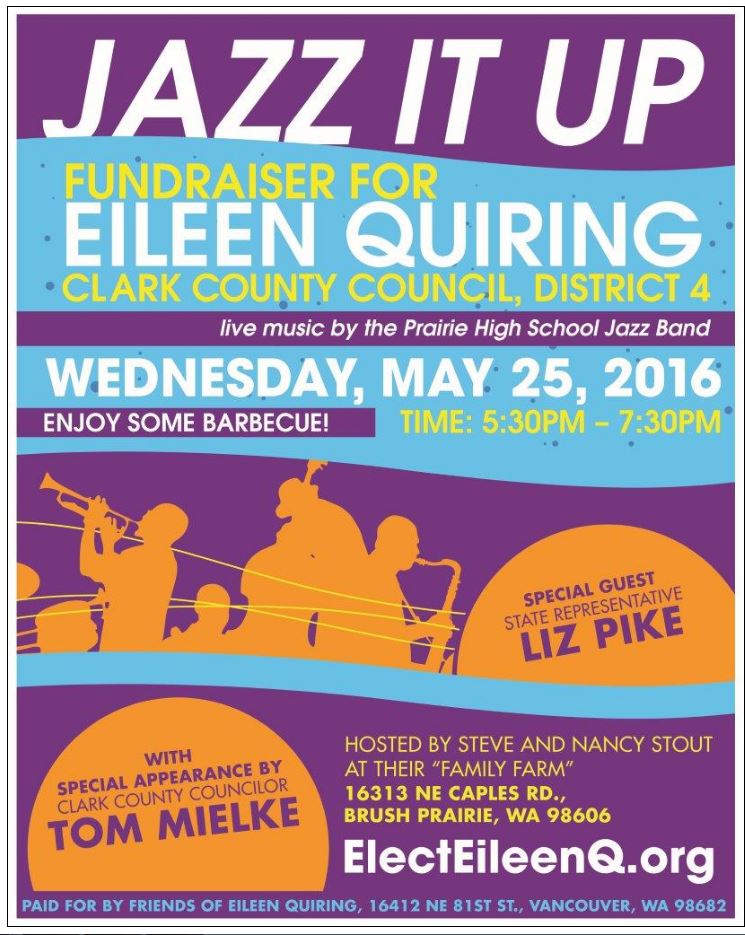 Prairie High School Jazz Band members were put in an awkward spot Wednesday when they arrived at a gig and discovered it was a political fundraiser for Clark County Council candidate Eileen Quiring.
The jazz band, led by band teacher Rudy Guidry, was the featured entertainment at the Republican candidate's "Jazz It Up" fundraiser this week. State law, however, prohibits public employees from using their position to support campaigns,
But Battle Ground Public Schools spokesman Sean Chavez called the band's performance an "honest mistake." He said Guidry believed the event was a community gathering organized by a legislator, then arrived to find it was, instead, a political fundraiser.
By that point, Chavez said, it was too late.
"The Prairie band director was uncomfortable with the situation but reluctantly stayed due to the kids being on site, set and ready to play," Chavez said.
Quiring said there was never any attempt to mislead the band, pointing out that the band's performance was featured in advertising for the fundraiser. Quiring's church, nearby Brush Prairie Baptist Church, has a long history of working with the school, she said. She thought the fundraiser would be a good opportunity to showcase the award-winning jazz band, which recently performed a Christmas concert at the church.
"If anything it was a misunderstanding," she said. "I don't want to harm the kids in any way, or the director."
The performance prompted Guidry to send an email to his students' parents.
"I was completely unaware of it being a political event and would not have taken the gig if such information was given," Guidry wrote to parents. "This definitely put myself and more importantly your students in an awkward situation particularly since I always strive to be impartial and unbiased in my classroom. My apologies for unknowingly taking the gig and will not put your student or other students in these kinds of events in the future."
Chavez noted that the district is reminding its school band teachers not to perform at political events.
I am surprised, given the number of elected officials there – including Republican Clark County Councilors David Madore and Tom Mielke, and Rep. Liz Pike, R-Camas – that someone didn't point out that inviting a public school's band would be problematic. But it sounds like this will be a teaching moment for both Quiring's camp and the school district.