A fast-moving target in growth plan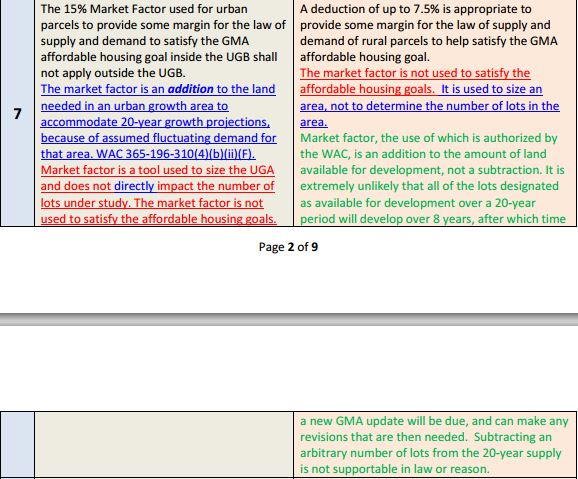 Understanding a subject as dense as Clark County's Comprehensive Growth Management Plan update is difficult. It's further complicated when information regarding the growth plan appears to change in the blink of an eye.
Take, for instance, Councilor David Madore's planning assumptions developed to, as he puts it, correct some facts about the number of lots created by Alternatives 1 and 4. Fun fact about that, however. There have actually been eight versions of these assumptions, county planning staff said last night.
Madore actually sent me an irritated email earlier this week when I conflated two versions of the planning assumptions after my coverage of an open house where only one of those versions was on display. I've since corrected that error.
But that very same version I incorrectly quoted, along with a slew of comments made on those assumptions by county planning staff and the prosecutor's office, remains on Clark County's planning website as an apparently relevant document. In fact, it was one of the supporting documents posted with Thursday's Planning Commission meeting agenda.
The red and blue comments are from planning staff, while the green is from the Prosecutor's Office. Remember, this is an older version of planning assumptions than what was presented at the open houses.
But wait, there's more. If you comb through the FTP server I linked to earlier, you'll find there's even more attached to this item: an email from Madore to Planning Director Oliver Orjiako asking that he and planning staff not to make changes for anything presented at the Monday or Tuesday open houses, so as not to "confuse citizens with other versions or previous plans." As if that ship hadn't sailed weeks ago.
"As we related yesterday and as stated in our documentation supporting (the new planning assumptions,) we do not wish for staff to change anything or go back and find every possible cluster remainder lot," Madore wrote. "As written in the proposal, we are good with the maps, assumptions and numbers as proposed."
There also, in lighter blue, are comments from Madore himself rebutting those left by county staff. Rarely does the public get to see in writing what basically rose to the level of a debate between an elected official and staff, so it's a fascinating read if you're a nerd like I am.
And then The Grid, that oft-touted bastion of government transparency, actually has a third version of the planning assumptions. I'll save you the commentary on that one. I think you get the point.
My question is how is the public supposed to intelligently comment on any of this when it's all changing so rapidly and when there's conflicting information posted in various places on the county website?
That's a problem when you're talking about something like the Comprehensive Growth Management Plan update. As Planning Commissioner John Blom put it to me in a recent interview, public process is as important, if not more so, than the results of the actual plan itself. It's no wonder so many people raised the issue of public process, and allegations of a lack of it, at Thursday's meeting.
All planning assumption changes were rejected by the planning commission, but that doesn't mean these are dead yet. The Clark County council will vote on all things growth plan Tuesday, and could vote to adopt Madore's assumptions. Councilor Tom Mielke has signaled his support for the amendments while Councilor Jeanne Stewart accused him of hijacking the process, so we'll see how next week goes.