Barbecue Chicken Salad with Corn, Red Pepper, and Quinoa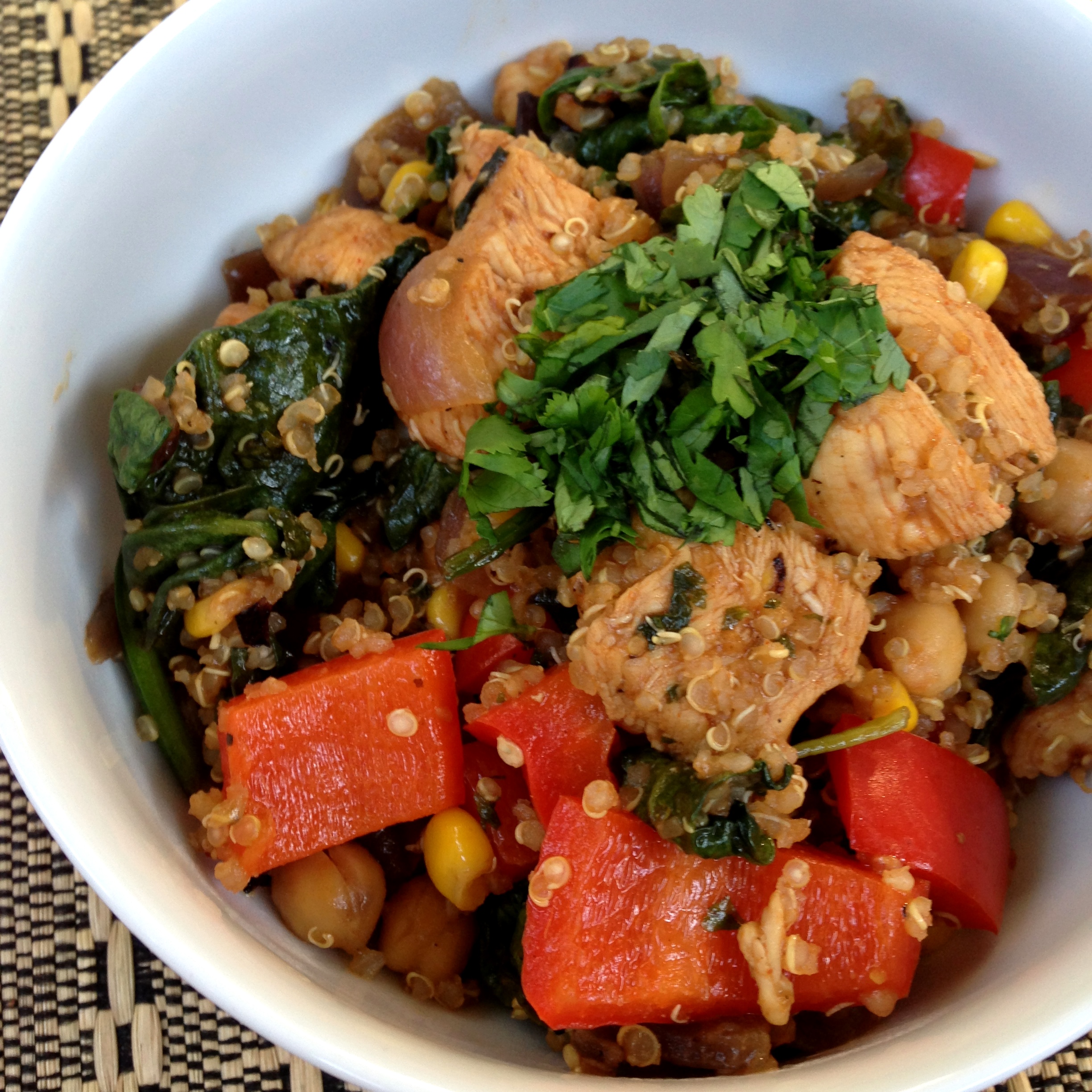 Ah, quinoa, the ancient grain. Someday, I will travel to Peru and eat quinoa under the shade of Macchu Picchu, as the Incans once did, but that is currently just a dream. For now, I will continue cooking quinoa on a weekly basis, such as in this flavorful and filling barbecue chicken salad with corn, red pepper, and quinoa.
Barbecue Chicken Salad with Corn, Red Pepper, and Quinoa
Serves 4
Ingredients:
2 TB extra-virgin olive oil, divided
1 red onion, sliced thinly
2 cloves garlic, minced
1 lb boneless, skinless chicken breast, cut into 1-inch cubes
1/2 tsp onion powder
1/2 tsp paprika
Salt/pepper
1/3 c barbecue sauce (Your favorite kind!)
1 cup quinoa, cooked
15-oz can chickpeas, rinsed and drained
2 red bell peppers, chopped
1 cup sweet corn kernels, fresh or frozen/thawed
3 cups baby spinach
Handful fresh cilantro, chopped
Directions:
Heat a large skillet over medium-high heat, and add 1 TB of oil.  When the skillet is hot, add the onion and stir to spread out and form an even layer.  Season well with salt.  Reduce the heat to low, cover, and let caramelize for 10 minutes until soft and brown, stirring occasionally.  Add the garlic, and cook for 1 minute, stirring constantly.  Remove the onions and garlic to a separate bowl, and set aside.
Season the chicken well with the onion powder, paprika, and salt/pepper to taste.  Return the pan to medium-high heat, and add the remaining TB of oil.  When hot, add the chicken in a single layer, and cook until browned on all sides and cooked through, about 10 minutes.  Add the barbecue sauce, and stir to combine.
Add in the reserved onions and garlic, cooked quinoa, chickpeas, red peppers, corn, spinach, and most of the cilantro, leaving some extra for garnish.  Stir to combine all the ingredients with the barbecue sauce and heat through.
Serve in bowls warm or at room temperature, and top with remaining cilantro.