Chicken Fajita Bowls with Cilantro-Lime Rice and Avocado Crema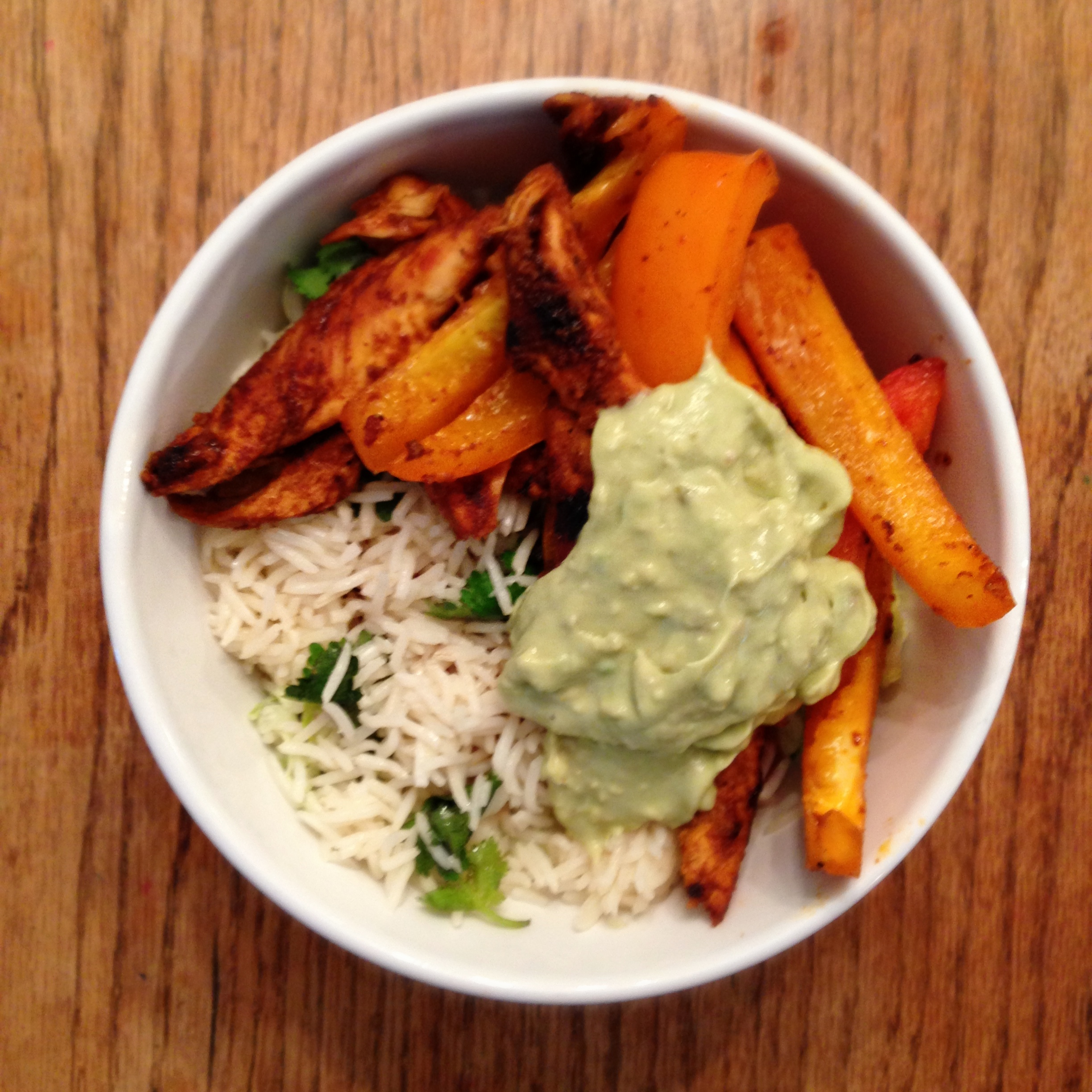 Despite all the jokes people make about British food, I never had a bad meal while living in London. I even became quite fond of 'mushy peas,' a classic English side dish. Granted, most of the food I ate in London was not quintessentially British. London is such a global city, that I had access to cuisine from all over the world. I discovered an excellent Indian restaurant just down the street from my flat, and frequented a couple delightful Asian and Italian restaurants, as well.
However, if I had to name one thing that I missed about America while abroad, I would have said Mexican food. Whether it's the Chicken Tinga at Cha Cha Cha in Portland, or the grilled shrimp fajitas at Woody's Tacos in Vancouver, America's Mexican fare is second only to, well, Mexico.
Therefore, I often found myself cooking Chipotle-inspired dinners, at least once a week during my semester abroad. This dish combines all of my favorite flavors in one bowl. The chicken has a definite kick to it, but the avocado sauce helps to keep it cool. You can use a pre-mixed fajita seasoning instead of the marinade to save time, though making your own is so easy. Enjoy!
Chicken Fajita Bowls with Cilantro-Lime Rice and Avocado Crema
Makes 3-4 bowls
Ingredients:
For the Chicken:
1 pound boneless skinless chicken breast, cut into strips
1 teaspoon chipotle chili powder
1 teaspoon cumin
1 teaspoon brown sugar
1 teaspoon paprika
1/2 teaspoon onion powder
1/2 teaspoon garlic powder
Pinch of salt
Pinch of pepper
2 tablespoons olive oil
1 tablespoon fresh lime juice
For the Cilantro-Lime Rice:
2-3 cup cooked basmati rice, hot
1/4 cup chopped cilantro
1 tablespoon fresh lime juice
For the Avocado Crema:
4 tablespoons greek yogurt
1 ripe avocado, skin and pit removed
1 small clove garlic, minced
2 tablespoons fresh lime juice
1 teaspoon honey
1 teaspoon crushed red pepper flakes
pinch of salt
Other Ingredients:
1 red pepper, sliced
1 orange pepper, sliced
1 bag of shredded romaine lettuce
salsa for topping (optional)
Directions:
1.  Cook the rice according to package/rice cooker directions. When the rice is done cooking, toss in the chopped cilantro and lime juice. Set aside, and keep warm.
2.  In a medium-sized bowl, combine the chipotle chili powder, cumin, brown sugar, paprika, onion powder, garlic powder, salt, and pepper. Add the olive oil and lime juice, and whisk together with a fork. Toss with the chicken, until the chicken is evenly coated. Set aside while you make the crema.
3.  In a food processor or blender, combine the greek yogurt, avocado, garlic, lime juice, honey, crushed red pepper, and salt. Puree until smooth. If it is too thick, add a tablespoon or two of water. Taste, and add more salt if desired. Place in the fridge while you cook the chicken.
4.  Heat a large pan or wok until it is fairly hot. Arrange the marinated chicken in the pan, and cook on high heat until the chicken is golden brown and begins to caramelize. Turn the chicken, and let cook until the other side is just cooked through. Add the sliced peppers and sauté on high heat for about three minutes, or until the peppers are slightly soft.
5.  To serve: In a medium-sized bowl, layer the lettuce, rice, and salsa, if desired. Top with the chicken and peppers, and then drizzle with the avocado crema.