Peanut Noodles with Bok Choy and Edamame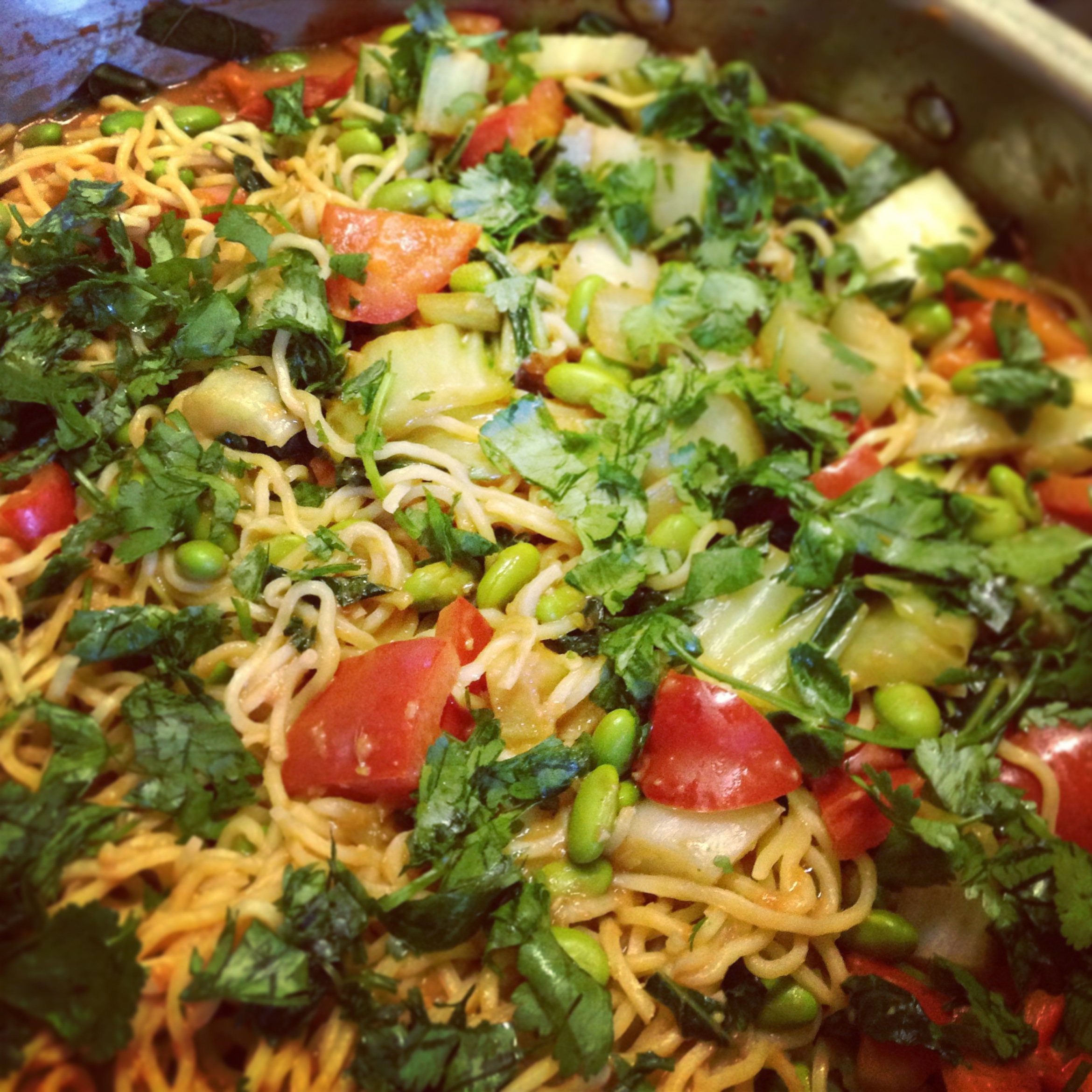 My family rarely orders take-out, but when we do, it's usually Thai. It's just hard to argue with a good peanut sauce. I made these noodles the other night, though, and found them to be just as good, if not better than, any peanut noodle dish I have ever ordered from a restaurant. The dish is good for you, too–the peanut sauce is relatively light, and the noodles are bulked up with plenty of vegetables.  Vegetarian-friendly and fast enough for a weekday meal, put down the phone and serve these "take-in" Peanut Noodles with Bok Choy and Edamame, instead.
Peanut Noodles with Bok Choy and Edamame
Serves 4
Ingredients:
1/2 cup light coconut milk
1/2 cup diced fire-roasted tomatoes
1/4 cup natural peanut butter
3 tbsp soy sauce
juice of 1 lime
2 tsp minced ginger
1 tsp minced garlic
1 tbsp honey or agave nectar
8 oz yakisoba noodles (available at your local grocery store, just look for low-sodium and throw out any flavor packets; you can also substitute 8 oz. whole wheat spaghetti)
1 red bell pepper, chopped
4 heads baby bok choy, chopped
2 cups frozen edamame
1/4 cup fresh cilantro, chopped
Directions:
1.  Combine the coconut milk, tomatoes, peanut butter, soy sauce, lime, ginger, garlic, and honey in the bowl of a food processor. Process until smooth.
2.  Cook the noodles according to directions on the package, and set aside. (If using spaghetti, cook to al dente).
3.  Coat a large non-stick skillet with cooking spray, and heat over medium-high. Add the bell pepper and bok choy to the pan, and cook for about five minutes, or until tender-crisp. Add the edamame and cook until heated through.
4. Add the noodles to the pan and pour the peanut sauce over the noodle/vegetable mix, tossing to coat.
5.  Serve warm or at room temperature, topped with fresh cilantro.