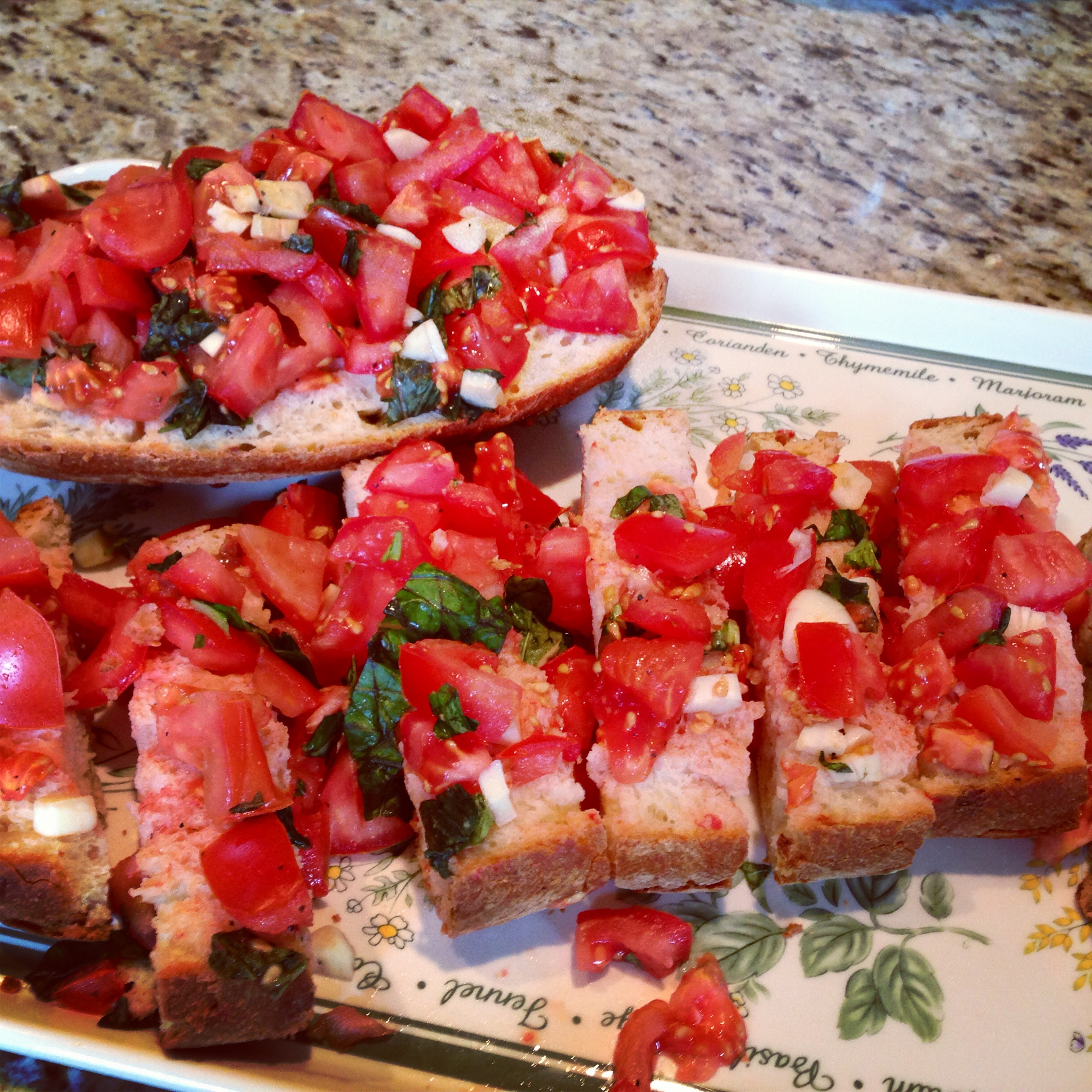 What better way to begin my blog than with an actual starter? Despite every new innovation from Apple, my favorite apps are still the ones that come before my entree. I first tried this Baked Bruschetta Bread appetizer at a friend's home in Park City, Utah, where I have spent the past two summers teaching summer school.  Making the bread recalls fond memories of relaxing on the back deck, after a perfect afternoon of hiking in the Wasatch Mountains. The bread works both as a lighter appetizer for a crowd, or as a satisfying accompaniment to fish or a grilled chicken salad. Either way, make sure to save yourself a piece before serving–the baking bread smells so good, your guests will practically grab it out of the oven!
Baked Bruschetta Bread
Serves 6-12
Ingredients:
1 loaf Asiago Cheese Bread (Or your favorite crusty-on-the-outside, chewy-on-the-inside white or wheat bakery loaf)
5 medium-sized tomatoes, chopped
8-10 cloves of garlic, minced
2-3 sprigs of fresh basil, julienned* (you can't use too much)
1-2 T of olive oil
Salt and pepper to taste
Directions:
1.      Preheat the oven to 350 degrees Fahrenheit.
2.      Halve the loaves of bread down the middle, and place side-by-side on a foil-lined baking sheet.
3.      Mix the tomatoes, garlic, basil, olive oil, salt, and pepper in a bowl, and set aside.
4.      Put the halves of bread in the oven for just a few minutes, to toast them ever-so-slightly.
5.      Remove the bread from the oven, and spoon the tomato mixture onto the bread until it evenly covers both halves.
6.      Return to the oven and bake for ten more minutes.
7.      Slice into pieces, and serve warm.
*To julienne the basil, roll the leaves and slice the rolls into thin pieces.