Sweet Potato Jalapeño Soup
This year, I planted my jalapeño pepper plants in the front of My Victory Garden and all the peppers walked off.  I had the very same problem last year at my community garden plot.  Pepper theft is prevalent but, I'm not deterred.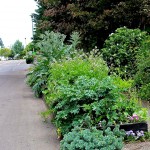 I'm purchasing my jalapeños for our Thanksgiving dinner's first course of Sweet Potato Jalapeño Soup.  I prefer my jalapeños ripened red and grilled until the skins split and they sputter with a few char marks.  The grilled jalapeños develop a sweet smokey flavor that counterpoints their heat.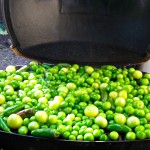 Last year, Chef Peter from Applewood Catering posted his sweet potato soup recipe on Facebook and I made it immediately.  You can purchase his soups to serve at home through his soup club. In fact, last Thanksgiving we filled up on the soup and served dessert the next day.  You need to make this soup because the end result surpasses the ingredients.  It tastes sweet and spicy and like Autumn itself.  And without those awful marshmallows.  Happy Thanksgiving!
Sweet Potato and Jalapeno Soup
from (the now closed) Applewood Restaurant and Bar
3 lbs. sweet potatoes (or yams) peeled and coarsely diced
1 medium onion, coarsely diced
2 cloves garlic, minced
2 jalapenos, seeded and coarsely chopped–(grilled first)
6 cups vegetable or chicken broth–I used homemade chicken stock
1 cup brown sugar
1 cup half and half
Salt and pepper to taste
2 tbls. butter
Fresh cilantro, chopped
In your soup pot, sweat the onions, garlic, and jalapeños in the butter until they are translucent. Add the sweet potatoes and broth and bring to a boil over high heat.  Then reduce the heat and simmer for approximately 15 minutes, until the sweet potatoes are tender.  Turn off the heat.  Puree the soup.
Then stir in the brown sugar, half and half, and salt and pepper.  Taste it. Then serve it garnished with cilantro.
Serves: 6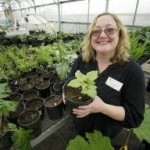 Hello! My name is Laura Heldreth and most days you can find me playing in my kitchen and vegetable garden.