Caramel Clafoutis with Bartlett Pears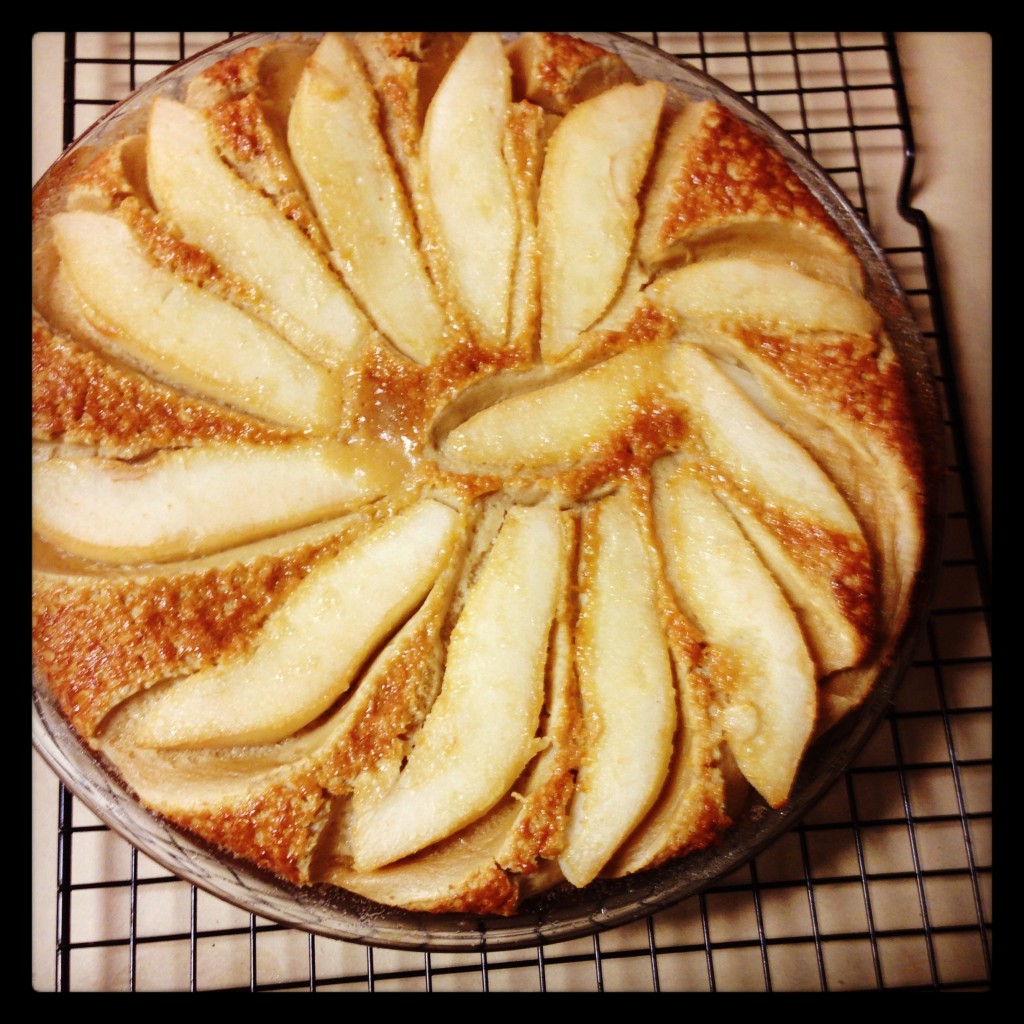 Outside the back door of my childhood home there was a Bartlett Pear tree.  We would watch the tree bloom, grow fruit, and then one day my Mom would pull out the old wooden fruit crates given to us by our neighbor, Papa Joe.  My Dad would pull out the ladder and hand down pears that we would carefully layer in the crates between sheets of newspaper.  Then, I would watch my parents stack the crates in the shed and wait for the pears to ripen.  And inevitably they ripened all at once, we'd each eat a gritty sweet pear over the kitchen sink with the juice running down our arms and then I would help my Mom make Pear Butter.
Last week, I rescued a juicy ripe Bartlett Pear with several brown spots from the compost bowl on our kitchen counter. While My Pirate made mushroom risotto for dinner, I threw together a clafoutis that smelled like caramel as it baked up nice and puffy.  We sampled a sliver after dinner then tucked it into the fridge for breakfast.  A night in the fridge married the flavors of caramel, custard, and the pears together and we marveled over its simple brilliance.  One of us even had a second slice, but I'm not naming names.
Caramel Clafoutis with Pears
from Orangette
Molly Wizenberg experimented with using brown sugar in her favorite clafoutis recipe and discovered a caramel flavored clafoutis that is perfect for autumn and a deluge of ripe Bartlett Pears.  Molly's brilliant that way.
Butter, for greasing the pan
About 1 Tablespoon granulated sugar, for dusting the pan
1 large (about 8 to 10 ounces) ripe pear
1 ¼ cups whole milk
1 cup golden brown sugar
4 large eggs
1 ½ tsp. vanilla extract
1/8 tsp. fine sea salt or table salt
½ cup all-purpose flour
Preheat your oven to 375°F. Butter a 9 ½-inch pie pan and dust it with granulated sugar.
Peel and slice the ripe pear.  Place it in the bottom of the pie pan.
Combine the milk, brown sugar, eggs, vanilla, salt, and flour in a blender on high for one minute.  Then gently pour the mixture over the pear.
Bake for 30 to 35 minutes until a tester comes out clean.  Mine took 38 minutes.  Cool it on a wire rack.  Then place it in the fridge for breakfast or brunch.  It's definitely worth the wait!
Serves:6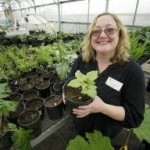 Hello! My name is Laura Heldreth and most days you can find me playing in my kitchen and vegetable garden.