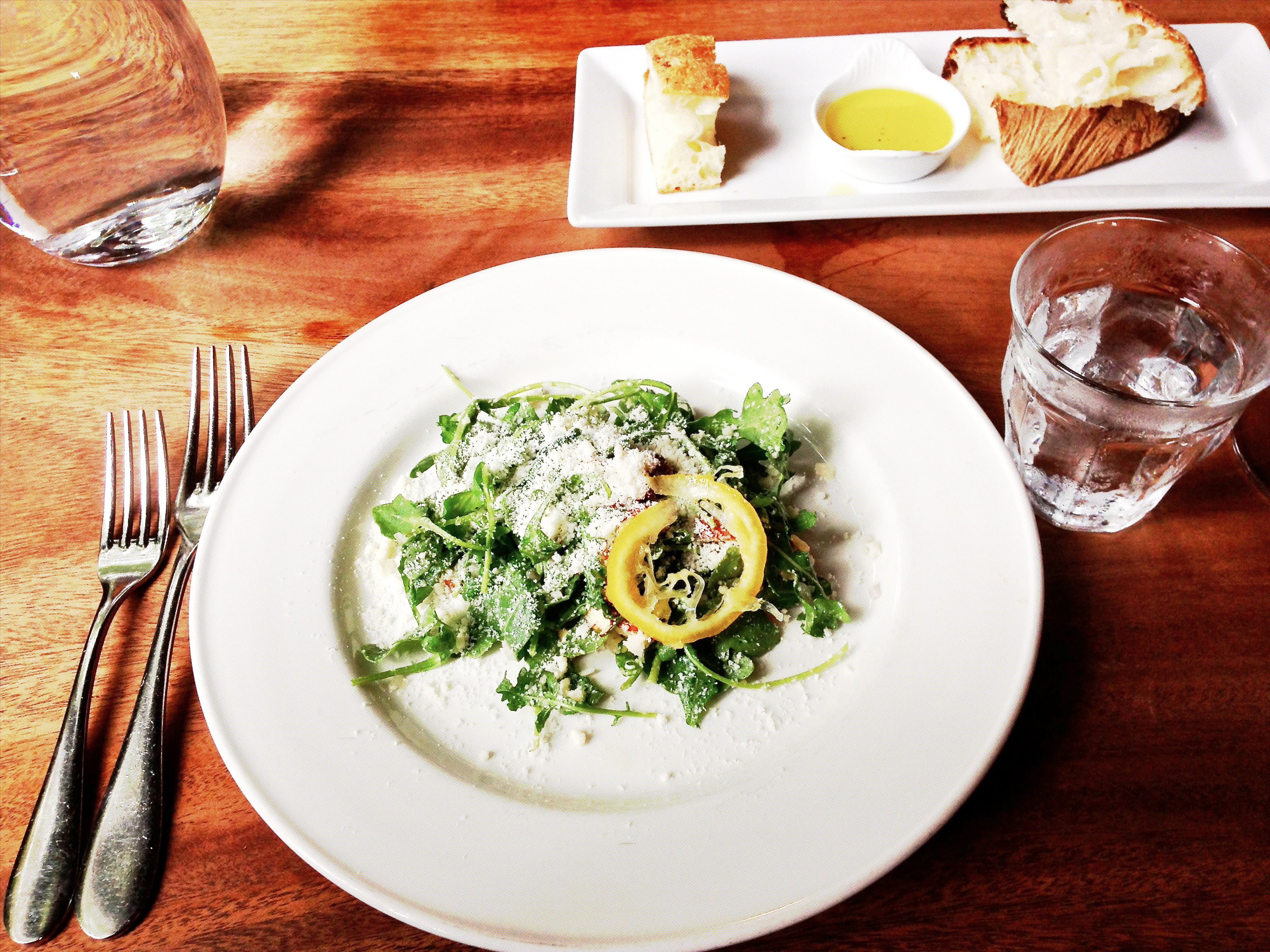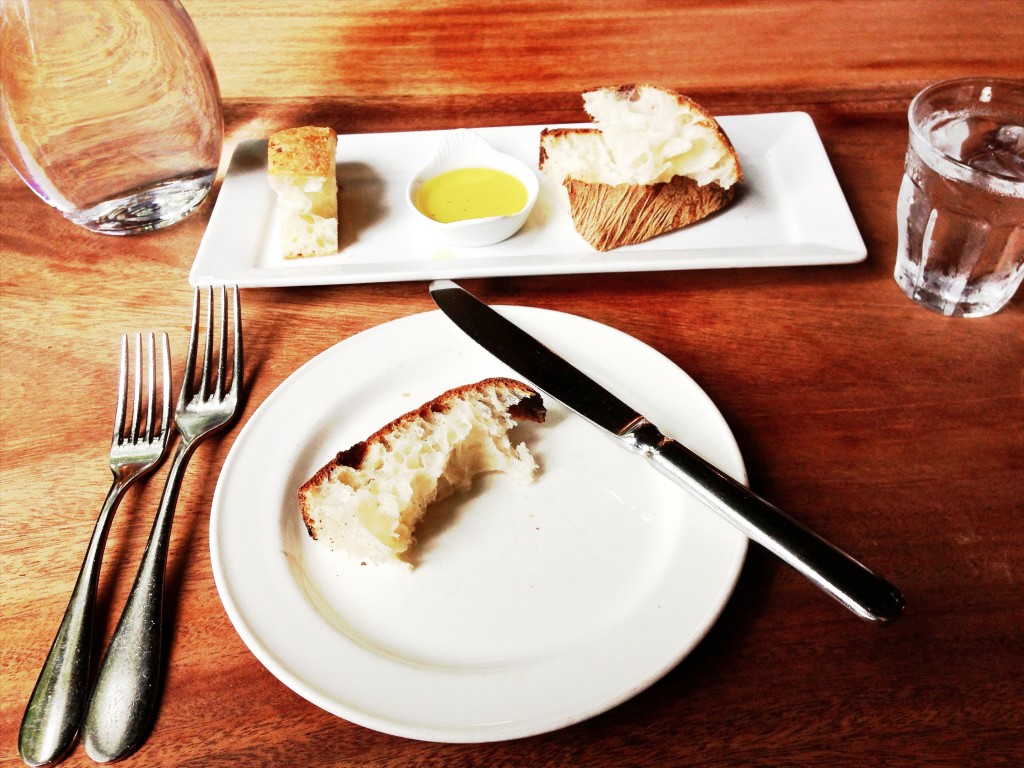 I recently treated myself to the delicious Two Courses With Wine lunch ($18) at Nostrana.  Nostrana features Chef Cathy Whims' regional approach to simple and sophisticated Italian.  They offer an ambitious wine list that my favorite wine steward adores, the food is beautiful, and the warm ambiance is filled with the fragrance of food being cooked over fire. In short, divine.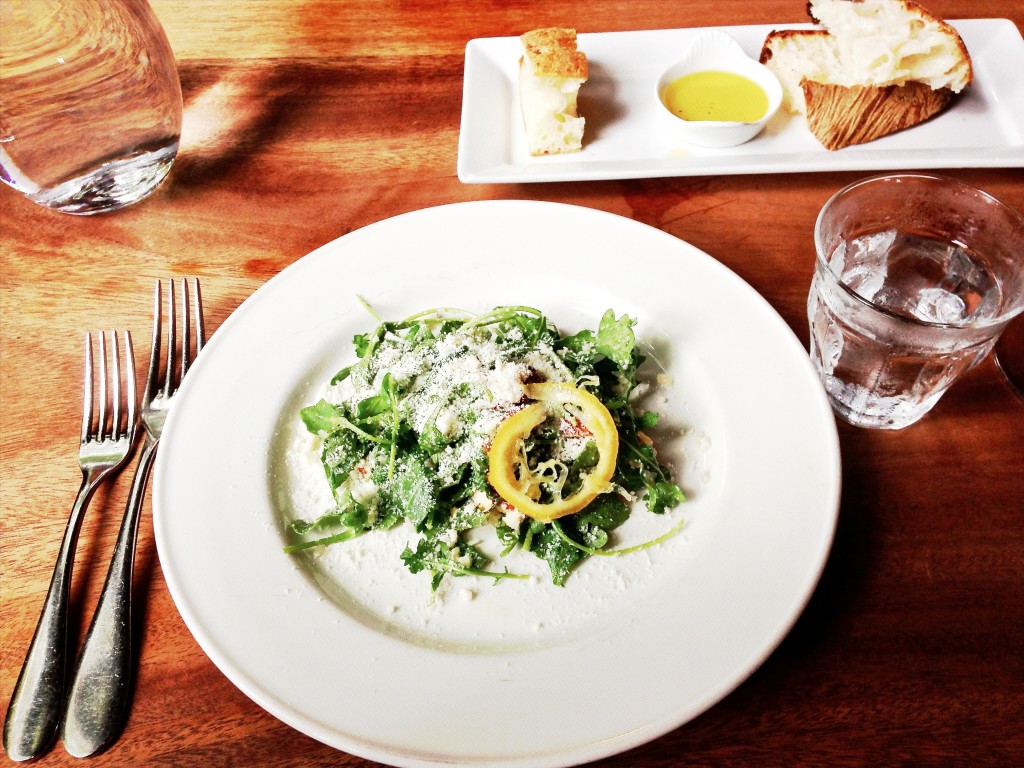 The Two Courses with Wine lunch changes daily based on their ingredients and it's a wonderful way to explore their menu.  I started my meal with fresh baked bread dipped in olive oil.  Then an Arugula salad with preserved lemon, almond, and parmigiano that tasted like the greens had just been picked out of the garden.  And lastly, Pizzetta vongole bianco with Manila clams, smoked mozarrela, lemon, provolone, garlic and oregano with a glass of Bardolino Corte Gardoni 'Le Fontane' 2010 Veneto.  They serve their whole pizzas with scissors which adds a dimension of  fun to the meal.
As I savored my lunch, I enjoyed watching two gray haired ladies getting silly over lunch and a bottle of wine.  They leaned against each other and grinned at me as they left.  And I vowed to bring a friend with me next time.
Looking back at this lovely meal on a rainy Portland afternoon, I'm struck by the beauty of the arugula salad.  The fresh greens were tossed with toasted almonds given a rough chop and then covered in a fluffy cloud of freshly grated parmesan. The preserved lemon was the final bright flourish.  And the best part is that I can recreate this salad at home and so can you!
Arugula Salad
fresh arugula
oven roasted almonds, rough chopped
parmesan–your favorite
preserved lemon
Roast the almonds in a 350 degree oven for 5 to 8 minutes.  Plate the arugula and top it with the almonds, grate your favorite parmesan through your zester, and add a piece of preserved lemon.  Serve.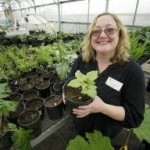 Hello! My name is Laura Heldreth and most days you can find me playing in my kitchen and vegetable garden.