Last week, My Pirate whisked me away on a road trip adventure around the Washington State Peninsula to celebrate my fortieth birthday and our seventeen years of wedded bliss together.  Before we left, I packed a picnic into our blue cooler filled with ice.  I didn't know where the day would take us and I didn't want to risk eating dinner out of a hotel vending machine.  (Been there, done that.) It just so happened that we drove past Goose Point Oysters and took a U-turn and picked up a dozen pre-shucked oysters for dinner.  Oysters harvested out of the Willapa Bay that very morning; they were fantastic.
We feasted on fresh produce out of My Victory Garden and oysters.  I brought fresh tomatoes, boiled French Fingerling potatoes, a cucumber sliced and topped with vinegar, purple basil mayonnaise, hard-boiled eggs, and some left-over herb pasta.  We feasted, sipped a crisp Pinot Grigio and enjoyed a quiet evening together as a thick fog settled in around us.  And the deer grazed on their dinner outside our back door.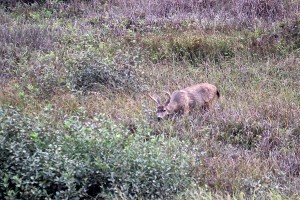 Basil Mayonnaise
We giggled over the purple basil in our last batch because it ended up looking like raspberry yogurt.  But, it tasted great.  Green basil looks beautiful. Use that.
3 cloves of garlic
2 T. olive oil
1/2 cup of fresh basil or add more to your taste
salt and pepper
pinch of red cayenne
juice of a small lemon
lemon zest (optional)
1 cup mayonnaise–I use Best Foods
Combine all the ingredients in a small food processor except for the mayonnaise.  Zap ingredients until they combine in a loose mixture.  Pour the basil mixture over the mayonnaise in bowl.  Stir together. Taste and add more lemon juice and salt if needed.  Refrigerate. Then serve.
We love to use basil mayonnaise as a dip for fresh produce and even on our deviled eggs.  Try it!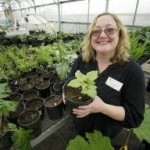 Hello! My name is Laura Heldreth and most days you can find me playing in my kitchen and vegetable garden.