Summer Tomato Salad on Brown Butter Toasts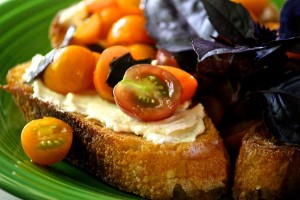 Late August always leads to culinary debauchery in our kitchen.  All the fresh produce in the garden combined with my need to capture the last moments of summer create some memorable meals.  My Pirate is home on vacation and before we take off on our road trip around the Washington Peninsula, we've been busy knocking out some projects and garden chores.  Today, after finishing our front door repair and installing a new ceiling fan, I watched two neighbor boys using their stealth moves to 'sample' some cherry tomatoes.  It cracked me up.  And motivated me to go pick my ripe tomatoes.
When I came inside, I fried some baguette slices in butter until the toast and the butter browned nicely.  Then I swiped on some leftover Basil Blossom Ricotta and spooned a tomato salad on top.  I took a few hurried photos before we dug in.  It tasted crunchy, creamy and the tomato salad tasted bright like summer itself.  I recommend making this for someone you love and adore.  Next week, we'll repent with kale soup, but in the meantime, it's vacation time!
Tomato Salad
one cup of cherry tomatoes, cut in half
six basil leaves torn up
glug of good balsamic vinegar
several glugs of olive oil
big pinch of salt, I use Fleur De Sel
Place the cherry tomatoes in a bowl.  Add the remaining ingredients and give it a good stir with your clean hand.  Then let it sit for ten minutes or so for the flavors to combine.
Brown Butter Toasts
four baguette slices, or your favorite bread
1 to 2 tablespoons of butter
glug of olive oil
Place a skillet over medium heat and add 1 to 2 tablespoons of butter in the pan with a glug of olive oil.  When the butter has melted and spatters ever so slightly, add the bread to the skillet.  Let it fry on one side until it is browned and then turn over.  This only takes a few minutes, so keep a constant eye on it.  Then top your toasts with ricotta and tomato salad.  Enjoy!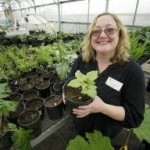 Hello! My name is Laura Heldreth and most days you can find me playing in my kitchen and vegetable garden.