Blueberry and Basil Cream Biscuits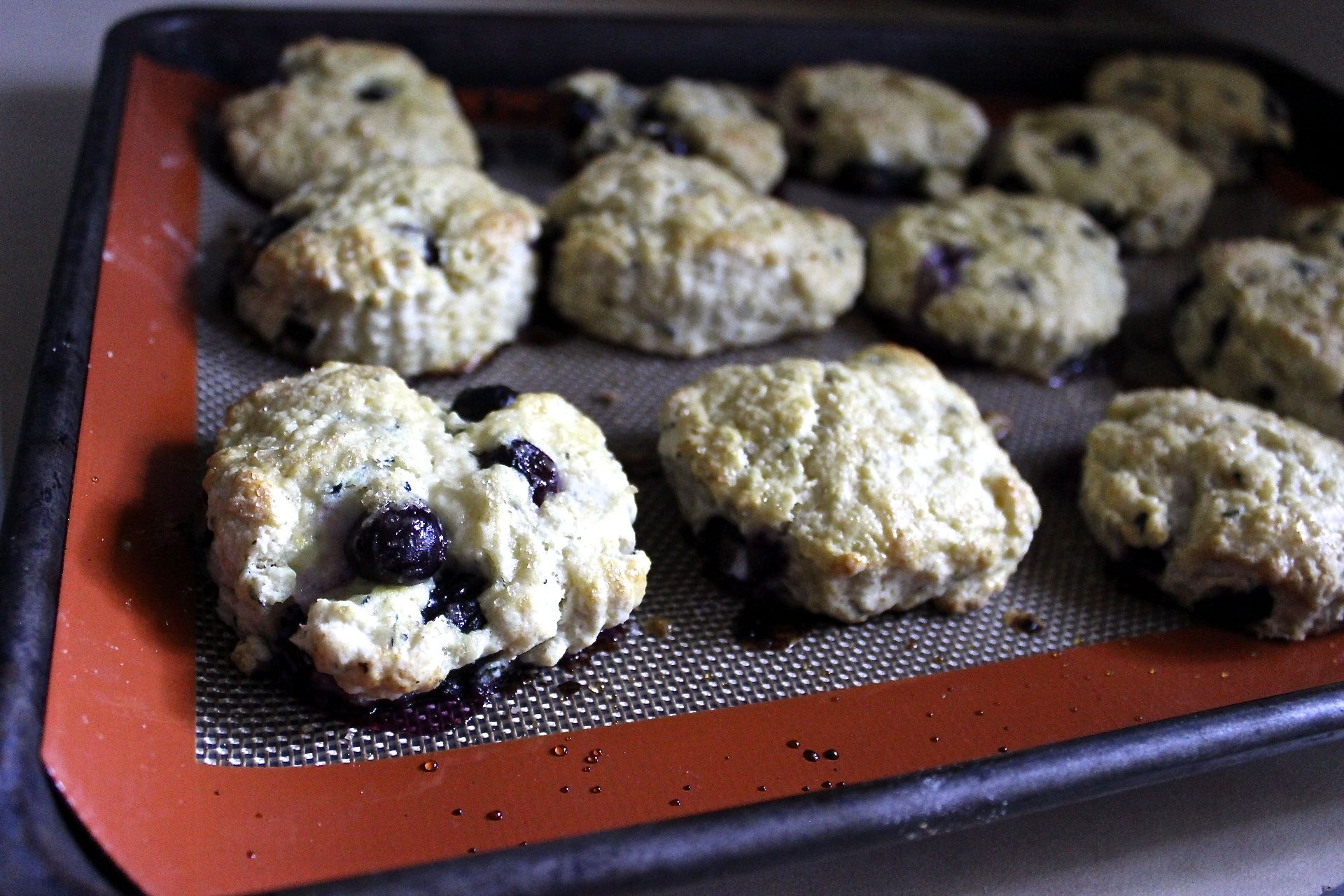 I made a perfectly respectable batch of blueberry coconut muffins for the herb workshop.   But, when I gave one to My Pirate for him to sample, he simply took a bite, put the rest in the fridge, and shrugged his shoulders.  When pressed, he said, "It tastes like a blueberry muffin."
I do want my blueberry muffins to taste like a blueberry muffin, but that abandoned crusty muffin in the fridge weighed on me.  But, I decided to serve them in addition to some brownies that I had saved in the freezer.
Yesterday morning, I got up early with Barnaby and inspiration hit.  I could add basil, blueberries and lemon zest to the cream biscuit recipe that I love so much.  I make them every spring for strawberry shortcake, but it had never occurred to me to add the fruit into the biscuit.
I quickly threw them together and by the time my sleepy Pirate wandered out of bed, I had a warm scone to hand him.  And what did he say?  "I don't like scones, but this is fantastic!"
And I agreed with him, so I renamed it a biscuit.  I served the scones/biscuits at the workshop and came home empty handed. The blueberry muffins are still sitting in the back fridge. Would anyone like an abandoned blueberry muffin that tastes like a blueberry muffin?
Blueberry and Basil Cream Biscuits
My variation of Mark Bittman's Cream Scone Recipe from his book, How to Cook Everything
Makes 10 to 12 scones  Time: 20 minutes
I'm a Mark Bittman fan.  We are both purists when it comes to our cooking and ingredient choices.  For the past fourteen springs, I've baked his cream scone recipe for our Strawberry Shortcakes.  But, this is the first time that I've riffed on his recipe by adding basil, lemon zest, and frozen blueberries. And this recipe produced my dream scone.  They are buttery and juicy with a bright herbal note from the basil.  Even My Pirate liked them.
2 cups all purpose flour—can use up to 1 cup of whole wheat flour
1 ½ teaspoons kosher salt
4 teaspoons baking powder
1 tablespoon sugar
zest of a small lemon
six to ten fresh basil leaves, torn
5 tablespoons cold butter
3 eggs
¾ cup heavy cream
1 tablespoon water
1 tsp. vanilla
1 ½ cups frozen blueberries
1 to 2 tablespoons Turbinado raw sugar
 Preheat the oven to 450 degrees.
Mix the dry ingredients together in a food processor with the torn basil. Cut the butter into cubes and pulse it in the food processor until it is the size of peas.  Pour the mixture into a bowl.   Stir in the frozen blueberries.
Whisk two of the eggs with the cream and vanilla.  Then mix with the dry ingredients until it barely comes together.
Turn the dough out onto a floured surface.  I use my countertop.  Press the dough into a ¾ inch thick rectangle.  Cut the biscuits out with a 2 inch biscuit cutter or a glass. Lay the rounds on an ungreased baking sheet or Silpat. Whisk one egg with 1 tablespoon of water and brush it on top of the biscuits.  Sprinkle with sugar.
Bake 9 to 11 minutes.  They are done when they are golden brown on top.  Serve warm.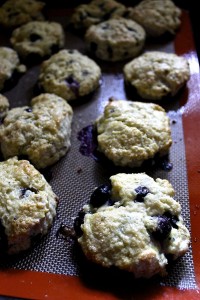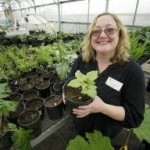 Hello! My name is Laura Heldreth and most days you can find me playing in my kitchen and vegetable garden.