Aching for injury updates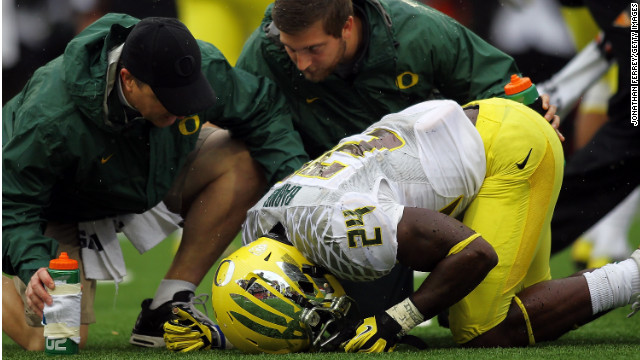 And so it begins. UW tight end Austin Sefarian-Jenkins' broken pinky has started the season-long frenzy of speculation, gamesmanship and anxiety when it comes to injuries.
Fans, and the media by extension,  have a right to ask about injuries. They are the No. 1 wild card that can change a season's course.
In this age of closed practices, don't expect timely and accurate reporting of a player's status. And don't expect coaches to be forthcoming.
Oregon coach Mark Helfrich was asked about his conversation with training staff after running back Thomas Tyner left practice Tuesday in a walking boot.
"It went great, thanks for asking. Appreciate that," he replied, showing that he plans on continuing Chip Kelly's policy of answering such questions with a combination of humor and disdain.
But I don't begrudge the coaches. If I'm a fan, I of course want to know the latest on a player's status … just not at the cost of putting my team at a competitive disadvantage.
That said, here's the latest on some injury issues that are cropping up around the Northwest:
If Sefarian-Jenkins' injury isn't enough, UW defensive end Cory Littleton was carted off near the end of Wednesday's practice. Coach Steve Sarkisian was diagnosed with being hot under the collar. He stormed off the field after practice, which ended abruptly after quarterback Kieth Price took a defender's helmet on his knee, despite wearing a "no contact" jersey.
In Eugene, tight end Pharaoh Brown was on crutches after Monday's practice, but expects to be ready for the season opener against Nicholls State. Asked about the status of Tyner, a five-star recruit, Helfrich said "He's a tailback here at the university." A Chip off the old block, indeed.
In Corvallis, starting outside linebacker D.J. Alexander suffered a knee injury during practice Wednesday. He walked off the field under his own power. Coach Mike Riley said he would know more today. In addition, tight end Will Hopkins is on crutches with a toe injury, which Riley called "significant."
The Cougars are back in Pullman after beginning fall practice in Lewiston, Idaho. Cornerback Damante Horton did not practice Wednesday after apparently injuring himself jumping for an interception on Tuesday. Also, linebacker Darryl Monroe limped off the field favoring his right leg Wednesday.