Strawberry Buttermilk Baked Doughnuts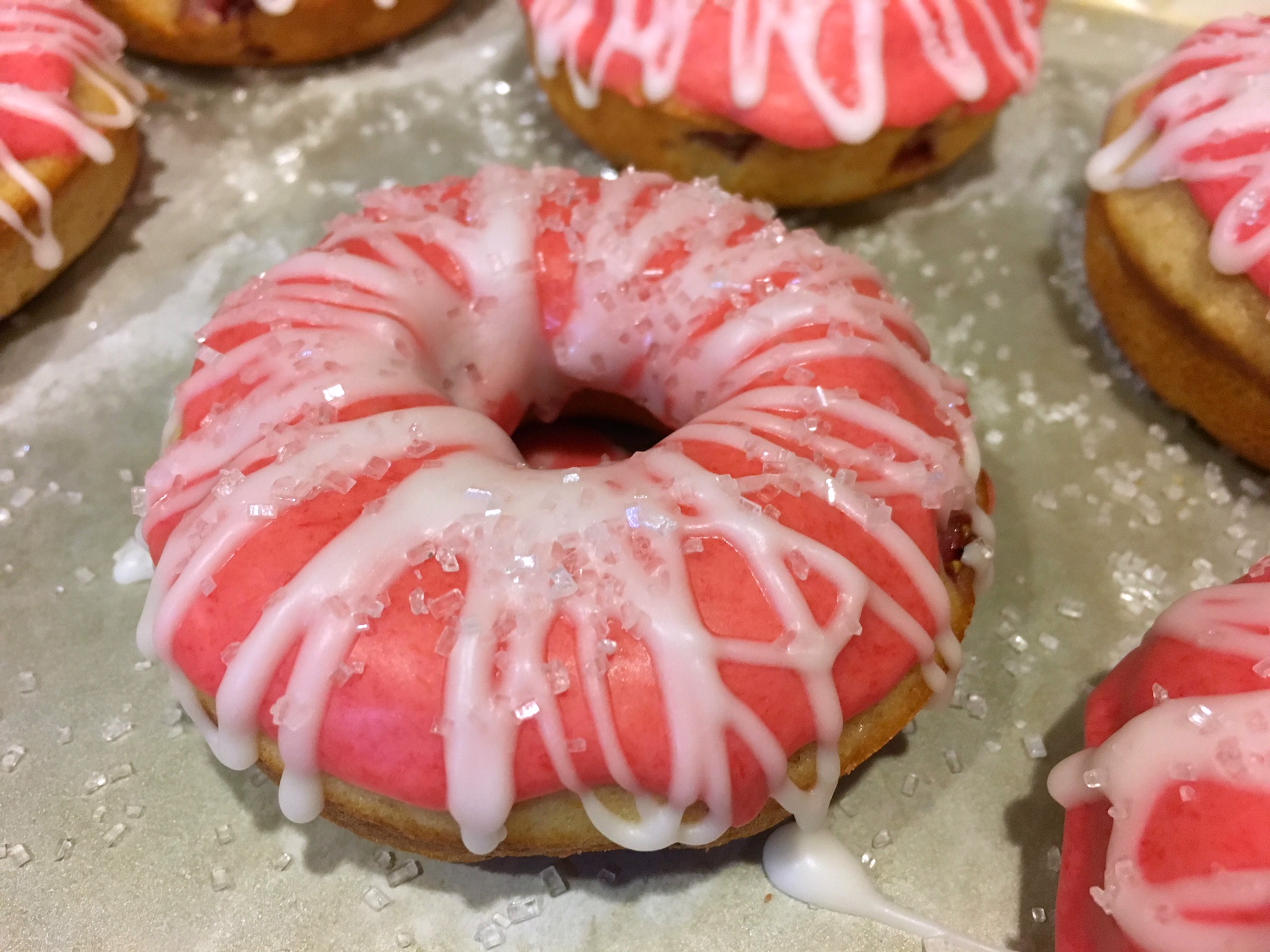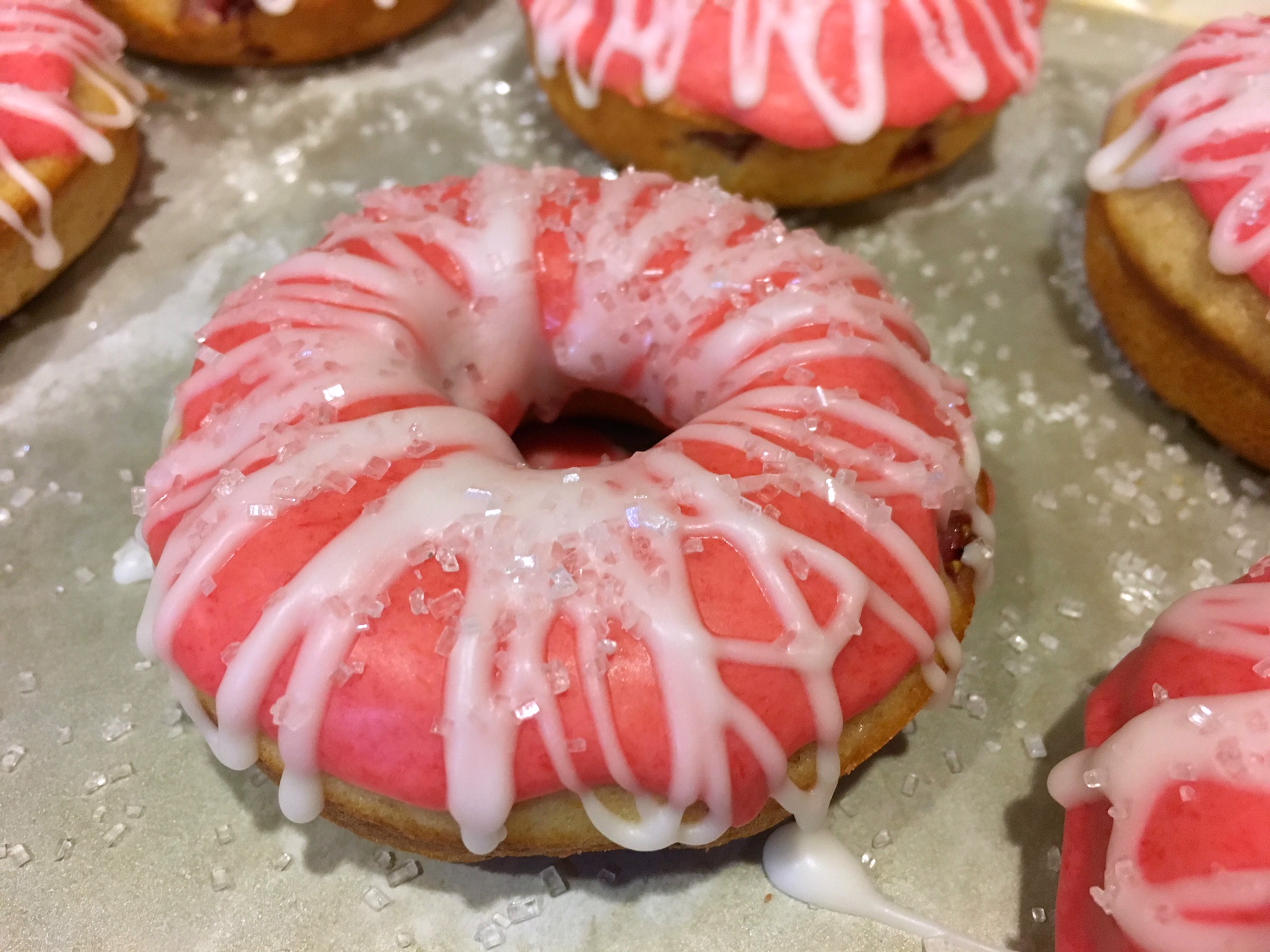 Spring is  around the corner.  From an errant daffodil in our front yard to needing only one coat to walk the dog in the evening, better days are definitely on the way.
Strawberry Buttermilk Baked Doughnuts use real fruit in both the cake and the glaze, making for a bright and tasty treat.
Strawberry Buttermilk Baked Doughnuts
Makes 24 regular size
Ingredients:
Doughnuts
1/4 C butter, melted and cooled
1/4 C vegetable oil
1 C sugar
2 eggs
1 T vanilla extract
2 C flour
2/3 C wheat pastry flour
1 1/2 t baking powder
1/2 t salt
1/4 t baking soda
1 C full fat buttermilk
1 C finely chopped strawberries
Strawberry Glaze
1 C diced strawberries
3 C powdered sugar
1/2-1 T milk
2 drops red food coloring (optional)
Vanilla Drizzle
2 C powdered sugar
1/4 C milk
3/4 t vanilla extract
Directions:
Heat the oven to 425.  Lightly spray a doughnut pan with nonstick cooking spray.
Mix flour, wheat flour, baking powder, salt and baking soda in a bowl.  Set aside.
In a large bowl, combine melted, cooled butter, oil and sugar.  Add eggs and vanilla and whisk until smooth.
Measure out buttermilk.
Pour about a third of the flour mixture into mixture and stir gently.  Add half the buttermilk and stir some more.   Add the next third of the flour, half the buttermilk and finish with the flour.  The key is to combine the ingredients gently but to make sure everything comes together.  Mixture will be thick.  Fold in strawberries.
Transfer to a plastic bag and snip the corner.  Pipe into prepared doughnut pans filling 2/3 full.
Bake for 8-10 minutes or until the doughnuts are pale gold and spring back when touched with a fingertip.  Remove and cool.
To prepare strawberry glaze, put strawberries in a small sauce pan.  Cook over medium heat for 10 minutes until mixture thickens.  Use a mesh sieve to strain out chunks.  Mix strawberry concentrate with powdered sugar and red food coloring if using.  Glaze will be thick but spreadable, add a small amount of milk if needed.
To make vanilla drizzle, combine all ingredients.  Transfer to a plastic bag and make a very small cut in the corner.
Dip cooled doughnuts into strawberry glaze and set on wax paper.  If your glaze is thin you may need to dip them twice.  Add vanilla drizzle.  Allow glaze to set.  Because you used real fruit, the glaze may be stickier than glazes with artificial flavors.  Share with friends.
Recipe modified from "Strawberry Cake Donuts," bakedbyanintrovert.com