Paleo Lemon Blueberry Muffins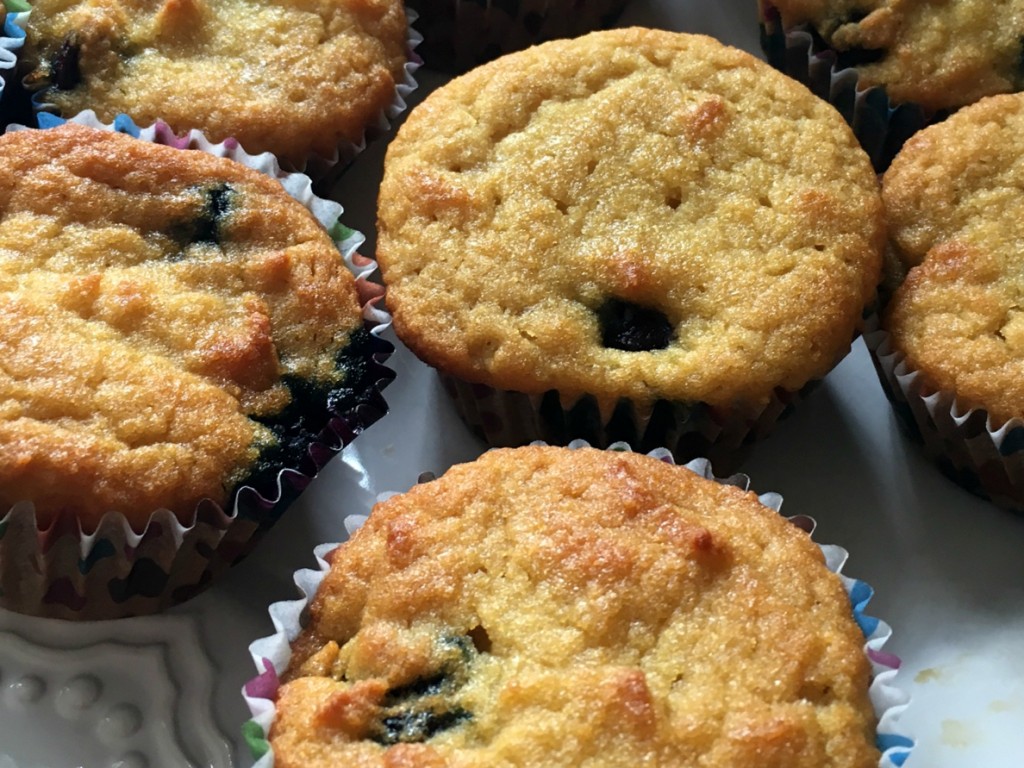 This recipe comes from my sister.  She made these for a family birthday and they were so good no one even realized they are sugar-free, gluten-free and dairy-free.  Paleo Lemon Blueberry Muffins are a perfect way to include friends and family with specialized diets.
Paleo Lemon Blueberry Muffins
Makes 12 muffins
Ingredients:
4 eggs
1/2 C full fat coconut milk (shake up or mix the can before measuring)
1/4 C + 2 T raw honey
1/4 C freshly squeezed lemon juice
 2 T lemon zest
3 T coconut oil, melted then cooled
1 t vanilla extract (technically not paleo, skip if you're a purist)
2/3 C coconut flour
1/4 C tapioca flour
1 t baking soda
pinch salt
3/4 C fresh blueberries (don't use frozen, it makes soup)
Directions:
Heat the oven to 350.  Line pan with muffin wrappers.
Use a hand mixer to combine eggs, coconut milk, honey, lemon juice, lemon zest, vanilla (if using) and coconut oil.
In a separate bowl mix coconut and tapioca flours, baking soda and salt.  Add dry ingredients to the wet, mixing gently until just combined.  Gently fold in blueberries.  Batter will be very thick.
Scoop into muffin tins, filling 3/4 full.  Bake for 20-25 minutes in the oven, splitting time between upper and lower racks.  It is easy to overbake paleo recipes, start checking the muffins at 20 minutes.  They are done when a toothpick comes out clean.
Allow muffins to cool slightly before removing from the pan.  Cool before serving.  Store leftovers in the fridge (if you have any).
Recipe modified from "Blueberry Lemon Muffins," paleorunningmama.com