Copycat Vanilla Bean Scones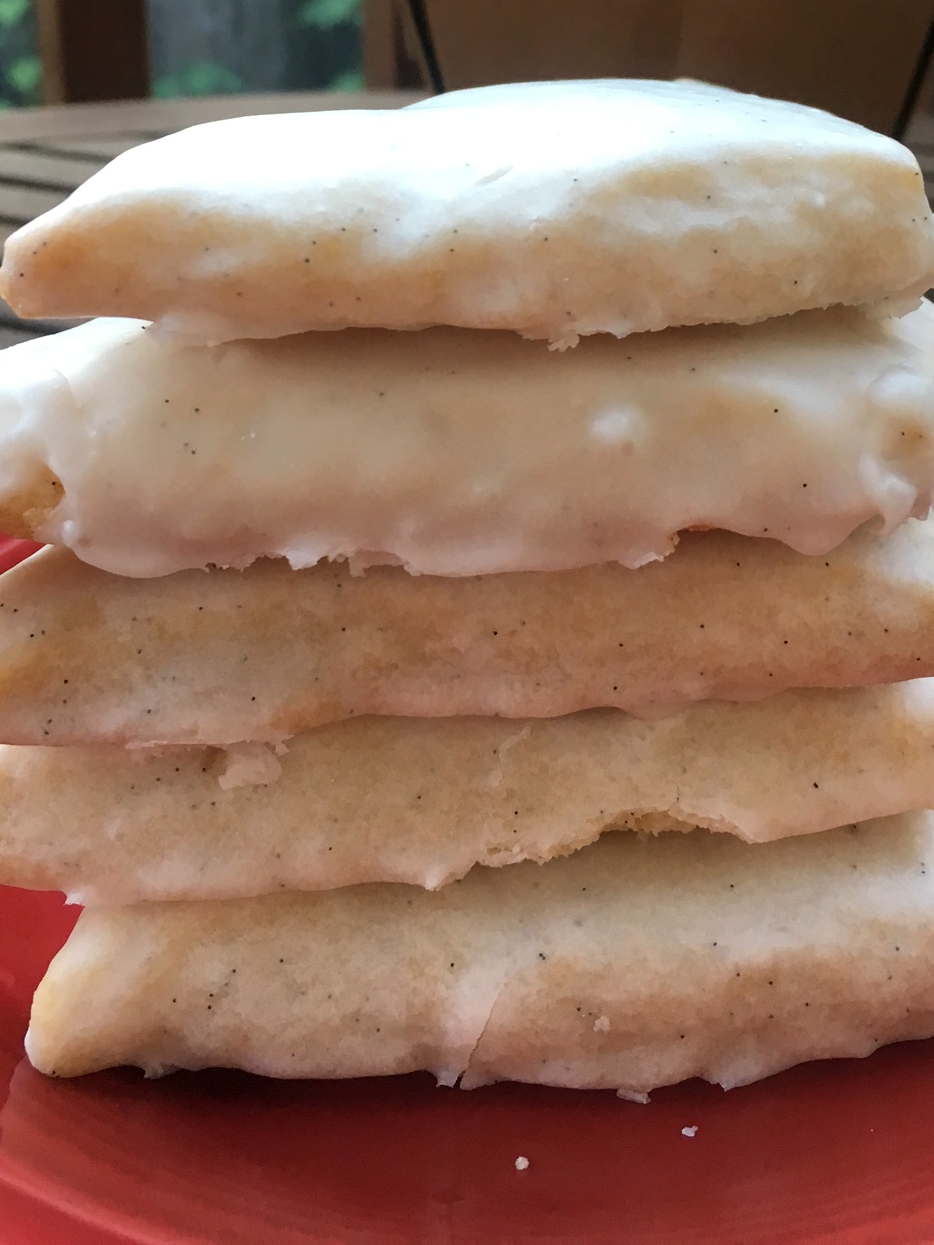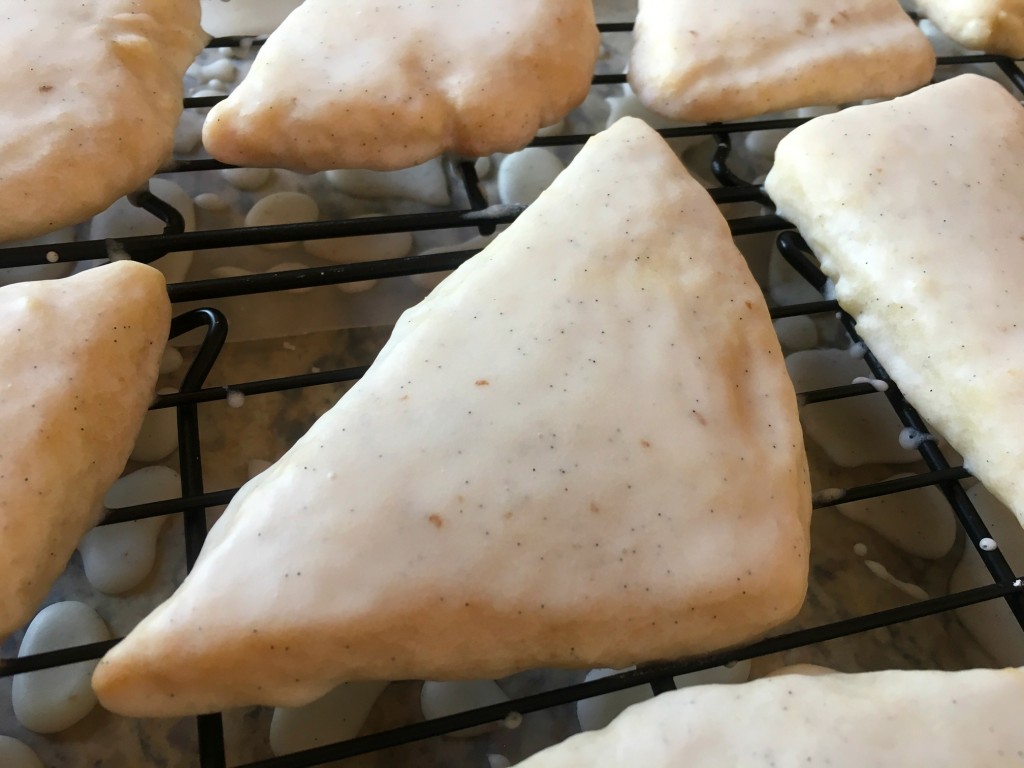 This is a copycat recipe for vanilla bean scones found at an enormously popular coffee shop.  These might just even be better… be sure to make them with fresh vanilla beans.  If you want the size to be more consistent, consider a mini scone pan.  Goodness knows I need one, it's on my Christmas list.
Don't throw away the vanilla bean scraps after you remove the caviar, I put mine in a mason jar with a cup or two of sugar.  Shake it once a week and soon you'll have vanilla sugar.  Substitute into any recipe.  Vanilla sugar is amazing!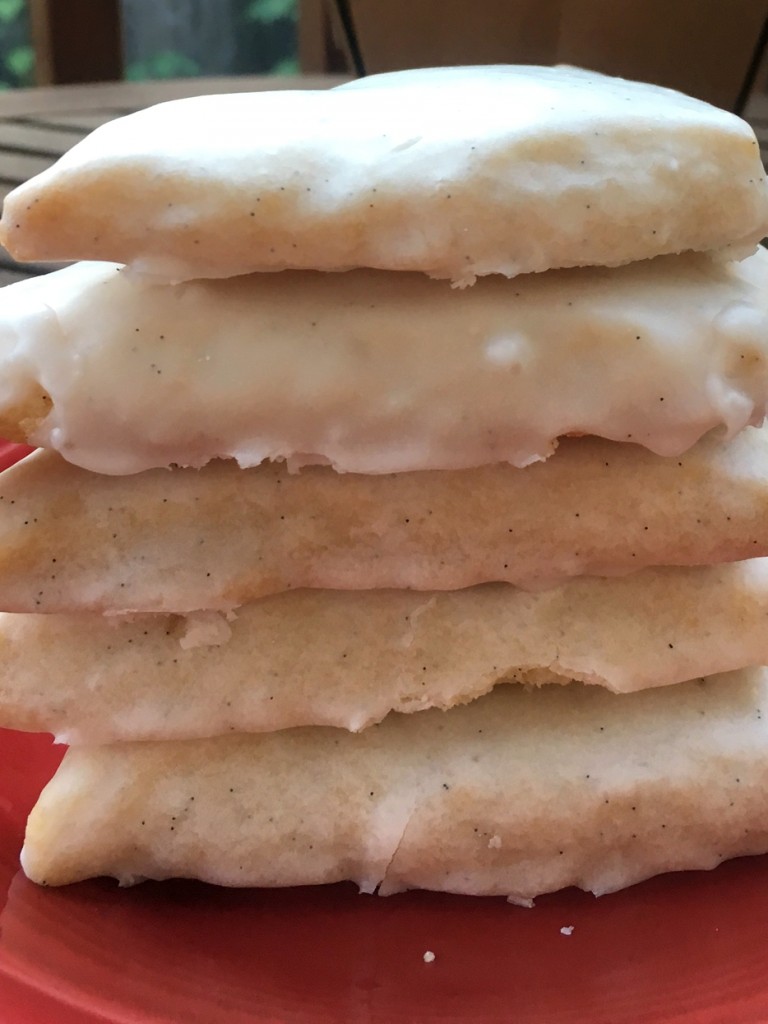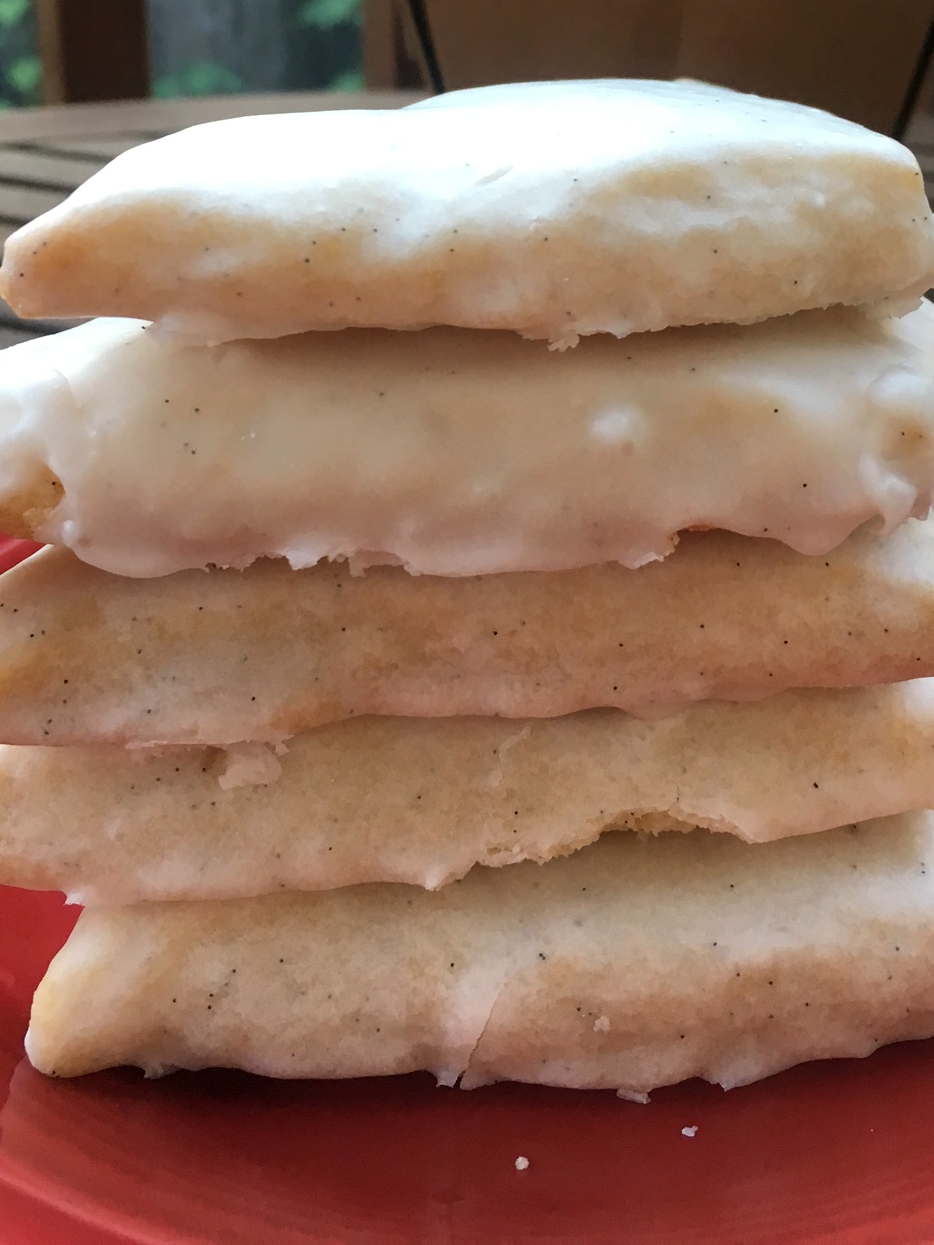 Copycat Vanilla Bean Scones
Makes 18 scones
Ingredients:
Scones
2 whole vanilla beans
3/4 C heavy cream
2 C flour
1 C cake flour
2/3 sugar
5 t baking powder
1/4 t salt
1 C (2 sticks) butter, barely softened
1 egg
Glaze
1 whole vanilla bean
1/2 C whole milk
8 C powdered sugar
1 t clear vanilla extract
Pinch salt
Directions:
Heat the oven to 350.  Line a pan with parchment paper.
Split the 2 vanilla beans length wise and scoop out the filling.  Mix into heavy cream and allow to stand at least 15 minutes.
Mix together flour, cake flour, sugar, baking powder and salt.  Cut the butter into large pieces and use a pastry cutter to combine.  Mixture will resemble coarse crumbs.
Add the egg to the heavy cream.  Pour over flour mixture.  Stir with a fork until it just comes together.
Turn the dough on a very clean, floured surface.  (Or put in your mini scone pan.  I'm super jealous!).  Press dough into a rough rectangle about 12 by 7, 1 1/2 inches thick.  Dough may be crumbly.
Carefully cut the rectangle with 3 horizontal lines.  Now make 3 vertical lines.  You should have about 9 large shapes.  Carefully cut each one diagonally.  Transfer to pan leaving some space between the scones.
Bake for 18-20 minutes, splitting time between lower and upper oven racks.  You do not want the scones to turn brown, look for a faint golden color along the bottom edge.  Allow to cool on the cookie sheet then transfer to a rack.
When scones are completely cool, make the glaze.
Split the vanilla  bean and scoop out the filling.  Add to whole milk and allow to sit at least 15 minutes.  Add vanilla extract.
Put the powdered sugar and pinch of salt into a bowl.  Add liquid to the powdered sugar in increments, stirring until it reaches desired consistency.  I look for thick but still liquid, like honey.
Carefully put a cooled scone into the glaze and turn it over.  Gently remove and transfer to wax paper or the cooling rack.  Glaze will set completely in about an hour.  Goes amazingly well with overpriced coffee.
Recipe modified from "Mini Vanilla Scones with Vanilla Bean Glaze," foodnetwork.com