Cream Cheese Pound Cake with Browned Butter Glaze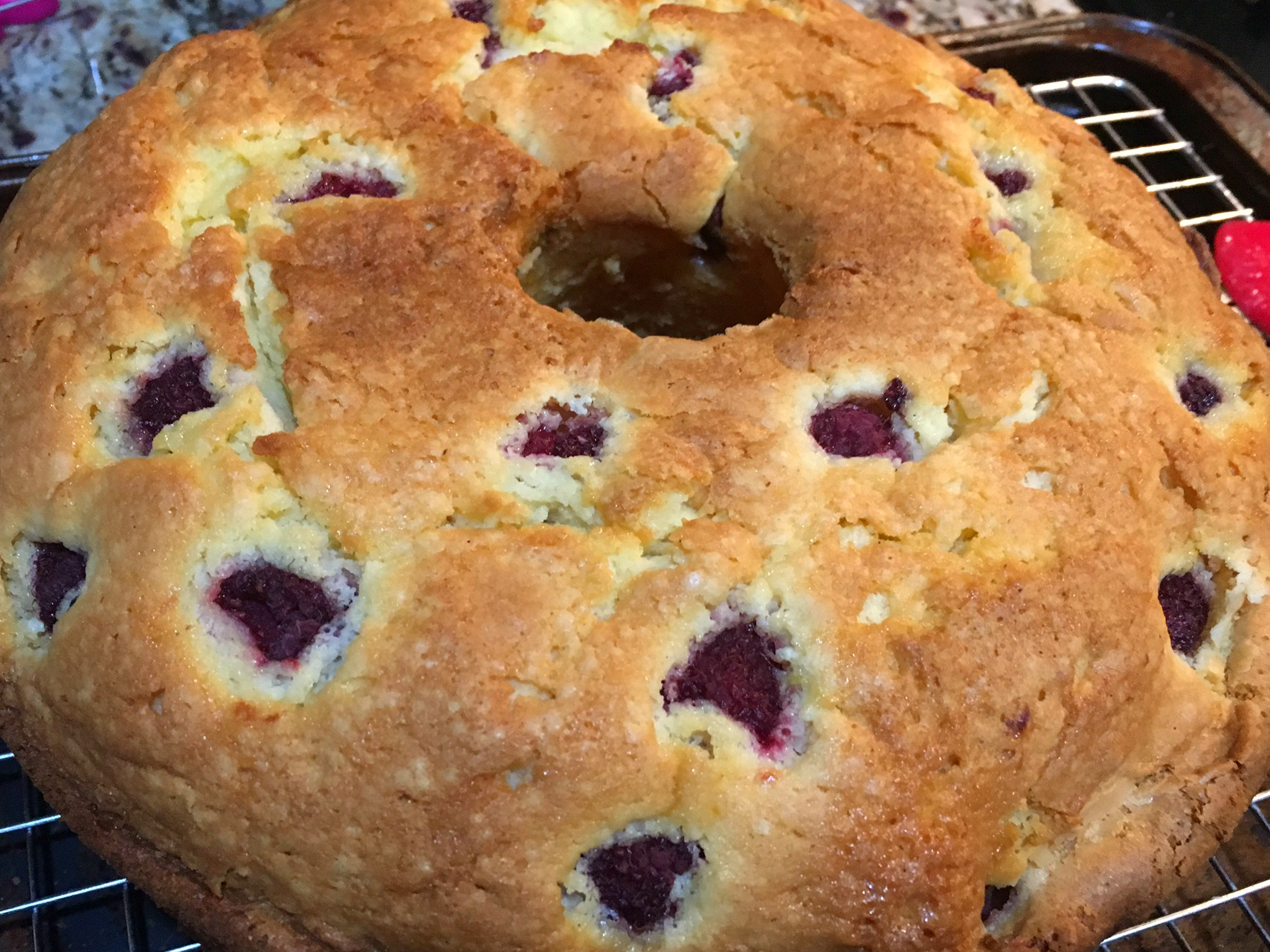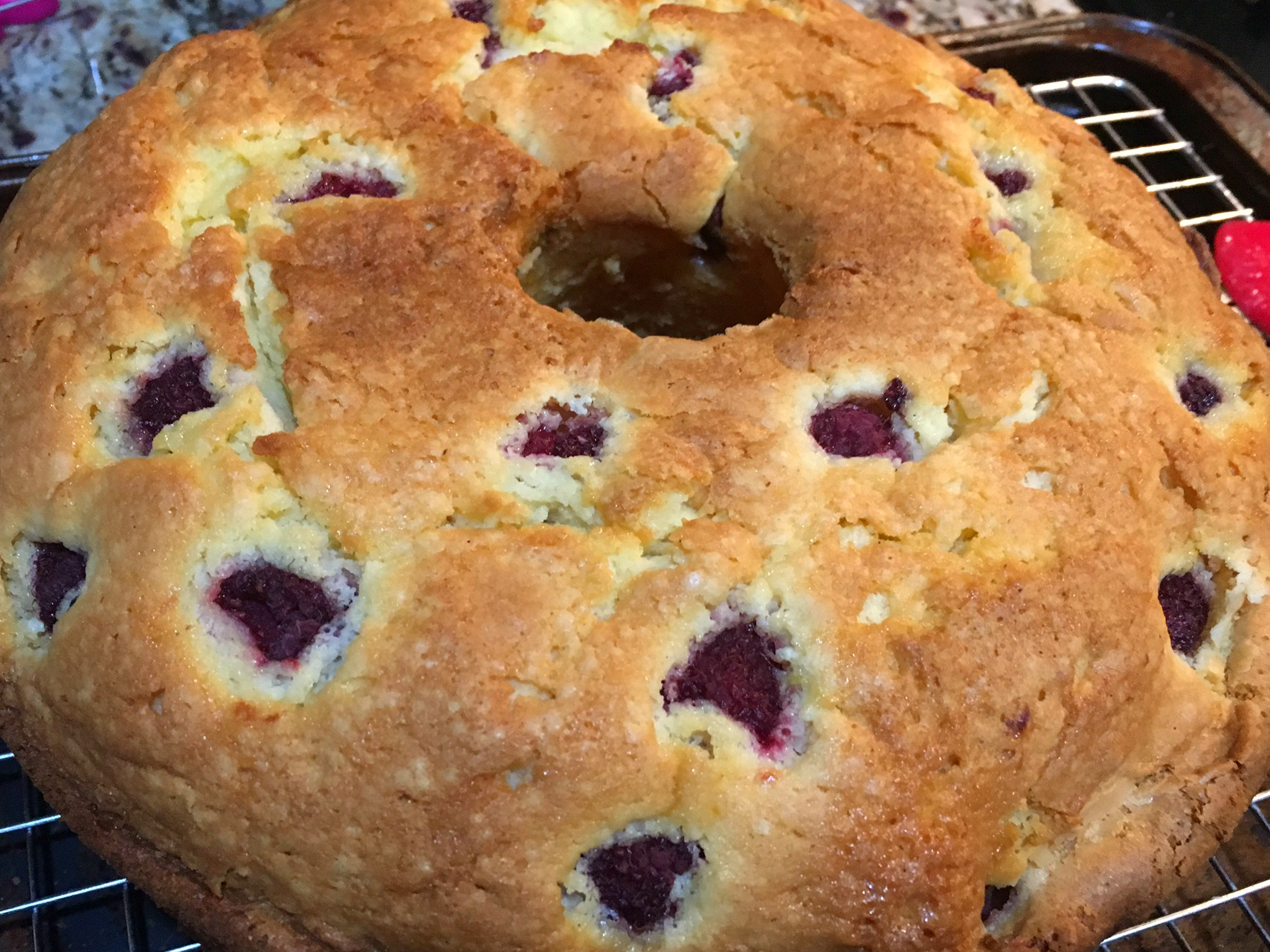 I have made making desserts for years.  Some are good, some are amazing and some literally stop traffic.  Cream Cheese Pound Cake with Browned Butter Glaze causes a multi-car pile up; it's my favorite treat this year.  The dense, buttery crumb texture of pound cake is lightly swirled with fresh raspberries and browned butter glaze adds a hint of caramel.  Feel free to substitute fresh blackberries, blueberries, peaches or strawberry chunks for raspberries.
I made this for a birthday but will be making more for Mother's Day (and probably every other holiday from here forward.  Any reason will do).
Cream Cheese Pound Cake with Browned Butter Glaze
Serves 12
Ingredients:
Cream Cheese Pound Cake
8 oz cream cheese, room temperature
1 1/4 C butter (2 1/2 sticks), room temperature
3 C white sugar
6 eggs, room temperature
1/4 C buttermilk, room temperature
1 t vanilla extract
3 C cake flour
6 oz fresh raspberries, rinsed and dried
Browned Butter Glaze
1/2 C butter (1 stick)
2 C powdered sugar
2 t vanilla extract
2-4 T whole milk
Directions:
Before starting, make sure you allow enough time for the cream cheese, butter, eggs and buttermilk to adjust to room temperature.  I leave butter and cream cheese out over night and eggs and buttermilk for an hour or two.  This recipe will not work if things are too cold or if you try to "cheat" with the microwave.  How do I know?  Totally tried to shortcut and had a mess on my hands.
Heat the oven to 325.  Use shortening to thoroughly grease a 10 inch tube pan.
Use a stand mixer to cream butter and cream cheese until fluffy, at least 3 minutes.  Add sugar and beat 2 additional minutes.
Add eggs 1 at a time, blending completely.  Add buttermilk and vanilla.
Add flour and mix gently until just combined.
Scoop about a third of the batter into the tube pan and sprinkle in half the raspberries.  Pour another third of the batter, add remaining raspberries.  Add the rest of the batter.  Tap the pan gently on the countertop to settle.
Bake in the preheated oven for 90-120 minutes.  Set a timer and check the cake at an 60 minutes.  Because my tube pan is a dark color, the cake completed closer to 90 minutes.  A light-colored tube pan might take longer.  Use a long cake tester (or a long toothpick) to test, it comes out clean when the cake is done.
Cool for 20 minutes then carefully run a thin knife around the edges.  Shake the cake very gently vertically, when you feel it move, place a cooling rack on top of the cake then invert so the cake is upside down and resting on the rack.  Cool completely.
To prepare browned butter glaze, melt butter in a small sauce pan over medium low heat.  After about 10 minutes, the butter will start to boil.  Stir frequently and the butter will foam.
Remove from heat when you see the butter turn a light tan color.  Add vanilla and powdered sugar.  Add 2 T whole milk and stir until smooth.  Add milk in 1 T increments until glaze reaches desired texture.  You may not need all the milk.
Pour browned butter glaze over cake immediately and smooth with a spatula.  Glaze sets very quickly.  Allow glaze to harden.
Slice and serve.  Watch your friends lick the plate and try to be sneaky about it.  No?  That's what happened when I took this to the office…
Recipes modified from "Cream Cheese Pound Cake III," allrecipes.com and "Browned Butter Glaze," marthastewart.com