Lemon Coconut Pudding Cupcakes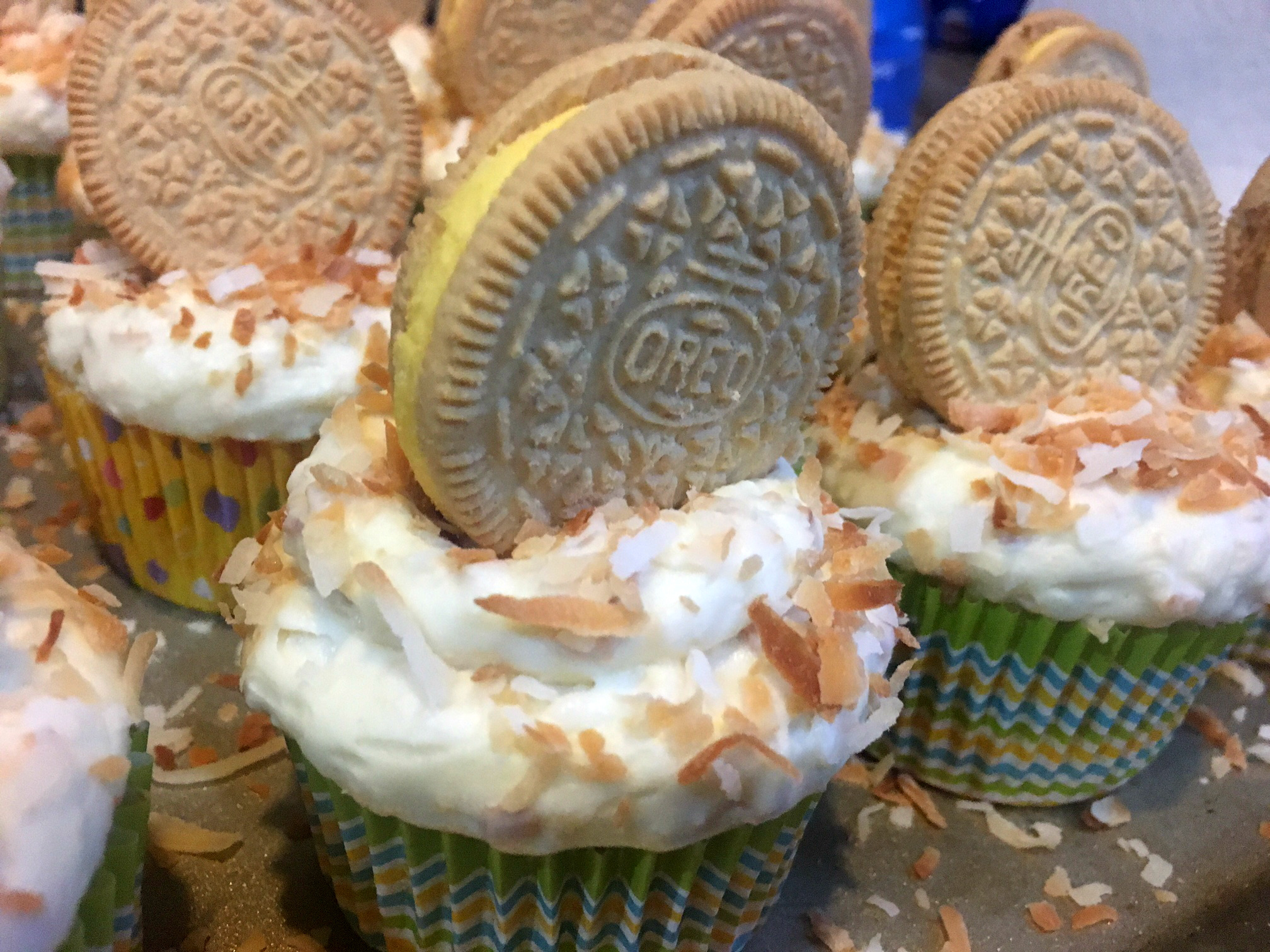 Lemon Coconut Pudding Cupcakes are a sunny salute to spring.  It was a miserable winter in the Pacific Northwest and we will take any sunshine we can get.  These cupcakes have bright citrus flavor, creamy toasted coconut frosting and enough shortcuts you can them ready for Easter brunch.
Lemon Coconut Pudding Cupcakes
Makes 24 cupcakes
Ingredients:
Lemon Pudding Cupcakes
1 box lemon cake mix
1 large lemon, zested
1 small box lemon instant pudding
1 1/4 C water
4 egg whites
1/2 C unsweetened applesauce
1 C toasted coconut
1 C lemon curd (optional)
Toasted Coconut Frosting
1 box instant coconut pudding mix
1 container whipped topping, thawed
1 8 oz package cream cheese, softened
1/2 t coconut extract
1 t lemon extract
3 C toasted coconut
4 C powdered sugar
2-4 T heavy cream
1/2 C toasted coconut (optional)
Lemon Oreos (optional)
Directions:
Heat oven to 350.  Line muffin pans with wrappers.
In a large bowl, combine lemon cake mix, lemon zest and instant lemon pudding.  Add water, egg whites and applesauce.  Stir in toasted coconut.  Mix until evenly combined.
Scoop into muffin pan, filling 2/3 full.  Bake 16-18 minutes, splitting time between lower and upper racks in oven.  Cupcakes are done with a toothpick comes out clean.
When cupcakes are completely cool, cut a small hole and pipe in lemon curd (if using).  If not, move on to making frosting.
To make toasted coconut frosting, whip cream cheese with an electric mixer.  Beat for 2 minutes until light and fluffy.  Add instant coconut pudding, thawed whipped topping, coconut and lemon extracts.
Add toasted coconut and powdered sugar.  Add 2-4 T heavy cream until frosting reaches desired consistency.  Frosting should be thick but spreadable.
Pipe onto cupcakes.  Garnish with 1/2 C toasted coconut (if using) and Lemon Oreos (if using).
Recipe modified from "Lemon Coconut Cake" by Hayley Parker, domesticrebel.com