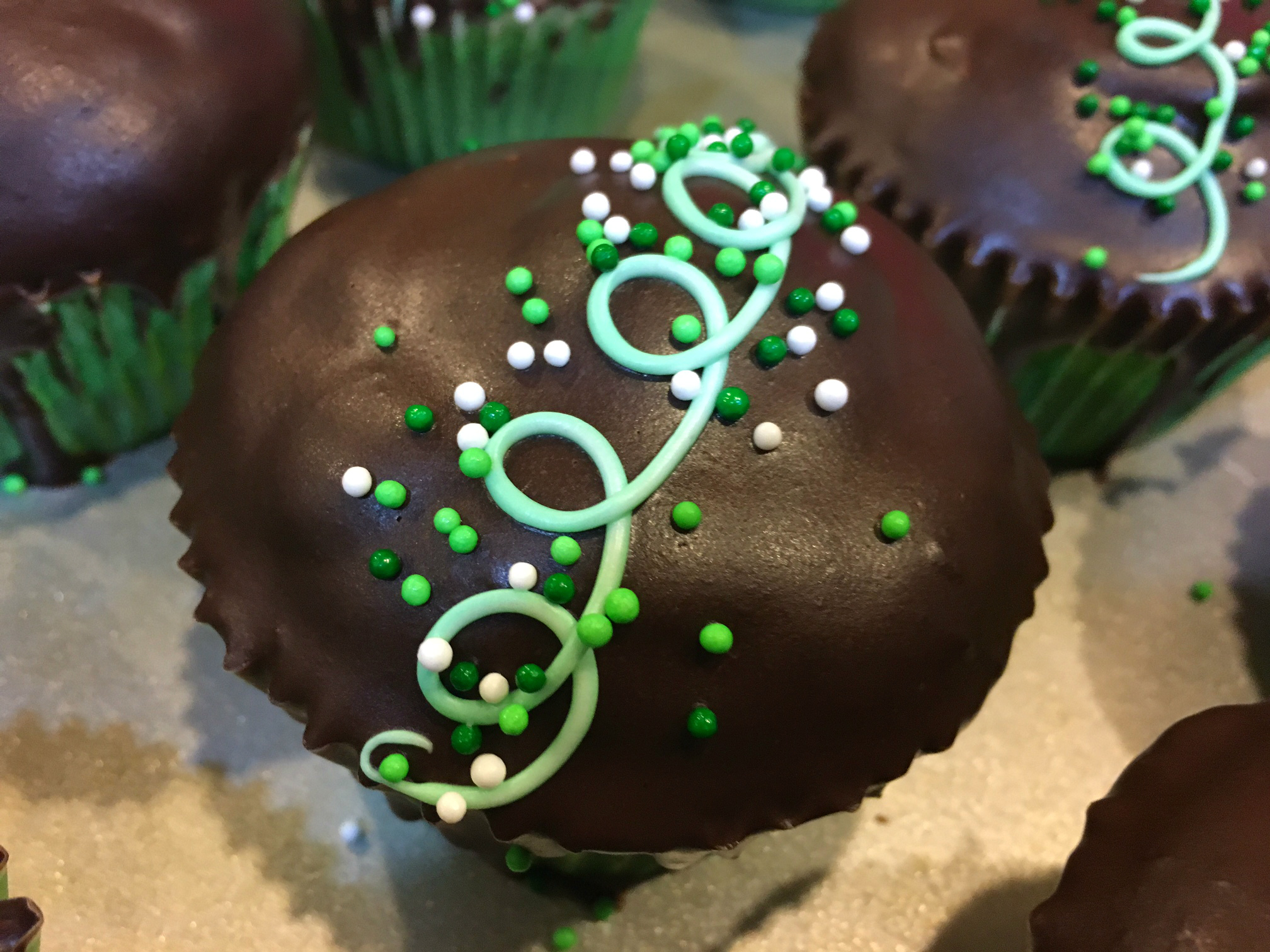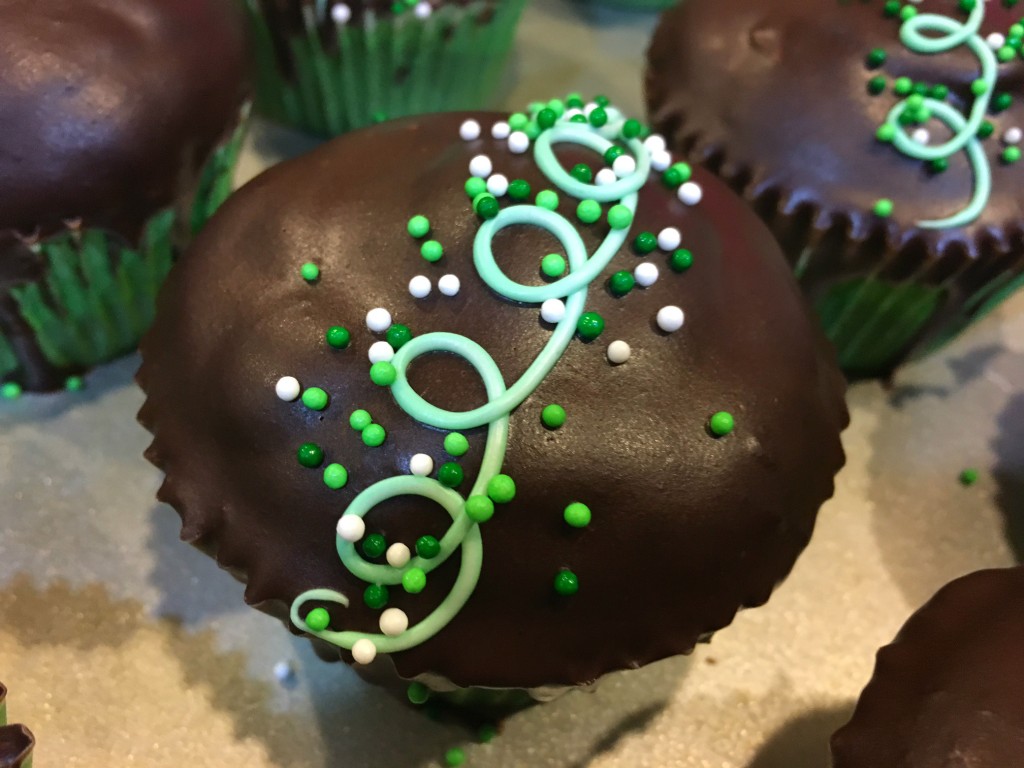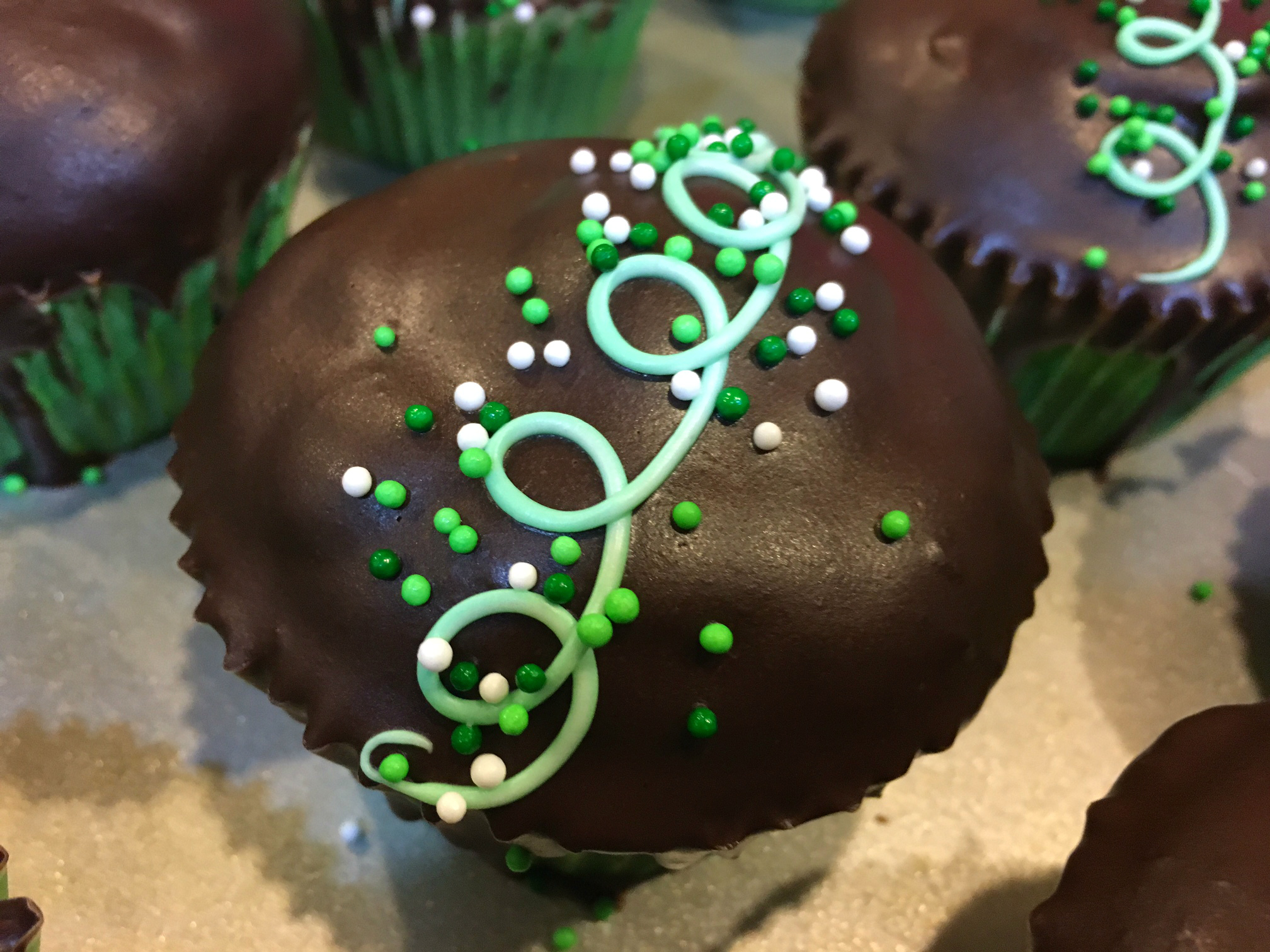 Grasshopper cupcakes are fun for St. Patrick's Day.  Featuring a dark chocolate cupcake, green crème de menthe filling and a fudge dip, these delicious treats will make anyone feel lucky.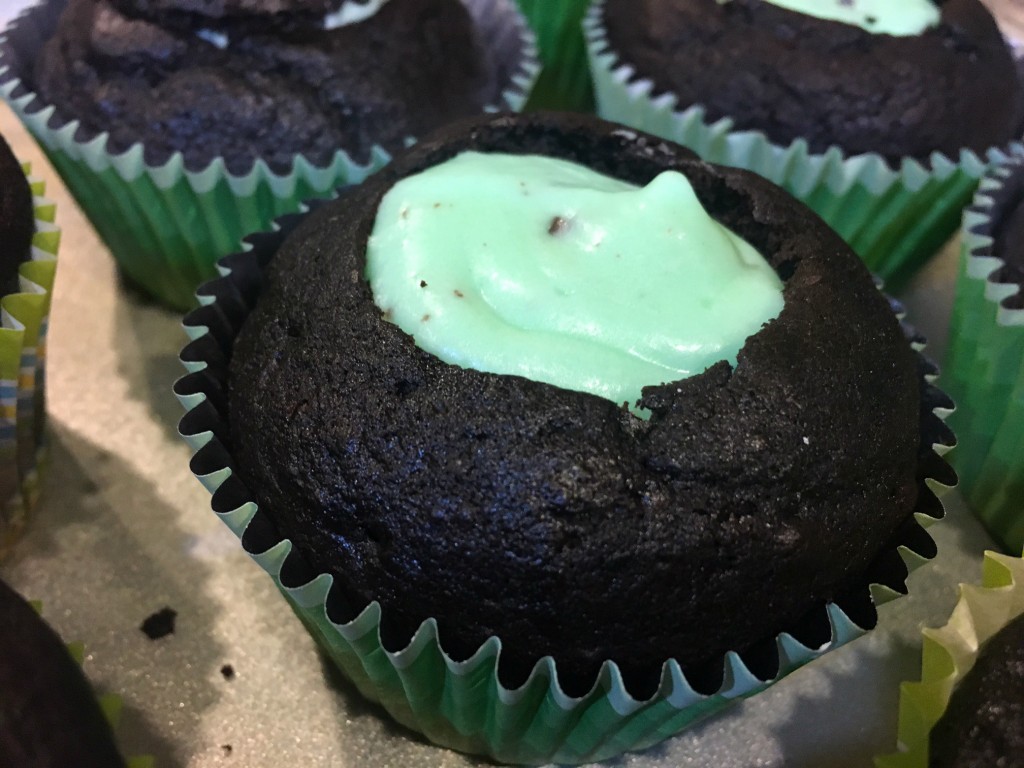 Grasshopper Cupcakes
Makes 24 cupcakes
Ingredients:
2 1/3 C flour
1 2/3 C brown sugar
1 1/2 t baking powder
1 t espresso powder (optional)
1 1/2 t baking soda
1 t salt
2 T cake enhancer (optional)
3 eggs, room temperature
1 1/2 C whole milk
1 T vanilla
1 T apple cider vinegar
1/2 C (1 stick) butter, melted
1 1/2 C miniature chocolate chips
Crème De Menthe Filling
1 C butter (2 sticks), softened
2 lb package powdered sugar
1/4 C green crème de menthe
1 t vanilla extract
2-4 T heavy cream
1/2 package Andes Mints, chopped small
Ganache Dip Topping
2 semi sweet chocolate baking bars
1/2 package Andes Mints
1 C heavy cream
1 T light corn syrup
Green frosting (optional)
Directions:
Heat oven to 350.  Line muffin pans with cupcake wrappers.  Lightly coat with nonstick cooking spray.
Whisk together dry ingredients and set aside.
Use a hand mixer to combine eggs, milk and vanilla.  Gently stir in dry ingredients.
Fold in apple cider vinegar, melted butter and chocolate chips.  Don't over mix.
Divide into cupcake pans, fill 3/4 full.
Bake for 22-24 minutes or until a toothpick comes out clean.  Split baking time between lower oven rack and upper oven rack.
Allow cupcakes to cool completely.
Use a cupcake corer or sharp knife to make holes in cupcakes.  Keep the pieces you remove, trimming excess cake from the bottom.  Set aside.
To make crème de menthe filling, cream butter with hand mixer.  Add crème de menthe and vanilla.  Add powdered sugar.  Add heavy cream to adjust texture.  When thick but spreadable, add Andes Mints.  Transfer filling to a plastic bag and snip corner, fill cupcakes.
Use the extra pieces of cake (the "tops") from the cupcake cores, to seal filling.
Prepare ganache dip topping.  Break semisweet baking bars into pieces.  Add Andes Mints, corn syrup and heavy cream to baking bars in a microwave safe bowl.  Microwave in increments until melted and smooth.
Carefully invert a sealed cupcake and dip into ganache topping.  Topping will start liquid but firm up as it cools.  Dip cupcakes twice.  Decorate with green frosting if desired.
Refrigerate until serving.  Happy St. Patrick's Day!
Cupcake recipe modified from "Grasshopper Cupcakes," kingarthurflour.com and filling modified from "Crème de Menthe Frosting" from myrecipes.com