Black and White Bakery Doughnuts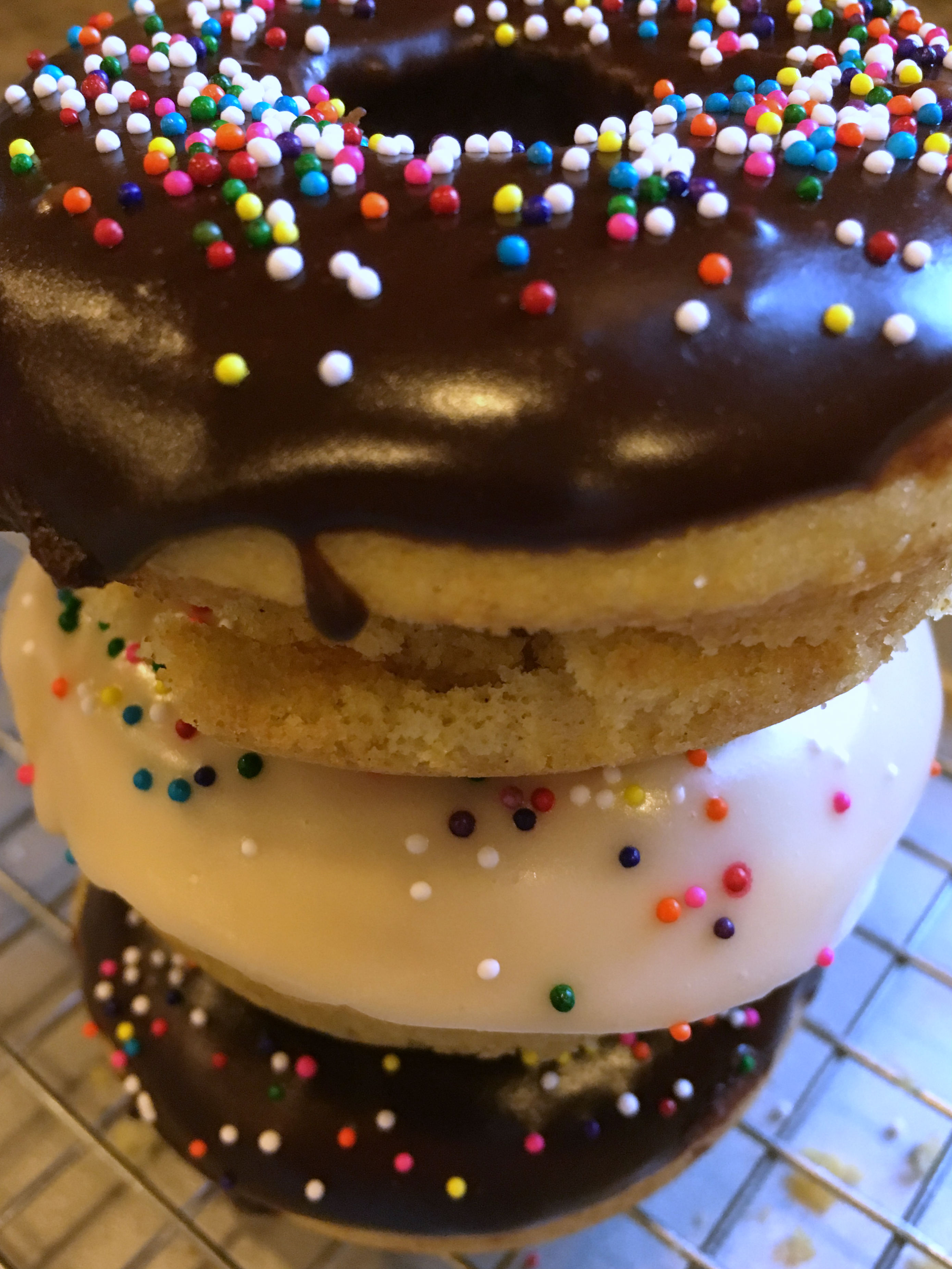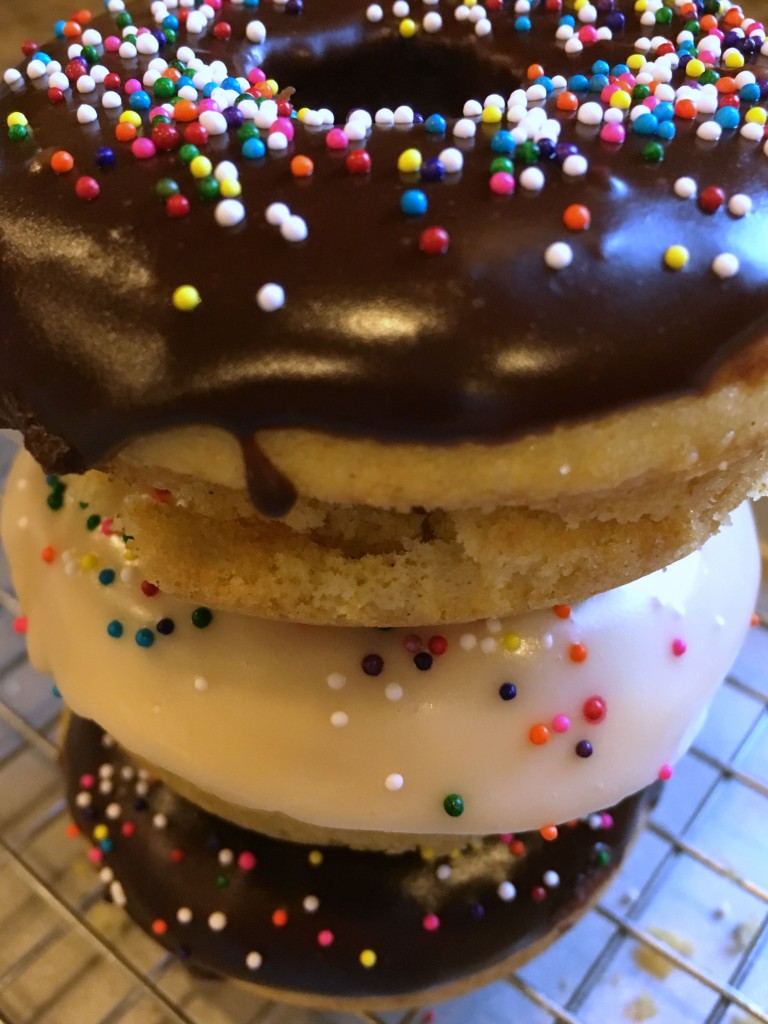 Black and White Bakery Doughnuts make 2 flavors in 1 recipe; half are glazed with vanilla and half with chocolate fudge.  These moist and fluffy treats taste like they were made in a bakery.  For best flavor use freshly grated nutmeg.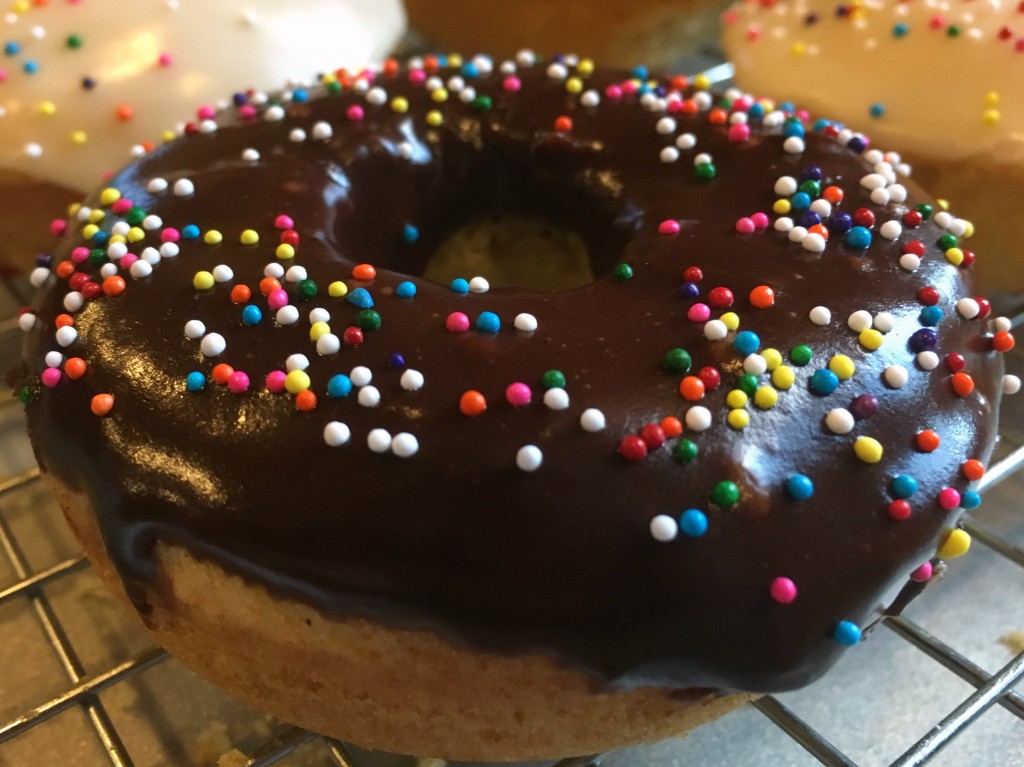 Black and White Bakery Doughnuts
Makes 12 regular sized doughnuts
Ingredients:
Bakery Doughnuts
2 C flour
2 t baking powder
3/4 t salt
3/4 C sugar
2 eggs
1 T shortening
3/4 C heavy cream
1 t vanilla
1/4 t freshly ground nutmeg
1/4 t cinnamon
Black and White Glaze
3 C powdered sugar
1/3 C whole milk
1 t vanilla
Pinch salt
4 T semi sweet chocolate chips
1 T cocoa powder
Sprinkles (optional unless you want boring doughnuts)
Directions:
Heat the oven to 325.  Coat doughnut plans thoroughly with non-stick spray.
Mix flour, baking powder and salt.
Use a stand mixer to cream sugar, eggs and shortening.  Add heavy cream, vanilla, nutmeg and cinnamon.
Add flour mixture and fold until just combined.
Scoop into a Ziploc bag and snip the corner.  Pipe into doughnut pans filling cavities 2/3 full.
Bake for 16 minutes total, 8 minutes on lower rack and 8 on upper.  The doughnuts will be slightly golden.  Allow doughnuts to rest for a few minutes in the pan, then invert onto a rack.  Don't try glazing the doughnuts until they are completely cooled.  Bake all your doughnuts.
To make  glaze, combine whole milk, powdered sugar, pinch salt and vanilla in a sauce pan.  Put on medium low heat and stir, goal is to heat the glaze until it thickens.  It will coat the back of a spoon.
Dip half the doughnuts in vanilla glaze.  Add sprinkles quickly.
Return pan to stove, add semi sweet chocolate chips and cocoa powder.  If it appears too thick to dip doughnuts, add 1 T extra whole milk.  Dip chocolate doughnuts and add sprinkles.
Serve when the glaze sets.  Doughnuts are best shared the same day.
Recipe modified from "Black and White Bakery Doughnuts," deliciouslyyum.com, 2/17/14