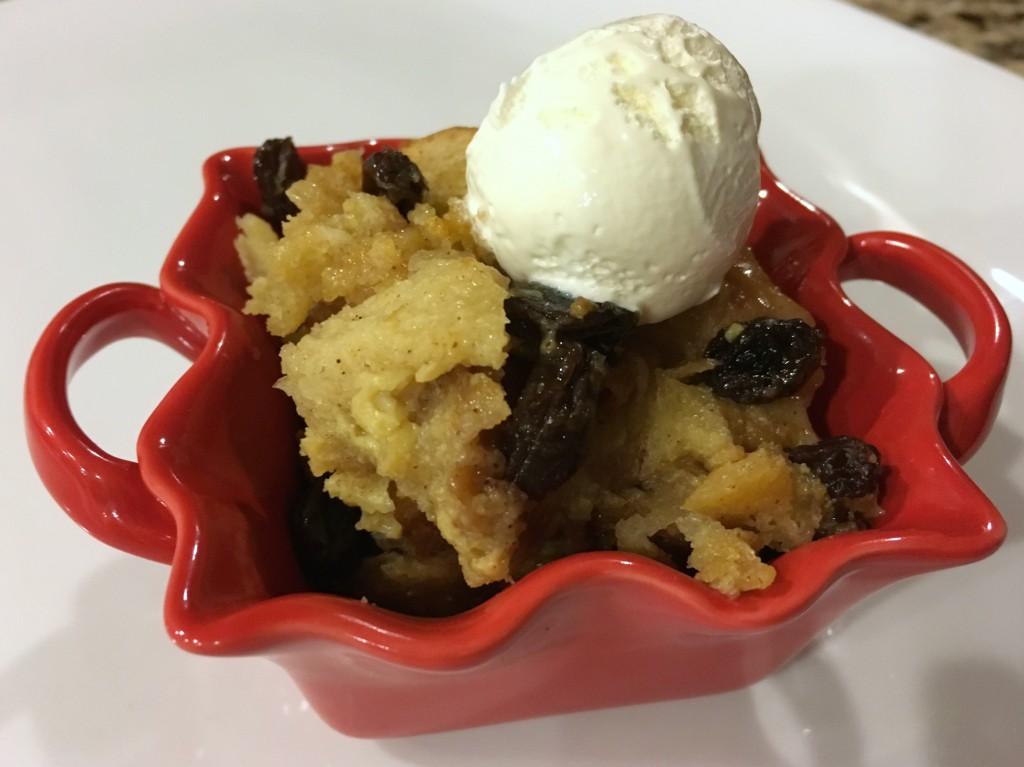 Phew- have you recovered from Thanksgiving?  It was wild and wonderful here, we got home from a trip to the east coast just in time.  We don't have problems with leftover turkey because our big family cleans it up.  Instead I turned an extra loaf of bread into pudding; a perfect treat for the frozen elves outside putting up Christmas lights.  This would also be delicious at a holiday brunch.
Leftover Bread Pudding
Makes 9×13 pan, approximately 12 servings
Ingredients:
1 loaf of your favorite bread, I recommend a dense egg bread (ask in the bakery if you're not sure), cubed into 1 inch pieces
4 T butter, melted
1/2 C raisins
2 C milk
1 C heavy cream
6 eggs, beaten
3/4 C sugar
1/2 C dark brown sugar
1 T cinnamon
1/4 t freshly ground nutmeg
1 t vanilla
Whipped cream for serving (optional)
Directions:
Heat oven to 350.  Drizzle melted butter over bread.  Add raisins.
In separate bowl, combine eggs, milk, heavy cream, sugar, brown sugar, cinnamon, nutmeg and vanilla.  Pour over bread.  Turn mixture with a spatula to help it absorb.  This may take a few minutes if your bread is dense.  It should take almost all the liquid.
Dump into 9×13 pan.  Bake for 35-40 minutes until the top springs back when touched.
Serve warm with whipped cream.  Want to make it extra special?  Drizzle with caramel sauce or pure maple syrup.
Recipe modified from "Bread Pudding II," by ELLENMARIE, allrecipes.com