Salted Chocolate Chip Cookies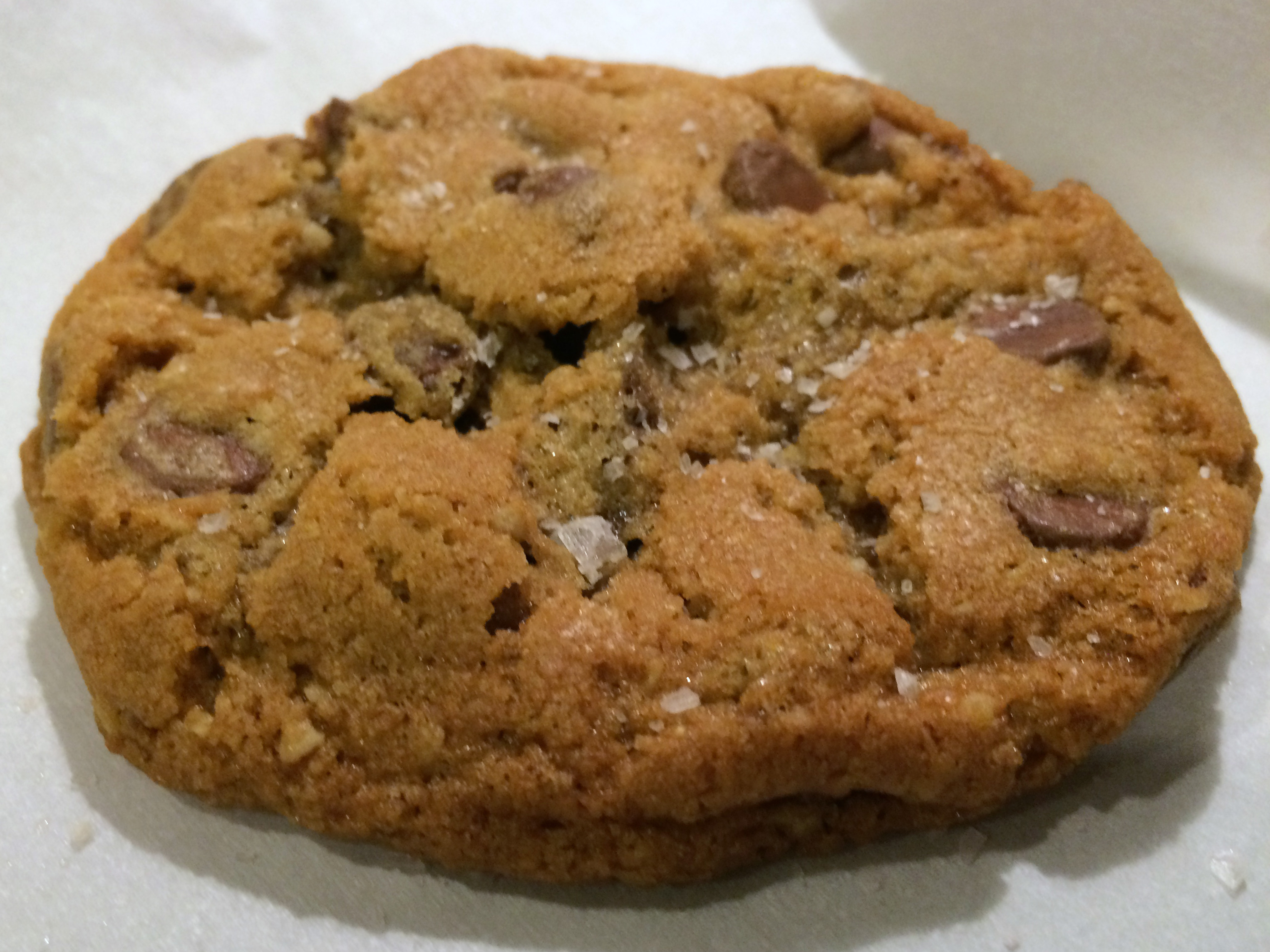 I love salt- Salted Caramel Apple Pie, Salted Pumpkin Rolls, Salted Caramel Blondies, Cheater Pants Salted Toffee and easy Salted Pecan Turtles.
The trick with salted anything is to use flaked salt instead of table salt.  Table salt has a strong taste, hence why it's often used to change the flavor in recipes.  A finishing salt is lighter and flakier, making it perfect for finishing salted desserts.  Table salt is too strong for finishing and flaked salt is too spendy to waste changing flavors in food.  Flaked salt also dissolves quickly on your tongue, introducing salt in to the flavor without spoiling it.  It's totally worth having one bottle of nice, finishing salt in your cupboard, even if you have to order it specially.  Murray River Sea Salt is my favorite.  It has lasted quite a while and totally worth it!
Salted Chocolate Chip Cookies
Makes 36 cookies.  This recipe can be easily cut in half.
Ingredients:
1 1/2 C instant oats
3 C flour
1 1/2 t baking soda
1 1/2 t baking powder
1 t sea salt
1 1/4 C (2 1/2 sticks) butter, softened
1 1/2 C packed dark brown sugar
1 C white sugar
2 eggs
2 t vanilla
2 C semi-sweet chocolate chips
1 C milk chocolate chips
Flaked finishing salt such as Murray River Sea Salt for sprinkling
Directions:
Heat oven to 350.  Line rimmed baking sheets with parchment paper.
Use a food processor (or clean coffee grinder) to pulse oats until they resemble coarse flour.  Add flour, baking soda, baking powder and salt.  Set aside.
Use a mixer with a paddle attachment to cream butter.  Add both sugars, eggs and vanilla.  Mix until fluffy.
Add dry ingredients.  Scrape sides if needed.  Add chocolate chips.
Use a cookie scoop to make balls of dough 2 inches in diameter.  Set on baking sheets, leave space in between.
Bake for 12-14 minutes until cookies are golden brown.  Remove from oven and immediately sprinkle with finishing salt.  Allow to set for a few minutes and transfer to a cooling rack.
Recipe adapted from "Salted Chocolate Chunk Cookies," mybakingaddiction.com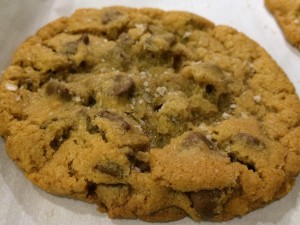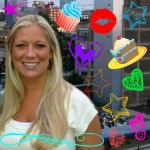 I'm a self-taught Betty Crocker. Food should be pretty, delicious and have sprinkles. Professionally I'm a clinical social worker. Follow me on Facebook and Pinterest- Sugar and Spice Baking Blog- for great recipes, amazing restaurants and culinary adventures.