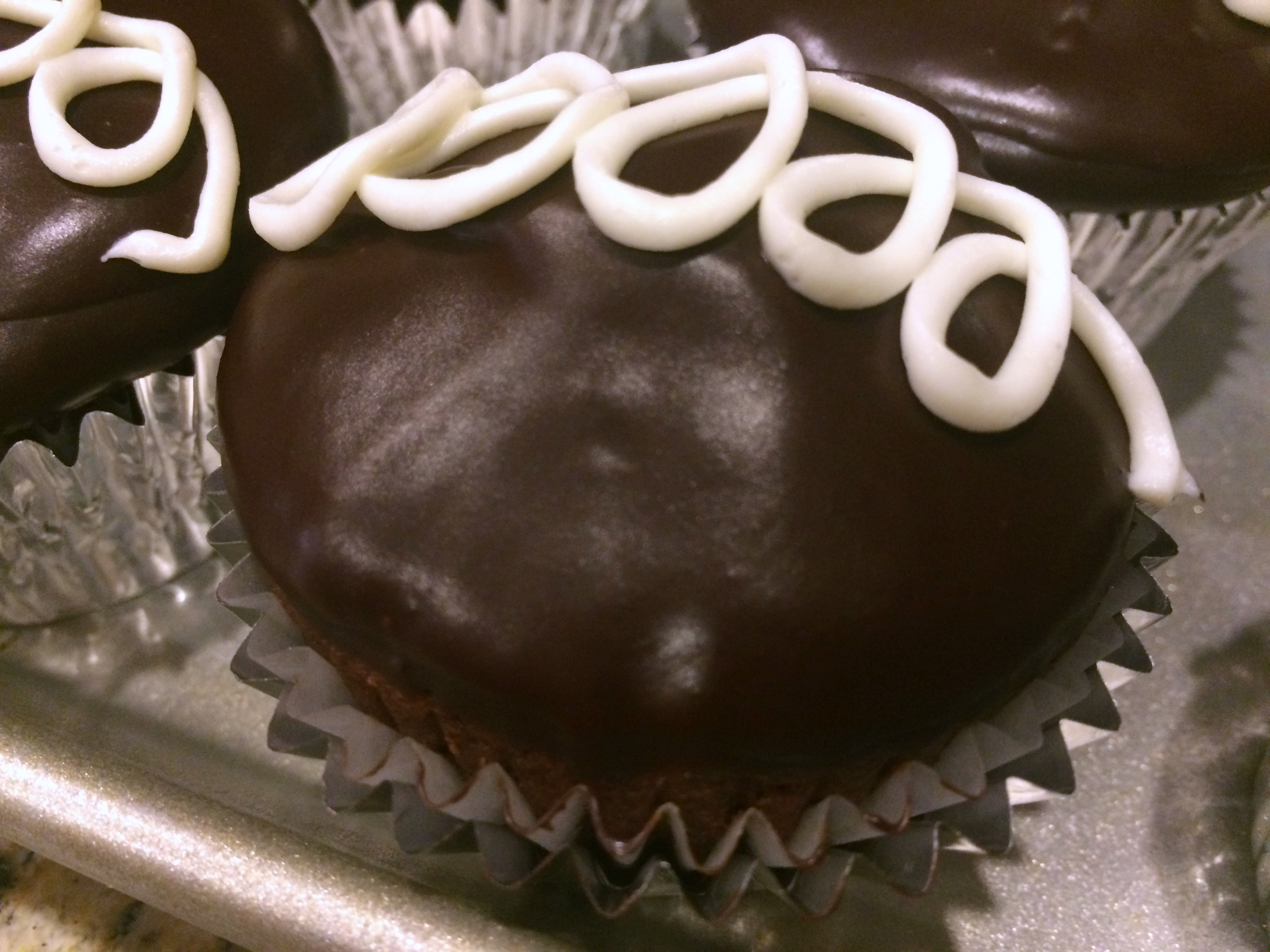 I love this recipe!  I've made Ding-Dong Cupcakes before and added a peppermint version at Christmas.  These chocolate ganache dipped treats are always a hit.
Ding-Dong Cupcakes
Makes 24 cupcakes
Ingredients:
1 box dark chocolate cake mix
1 small box instant chocolate pudding
4 eggs
3/4 C whole milk
3/4 C vegetable oil
1 T vanilla
Filling:
4 oz (1/2 block) cream cheese, softened
1/2 C (1 stick) butter, softened
2 C powdered sugar
1/2 container frozen whipped topping, thawed
1 T vanilla
pinch salt
Ganache frosting:
1 C heavy cream
8 oz semi sweet chocolate (2 baking bars)
2 T light corn syrup
1/2 C vanilla frosting (I used a can)
Directions:
Heat oven to 350.  Line cupcake pans.
Combine cake and pudding mix.  Add eggs, milk, oil and vanilla.
Fill cupcake pan wells 2/3 full.  There is enough for 24 cupcakes.  You don't want these to overflow.
Bake for 20 minutes total- 10 on the lower rack and 10 on the upper.  Cupcakes are done when a toothpick comes out clean.  Set aside to cool.
Prepare cupcake filling.  Use a stand mixer to combine cream cheese and butter.  Add vanilla, salt and thawed frozen whipped topping.  Add powdered sugar.  Scoop into a Ziploc freezer bag.
Remove cupcake centers with a cupcake punch or sharp knife.  Set punches aside, you'll need them later.
Snip the corner of the Ziploc and pipe filling into cupcake holes.  Fill them to the top.
Remove excess cake from the bottom of the punches and carefully cover the holes.  Press down gently.  You need to seal the cupcakes to dip in chocolate ganache topping.
To make ganache, put heavy cream in a microwave safe bowl.  Microwave in 30 second increments until hot, about 1 1/2 minutes.  Add corn syrup and semi sweet chocolate.  Stir until combined.
Holding cupcake upside down, carefully lower the top into the ganache.  Set cupcake back tray.  Ganache will cool and set.  You'll know because it will start to look dull instead of shiny.  Repeat until all cupcakes are dipped.
For extra fun, microwave ganache 15 seconds to make sure it hasn't thickened too much.  Redip all cupcakes.  There is enough ganache to dip twice.
Put 1/2 C vanilla frosting in a Ziploc bag.  Cut a very small piece from the corner.  Pipe on swirls.  Refrigerate until serving.
Ding-Dong cake recipe from a family friend
Ganache adapted from "Chocolate-Ganache Glaze," marthastewart.com