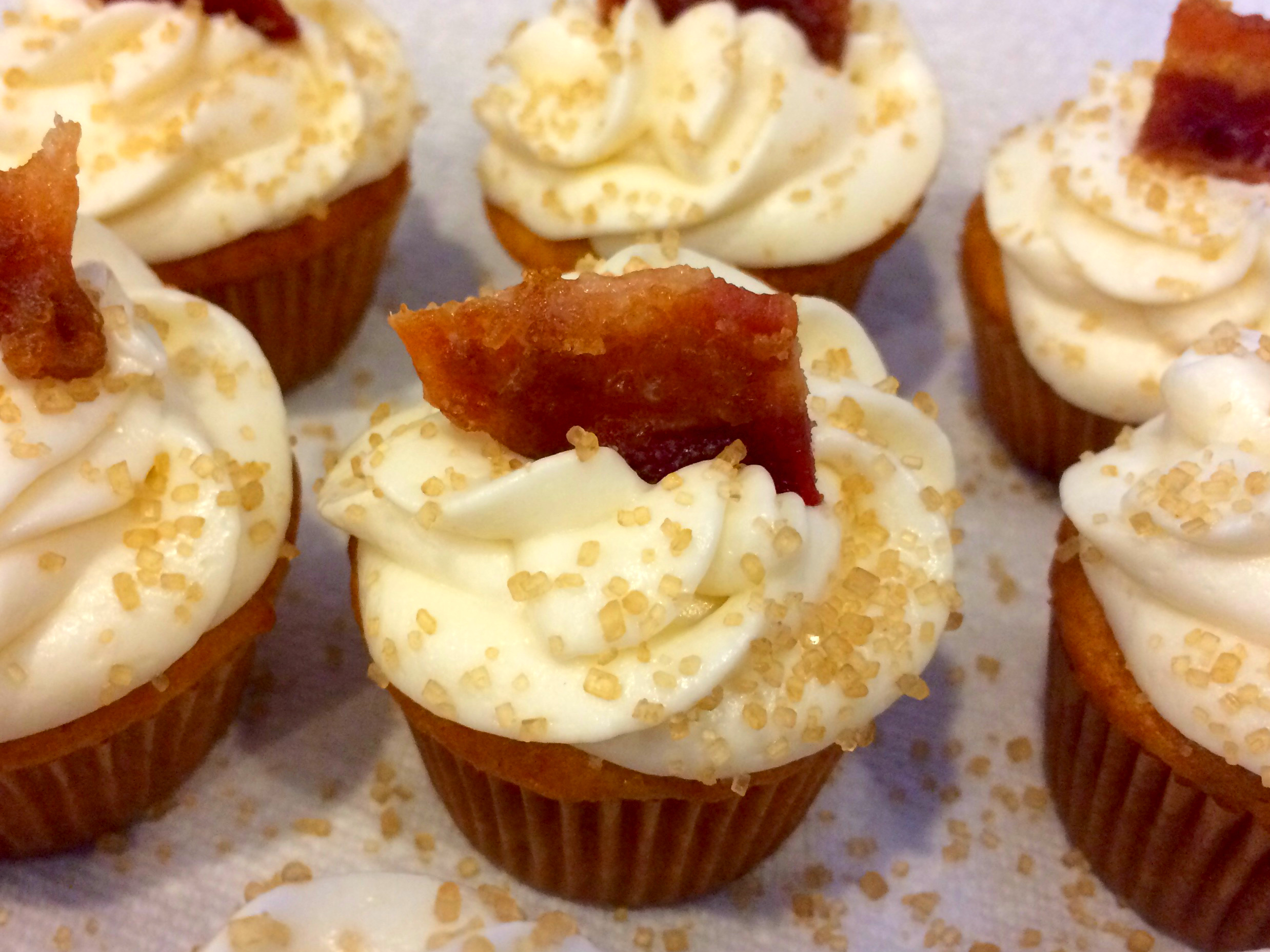 A friend from work is hosting a bacon party.  Bacon parties are amazing- everyone brings a dish containing bacon.  We had bacon baked beans, bacon cheeseburgers, bacon cheddar deviled eggs and the infamous bacon explosion.  I brought Bacon Bourbon Cupcakes for dessert.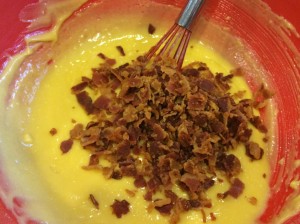 These cupcakes perfectly balance sweet and salty, are studded with bacon pieces and topped with candied bacon and bourbon buttercream frosting.  They would be amazing for a football game or Father's Day.  Or any day.  It's bacon- you can't go wrong.
Please note there is alcohol in these cupcakes.  It's a miniscule amount, do whatever you think is right for kids or pregnant ladies.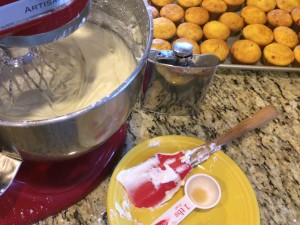 Bacon Bourbon Cupcakes
Makes 60 miniature cupcakes
Ingredients:
Bacon Cupcakes:
1 box yellow cake mix
1 small box vanilla pudding
3/4 C whole milk
3/4 C vegetable oil
4 eggs
1 1/2 C cooked and crumbled bacon pieces
Bourbon Buttercream Frosting:
1 8 oz package cream cheese, softened
1 C butter (2 sticks), softened
4 T bourbon
8 C powdered sugar
Raw sugar for sprinkling
Candied Bacon:
12 strips bacon
1/2 C dark brown sugar
Directions:
I used 2 packages of bacon for the whole recipe, with most going into the 1 1/2 C crumbles.  12 strips were candied for the topping.
To get started, cook and crumble 1 1/2 C bacon.  I recommend baking it in the oven.  This can be done ahead of time.
To prepare candied bacon, heat oven to 350.  Line rimmed baking pan with foil.  Sprinkle 1/4 C brown sugar.  Set 12 strips of bacon on the brown sugar.  Sprinkle on remaining 1/4 C.
Bake around 30 minutes, turning half way.  Bacon will shrink and lightly brown.  Do not set on paper towels to drain, candied bacon will stick.  Set on clean sheets of aluminum foil.  When still soft but cool enough to handle, cut each slice of candied bacon into 5 smaller pieces.
To make cupcakes, heat oven to 350.  Mix cake mix and pudding.  Add milk, eggs and oil.  Combine completely, scrape sides if needed.  Add bacon crumbles and stir.
Line mini cupcake pans.  Filling wells 2/3 full and bake for 10 minutes total, 5 on lower oven rack and 5 on upper.  Cupcakes will lightly brown on top.  Set aside to cool.
For bourbon buttercream frosting, use a stand mixer.  Combine softened cream cheese and butter.  Add 2 T bourbon.  Add half the powdered sugar.  Scrape sides.
Add 2 T more bourbon.  Add remaining powdered sugar.  Texture should be thick but spreadable, similar to peanut butter.  If it's thick, add a little bourbon.  If it's thin, add powdered sugar.
Pipe onto cooled cupcakes and top with candied bacon pieces.  Sprinkle with raw sugar.
Recipe modified from "Maple Bacon Bourbon Cupcakes," tablespoon.com