Triple Chocolate Mousse makes a fancy treat for Father's Day. My dad is a lifelong choc-a-holic and I wanted to indulge him. While this is not the healthiest dessert around (hello heavy cream), 3 layers of chocolate make it extra special.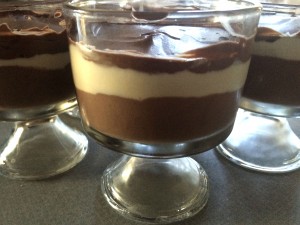 Triple Chocolate Mousse
Ingredients:
• 1 pint (2 C) heavy cream
• 2 oz (1/2 C) dark chocolate chips
• 2 oz (1/2 C) milk chocolate chips
• 2 oz (1/2 C) white chocolate chips
• 2 T cold water
• 1 t unflavored gelatin
• 2 egg yolks
• 2 T white sugar
• 1/2 C milk
• 1/2 C whipped cream
• 2 T powdered sugar
• 1 t vanilla extract
• Garnish- chocolate shavings, sprinkles or chocolate covered strawberries
Directions:
Put metal mixing bowl in the freezer. When it is cold, use a mixer with whisk attachment to whip the pint of heavy cream until stiff peaks form. Scoop into sealed container, set aside and refrigerate.
Distribute chocolate chips into 3 medium bowls splitting by type.
In another small bowl, put 2 T cold water and 1 t unflavored gelatin. Let it sit about 10 minutes until soft.
In a medium bowl (yes another one, make someone else do dishes), beat egg yolks and white sugar. Heat 1/2 C milk on the stove over medium low until it starts to steam. Pour some of the milk into egg yolks while stirring quickly with a whisk, then pour back into milk still stirring with the whisk. This is called tempering and prevents scrambled eggs.
Stir mixture about 2 more minutes until it is thick enough to coat the back of a spoon. This means you can run your finger through the coated spoon and a line remains.
Removed the heated milk and add to soft gelatin. Stir until dissolved.
Pour evenly over 3 bowls of chocolate chips. Stir until melted. If it needs help, microwave in 15 second increments stirring in between. You want the mixture to melt evenly but not boil or scorch.
Cool chocolate mixtures to room temperature. Divide previously whipped cream into three, stir until distributed.
Quickly scoop into 4 clear containers, layering the flavors. To smooth out, gently shake or tap the cup on the counter to spread. Refrigerate at least 2 hours.
To serve, use mixer to whip additional 1/2 C heavy cream, powdered sugar and vanilla until stiff peaks form.
Pipe or dollop whipped cream on chocolate mousse cups. Garnish with chocolate shavings, sprinkles or chocolate covered strawberries. Happy Father's Day!
Update- This was requested by my dad AND my father-in-law.  Everyone loves chocolate mousse!
Recipe modified from "Triple Chocolate Mousse," kitchenconfidante.com