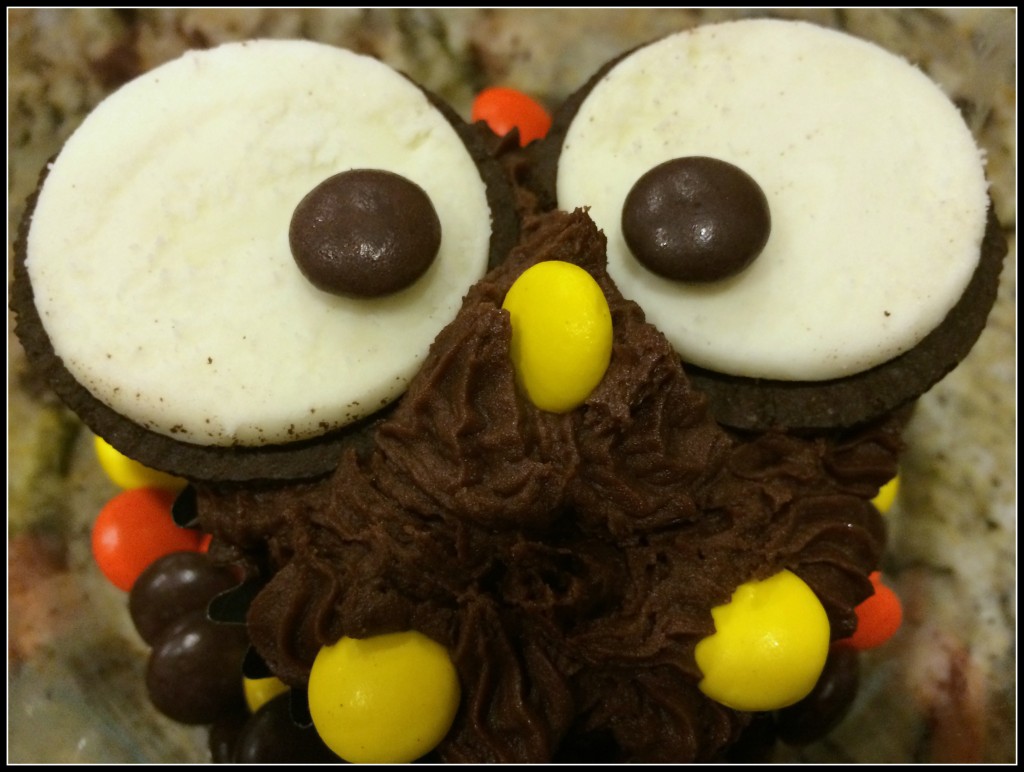 It's almost Halloween!  My work is having a bake sale to raise money for Thanksgiving food baskets for youth and families.  I'm hoping these delicious, adorable treats generate funds.  Chocolate Owl Cupcakes have dense fudge cake with a hidden filling, chocolate chips and peanut butter chocolate frosting.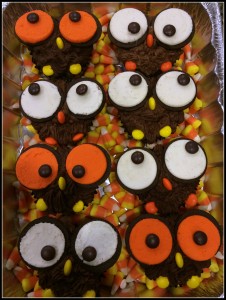 If they sell for $2 each, we can raise enough money to provide food baskets for 2 families.  Here's hoping Chocolate Owl Cupcakes are a Halloween success!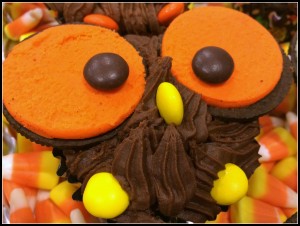 Chocolate Owl Cupcakes
Makes 24 cupcakes
Ingredients:
1 box chocolate fudge cake mix
1 small box instant dark chocolate pudding
4 eggs
3/4 c whole milk
3/4 C vegetable oil
1 T vanilla
2 C mini chocolate chips
24 white chocolate Reese's Miniature Peanut Butter Cups, unwrapped and frozen
Chocolate Peanut Butter Frosting
1 C stick butter, softened
1 C creamy peanut butter
2/3 C unsweetened baking cocoa
1 T vanilla
1/2 C heavy cream
8 C powdered sugar
2 packages Double Stuff Oreos (I used both Halloween and regular)
Reese's Pieces candies
Directions:
Heat oven to 350.  Unwrap and freeze white chocolate Reese's Peanut Butter Cups.  Line muffin pan with cute Halloween wrappers.  As previously mentioned, I recommend greaseproof.
Combine chocolate fudge cake mix, eggs, vanilla, milk, instant pudding mix and oil.  Mix well, scrape sides if needed.  Add miniature chocolate chips.
Distribute into pan.  These is exactly enough for 24 cupcakes.
Place a frozen, white chocolate Reese's Peanut Butter Cup in the center of each one.  Gently press down.  Bake for 15-20 minutes.  A toothpick comes out clean when they are done.  Set aside to cool.
Make peanut butter chocolate frosting in stand mixer.  Whip butter and peanut butter until fluffy.  Add cocoa powder and vanilla.  Alternate adding powdered sugar and heavy cream, 2 C sugar to 2 T cream.  Adjust cream to get desired frosting consistency.
Pipe onto cooled cupcakes with star shaped tip to create feathers.
Carefully separate Oreos.  I ended up using 2 per cupcake, removing half the Oreo and leaving all the filling on one side.  Gently press a dark Reese's Pieces Candy into the Oreo for an eyeball.  Repeat for 2 eyes.  Press into frosting.
Add a vertical Reese's Pieces Candy for a beak and 2 horizontal ones for feet.  Repeat until all cupcakes are decorated.
Take into work and hope you can raise lots of funds for Thanksgiving food baskets!
Cupcake idea from a magazine in the grocery store line.  Sorry I don't know which one.
Frosting adapted from "Chocolate Peanut Butter Frosting Recipe," Taste of Home Baking Book, published 2007, page 168