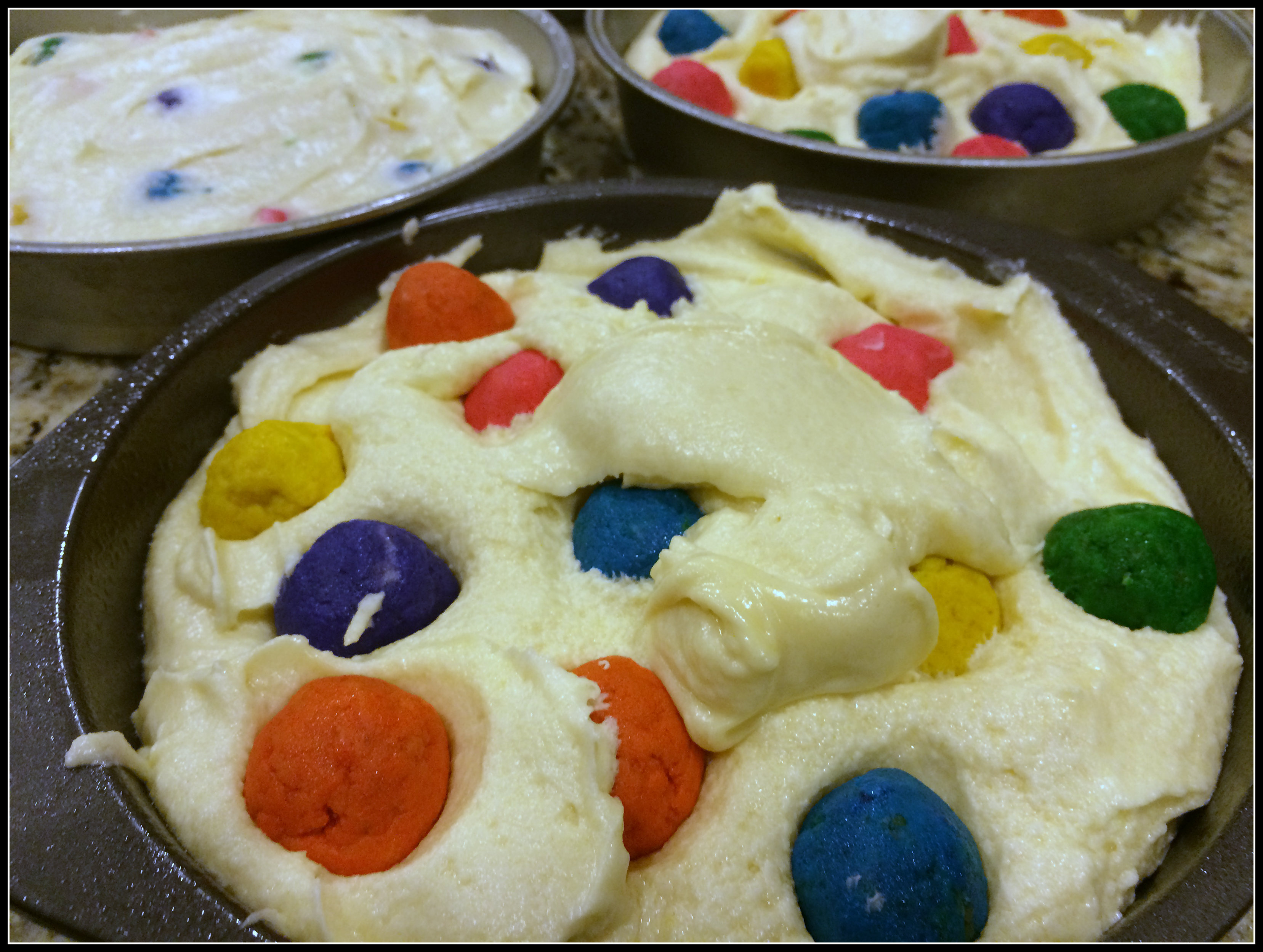 Polka Dot Pound Cake is a party inside and out.  Frosted in wild colors, there's a surprise inside when cut.  Yes, it is supposed to look like the rainbow threw up.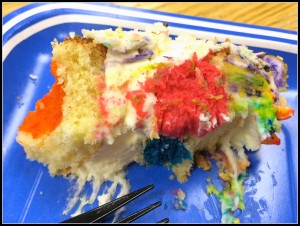 The colors of Polka Dot Pound Cake can customized for holidays, baby showers or birthdays.  I made it for work as we had 2 birthdays in the same week.  It brightened things up and I got the bonus of watching people get rainbow teeth from the frosting.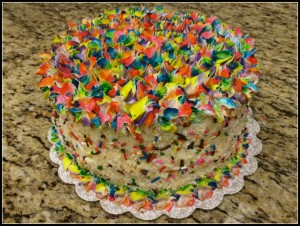 Polka Dot Pound Cake with Citrus Buttercream Icing
Makes 1 cake, serves 12
Ingredients:
Polka Dots
Food coloring- I recommend Wilton gels

1 premade pound cake

1 can white frosting
Pound Cake
1 1/2 C (3 sticks) butter, softened

3 C sugar

5 whole eggs

1 t butter extract (it's in the spice aisle with vanilla etc)

2 t lemon extract

3 C flour

1 C Sprite, 7-Up or Sierra Mist
Citrus Buttercream Frosting
3 sticks butter, softened

2 lbs powdered sugar

1 t butter extract

2 t lemon extract

1/4 C whole milk divided

Zest from 1 orange

Garnishes- toasted coconut, sprinkles, food coloring
Directions:
To make polka dots use food processor to make pound cake into tiny crumbs.  I used a premade pound cake from the bakery to save time.  Divide crumbs into however many colors you're using.  I selected 6- pink, orange, yellow, green, blue, purple.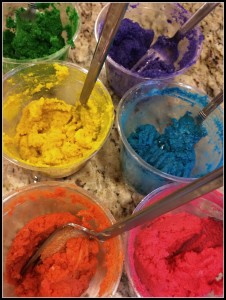 Add 2 T frosting per 1 C crumbs.  Add food coloring.  Mix well, mixture resembles thick paste.  Form into balls about 1 inch in diameter.  Set on cookie sheet.  Repeat until all polka dots are made.  Freeze for 2-3 hours.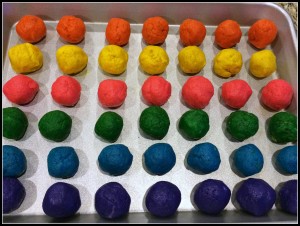 Heat oven to 325.  Grease and flour 3 round cake pans.  I recommend placing a circle of parchment paper on the bottom also.  It get cranky when cakes won't release after baking.
To make pound cake, use stand mixer.  Cream butter.  Add sugar 1 C at a time.  Add eggs 1 at a time.  Mix after each addition.
Add butter and lemon extracts.  Mix well.
Add flour 1 C at a time.  Add soda.  Scrape sides of bowl.
Pour batter into prepared pans.  Add polka dots.  Spread evenly between pans.
Bake at for about 45 minutes.  Use a toothpick to test when cakes are done.  Will be lightly golden and no longer jiggly in the center.
Set cakes aside to cool.  Don't worry- the dots will hold and they won't dry out.
To prepare citrus buttercream frosting, use stand mixer to cream butter.  Add lemon and butter extracts.  Add orange zest.  Add powdered sugar 1 C at a time.  Half way through, add 4 T of whole milk.  Continue adding powdered sugar.  Add milk in 1 T increments until frosting reaches desired consistency.
When cake is fully cooled, place frosting between the layers.  Frost sides of cake.  I pressed toasted coconut and sprinkles gently onto sides.  Frost top of cake.  Use any leftover for decoration.
To get crazy rainbow frosting, paint stripes of gel frosting on inside of frosting bag.  You don't need a ton, gels are concentrated.  I used 6 colors.  Pile frosting into bag and pipe onto cake.
Cake idea based on "Surprise-Inside Dotty Cake", inkatrinaskitchen.com, March 2014
Pound cake recipe from "Perfect Pound Cake," pioneerwoman.com, January 2010