Toasted Coconut Ice Cream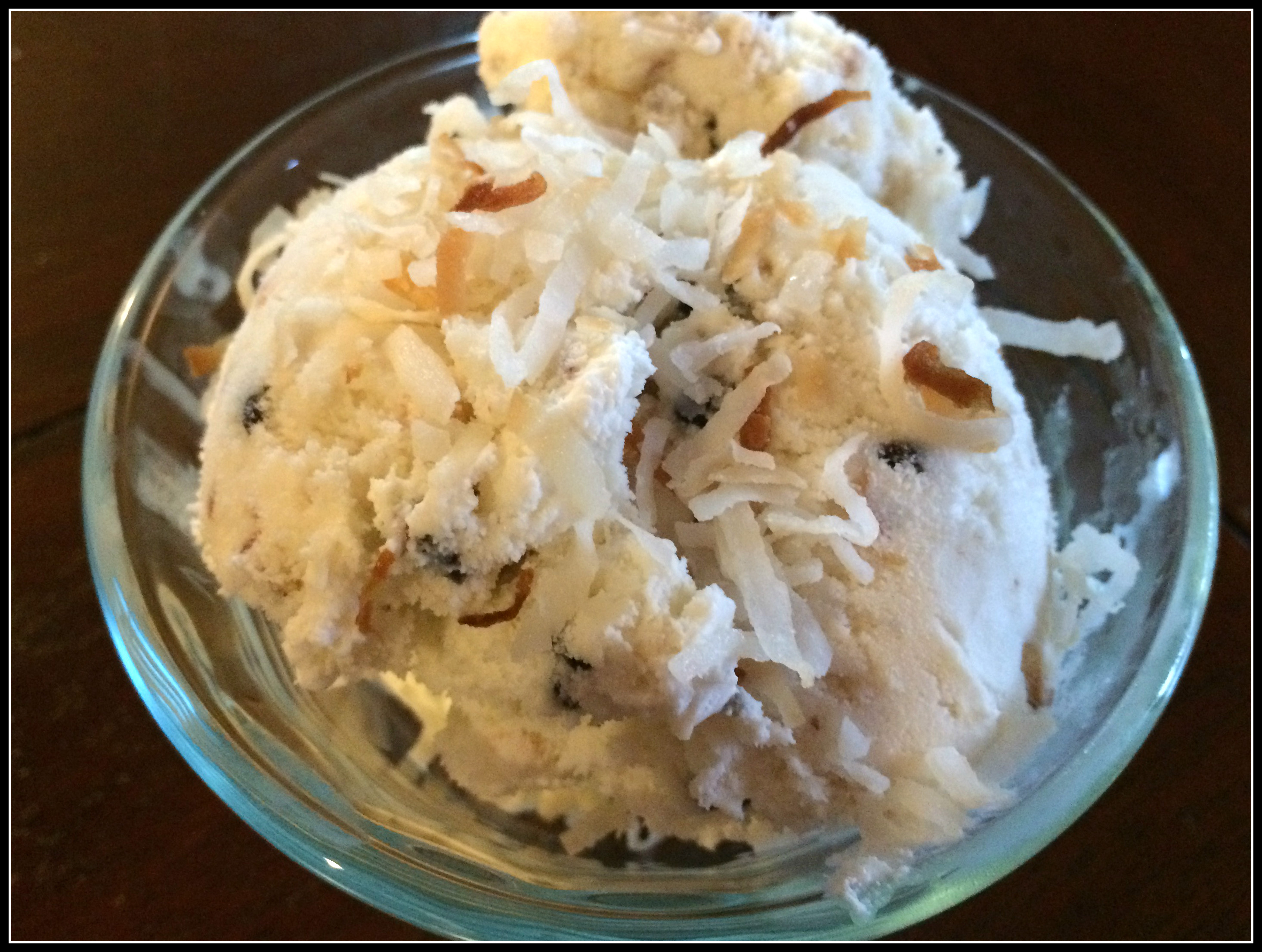 My husband works late on Friday nights.  Mostly I'm productive and do boring things like chores.  Last night I threw caution to the wind and made ice cream.
After several frozen disasters, I figured out the secret of making ice cream at home.  It really does require (cringe) whole milk and heavy cream.  The high fat content keeps homemade ice cream scoopable and prevents a rock-hard milk block in your freezer.  Although store ice cream may have less fat, it requires additives and chemicals for preservation and texture.  Homemade ice cream tastes great and has only what you put in.  Worried about health?  Eat a small bowl and go for a walk afterwards.
Toasted Coconut Ice Cream
Serves 6
Ingredients:
2 C whole milk
2 C heavy cream
1 C sugar
1 T coconut extract
1 t vanilla extract
1/2 t salt
2/3 C toasted coconut
1/3 C salted roasted almonds, chopped
1/3 C miniature chocolate chips
Directions:
Be sure the bowl of your ice cream maker is completely frozen.  Most require at least 24 hours.  I keep mine in the freezer 24/7 just in case we need to make ice cream.  Don't laugh.
In a separate bowl, combine whole milk, heavy cream and sugar.  Stir until sugar dissolves and is no longer grainy.  Add coconut and vanilla extracts.
Pour into bowl of ice cream maker.  Churn 10-15 minutes.
Add toasted coconut, chopped roasted almonds and mini chocolate chips.
Churn for 15-20 more minutes.  Ice cream will hold but have soft texture.  To firm up, put in freezer safe container and press plastic wrap to the surface.  Freeze a few hours or overnight.
Serve with extra toasted coconut or chocolate sauce.
Recipe loosely based on "Easy Mint Ice Cream," allrecipes.com by Darryn M. Briggs