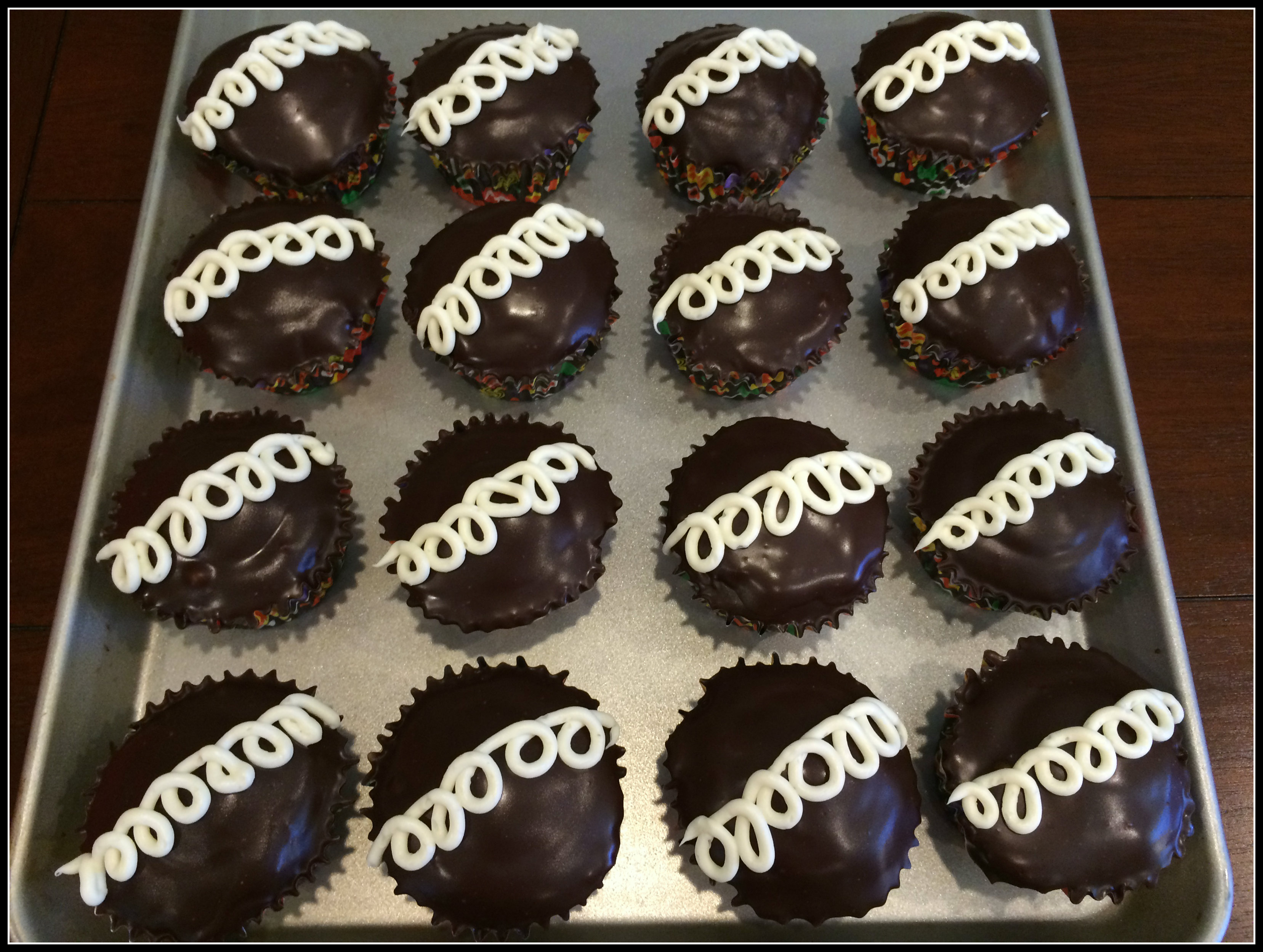 Ding-Dongs hold a special place in my heart.  We used to eat them after soccer games, stuffing our faces with chocolate and washing it down with juice boxes.  It didn't take long to figure out I can (seriously) eat an entire Ding-Dong in one giant bite.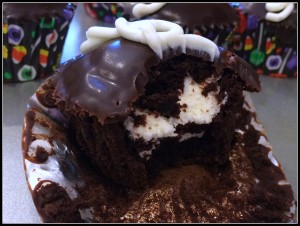 Fast forward 20 years.  I completely forgot about Ding-Dongs until a family friend brought Ding-Dong Cake to dinner.  Whipped cream filling and ganache chocolate frosting, the cake was so delicious I tried to eat it all at once.  I even found a juice box to have on the side.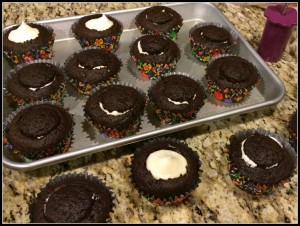 Ding-Dong Cake
Makes 2-layer 9-inch round cake or 24 cupcakes
Ingredients:
1 box dark chocolate cake mix

1 small box chocolate instant pudding mix
Filling:
4 oz cream cheese, softened

1/2 C (1 stick) butter, softened

1/2 container frozen whipped topping, thawed
Ganache frosting:
8 oz quality semi-sweet chocolate

1 C vanilla frosting for decorating
Directions:
Heat oven to 350.  Grease and flour cake pans or line cupcake pans.
Combine cake mix, instant pudding, eggs, vanilla, milk and oil.  Mix well.  I used gluten-free Betty Crocker's Devil's Food Cake Mix to accommodate a special dietary need.  It's fantastic and no one could tell.
Distribute batter and bake until toothpick comes out clean.  Cupcakes take about 20 mins, round pans 35-40 mins.  Set aside to cool.
While baking, prepare filling.  Use mixer to combine cream cheese and butter.  Add vanilla, salt and powdered sugar.  Add thawed whipped topping.  Transfer filling to quart-sized freezer bag and set aside.
When cupcakes are cool, remove centers with a cupcake punch or sharp knife.  Set the punches aside.
Pipe filling into holes.  Trim the punched pieces by removing most of the cake from the bottom.  Take small, thinner piece and set on top of filled cupcake hole.  Gently push into place.
If making a round cake, trim tops of rounds to make sure they are flat.  Apply filling to one layer, spread evenly.  Set second layer on top.  Make sure filling spreads to edges but does not hang over.  Refrigerate to set filling.  The round cake is easier to frost when it's cold.
To make ganache, break up chocolate into a bowl.  Heat heavy cream in 30 second bursts until hot but not boiling, about 1 minute 30 seconds.  Pour over chocolate, add vanilla and corn syrup.  Whisk until combined.
The ganache will thicken as it cools.  It's best to cool at room temperature and not place immediately in the refrigerator.
When ganache has thickness of honey, carefully invert cupcakes and dip into ganache.  If you want to double-dip cupcakes, make sure the first layer is set before adding a second dipped layer.
If frosting layer cake, slowly pour ganache on top of cake and let it run down the sides.  Use a knife to spread on sides evenly.
Pipe on curly lines of vanilla frosting like a Ding-Dong. 
Refrigerate until serving.  Eat a whole cupcake in one bite (or at least try).
Original recipe from family friend.  Thanks Susan!
Ganache adapted from "Chocolate-Ganache Glaze," marthastewart.com