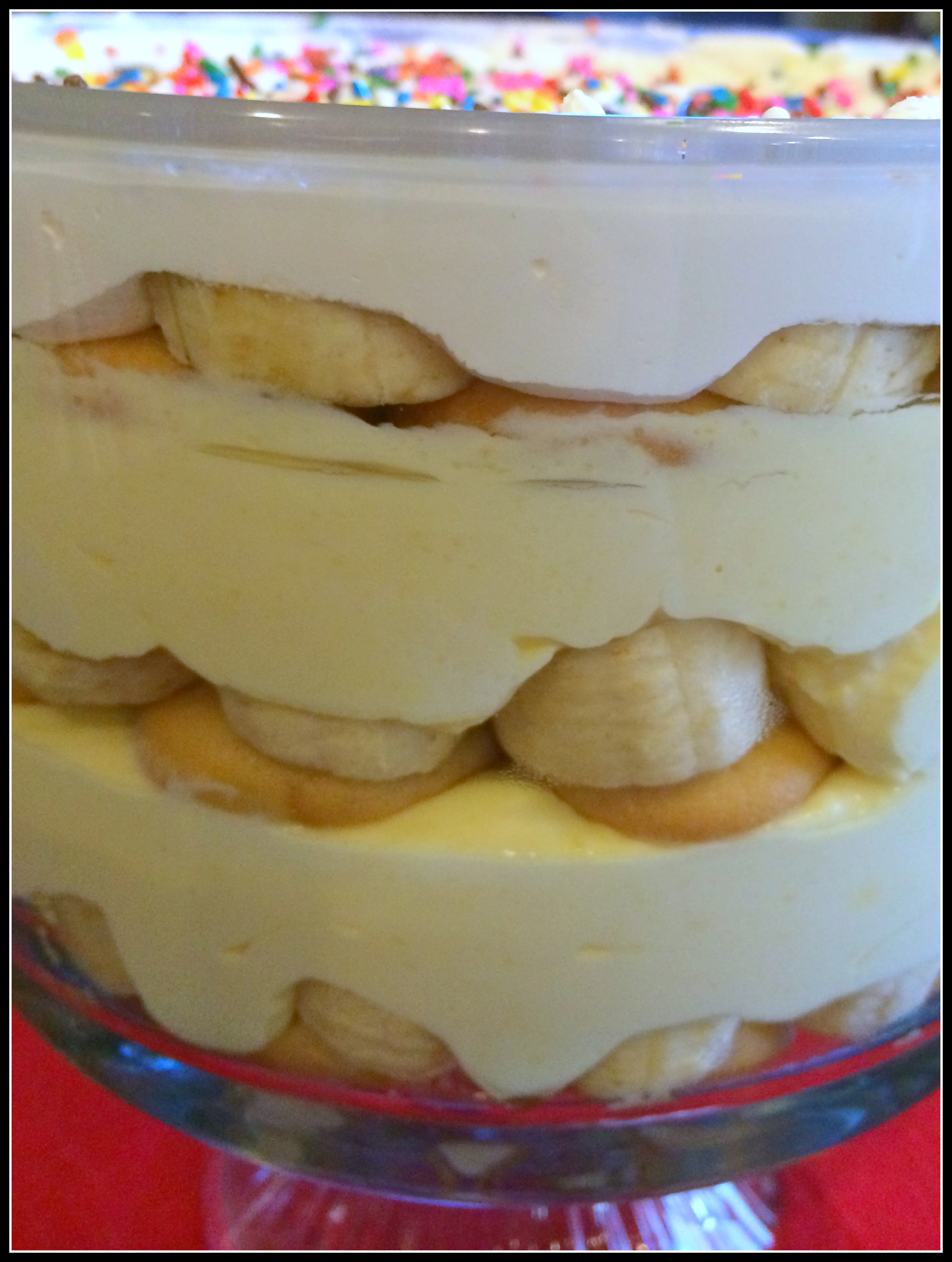 Did everyone see the "50 Desserts, 50 States" article in the Columbian ran last week?  While I've never had Nanaimo Bars (the treat assigned to WA), banana pudding has been a favorite at our house for many years.  Banana pudding is the dessert assigned to Tennessee.  It's where my sister-in-law teaches school and where you can get the best fried chicken in the whole world.
As a final salute to summer and to celebrate her recent visit to WA aka Nanaimo Bar-ville, we made banana pudding.  Quick and easy, this no-bake dessert easily gets lighter by using reduced fat ingredients.
Banana Pudding
Serves 8 people
Ingredients:
6 medium ripe bananas
1 box vanilla wafer cookies
1 5 oz box instant vanilla pudding mix
1 can sweetened condensed milk
1 T vanilla extract
8 oz cream cheese, softened
1 container frozen whipped topping, thawed
3 C cold, whole milk
Directions:
Line bottom of 9×13 pan or 2 Q trifle bowl with vanilla wafer cookies.  Slice 2 bananas and layer on top of cookies.
In large bowl, beat cream cheese until fluffy.  Add sweetened condensed milk.  Combine.
Add pudding mix and vanilla.  Beat in whole milk 1 C at a time.  Scoop out half of whipped topping mix and add.  Scrape sides.  Mixture will be thick and delicious.
Add about half the filling top of bananas and wafers.  Spread to cover.  Layer more wafers and bananas.  Add more filling.  This should use it up.
Add one more layer of wafers and bananas.  Take remaining half of thawed, frozen whipped topping and spread to cover.
Refrigerate and serve.  Say thank you to anyone you know who lives in Tennessee.  This stuff is amazing!
Adapted from "Banana Pudding IV" by Patty, allrecipes.com