In my heart I'm a butter and sugar girl.  That aside, many people in my life have or choose dietary restrictions.  Not vegan?  No worries.  These tasty, super healthy cookies appeal to everyone and are perfect for back to school lunches.  Really Good Brownies That Happen to Be Vegan provide another delicious option.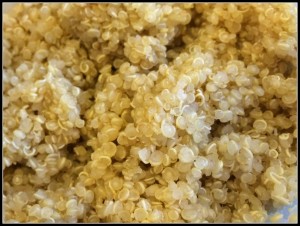 Vegan Quinoa Cookies
Makes 24 cookies
Ingredients:
1/2 C uncooked quinoa
1 C- 1 1/4 C water
1 C rolled oats
1 C whole wheat flour
1 C raw or turabindo sugar (not vegan?  Substitute brown sugar)
1 1/4 C shredded coconut
1 t baking soda
1 t baking powder
1 t salt
1 t vanilla
2 ripe bananas
1 medium apple
1/2 C peanut butter
1 1/2 C semisweet chocolate chips (some are vegan some are not… read the ingredients)
1 C pecans
Extra raw sugar for sprinkling
Directions:
Heat oven to 350.  Line cookie sheets with parchment paper.
Boil 1/2 C quinoa with 1 C water.  Reduce heat to medium low and stir.  Cover until all liquid is absorbed.  Try a tiny bite of quinoa to make sure it's cooked.  If it's crunchy, add a little more water.  Set aside to cool.
Core apple.  Do not peel.  Use food processor to combine apple with ripe bananas.  Set aside.
Use stand mixer to combine cooked quinoa, rolled oats, whole wheat flour, raw sugar, shredded coconut, baking powder, baking soda, salt, vanilla, peanut butter, pecans and chocolate chips.
Add pureed fruit and mix well.
Scoop dough in 2 inch balls onto cookie sheet.  Flatten slightly.  I made 6 at a time.  Dough is wet but will hold together.  Sprinkle with raw sugar so they are pretty on top.
Bake 10 minutes on the bottom rack.  Rotate pan and move to top rack for 10 more minutes.  Cookies should bake for 20-25 minutes total and be golden brown on the edges.
Allow to cool for 5 minutes on cookie sheet.  Transfer to cooling rack.
Feed the cookies to friends and family and watch their eyes bug when you tell them how healthy they are.  Also works well to sneak into back to school lunches.
PS.  I don't bake vegan treats often so I apologize if it's inaccurate.  I'd love tips or tricks if anyone has ideas.
Based on "Quinoa Cookies Recipe," allrecipes.com by Liz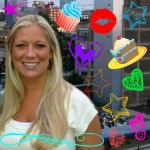 I'm a self-taught Betty Crocker. Food should be pretty, delicious and have sprinkles. Professionally I'm a clinical social worker. Follow me on Facebook and Pinterest- Sugar and Spice Baking Blog- for great recipes, amazing restaurants and culinary adventures.