Grandma Dorothy's Sugar Cookies
This recipe comes from my sister's mother-in-law's mother.  I suppose this would make her my great aunt in law?  In any case, Grandma Dorothy makes the best sugar cookies I've ever had.  They are light, flaky and literally melt in your mouth.  While they aren't as durable as the "roll and cut" sugar cookies popular at the holidays, I promise these taste way better!
Don't forget to celebrate National Cookie Day on December 4 with my other favorite cookie recipes from the Sugar & Spice blog- Friday Night Chocolate Chip, Best Bribe Cookies, Good Girl Shortbread, Perfect Peanut Butter, Loveless Café Coconut Cookies and Brown Sugar Oatmeal.
Grandma Dorothy's Sugar Cookies
Makes 72 cookies
Ingredients
1 C butter, softened
1 C powdered sugar
1 C sugar
2 eggs
1 C vegetable oil
4 1/2 C flour
1 t cream of tartar
1 t baking soda
1/2 t salt
3 t vanilla
Extra sugar for rolling and dusting cookies.  I recommend Vanilla Bean Spiced Sugar from the Savory Spice Shop in Portland.  Its a mixture of sugar, Madagascar vanilla, cardamom, cinnamon, allspice and mace.  It's phenomenal and perfect for the holidays!
Directions
Using stand mixer with paddle attachment, combine butter with powdered and granulated sugar.  Add vegetable oil, eggs and vanilla.  Mix well.
In a separate bowl, sift together flour, salt, baking soda and cream of tartar.  Turn stand mixer on low, add dry ingredients about a cup at a time until well combined.
Refrigerate dough 2 hours.
Heat oven to 350.  Line baking sheets with parchment paper.
Scoop out dough in balls 1 to 1 1/2 inches diameter.  Roll in sugar.  If you don't have Vanilla Bean Spice Sugar, use regular sugar or even cinnamon sugar.
Place dough balls on cookie sheet.  Using a flat glass, gently smoosh them so they are about 3/4 inch tall.  Bake 12 minutes until lightly golden.  Dust a little more sugar.  Cool on cookie sheet for 10 minutes and then remove to cool completely.  Do not over bake.
Serve with milk to your family and friends, perhaps even leave a few out for Santa.  And don't forget to celebrate National Cookie Day on December 4th!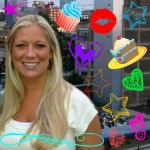 I'm a self-taught Betty Crocker. Food should be pretty, delicious and have sprinkles. Professionally I'm a clinical social worker. Follow me on Facebook and Pinterest- Sugar and Spice Baking Blog- for great recipes, amazing restaurants and culinary adventures.