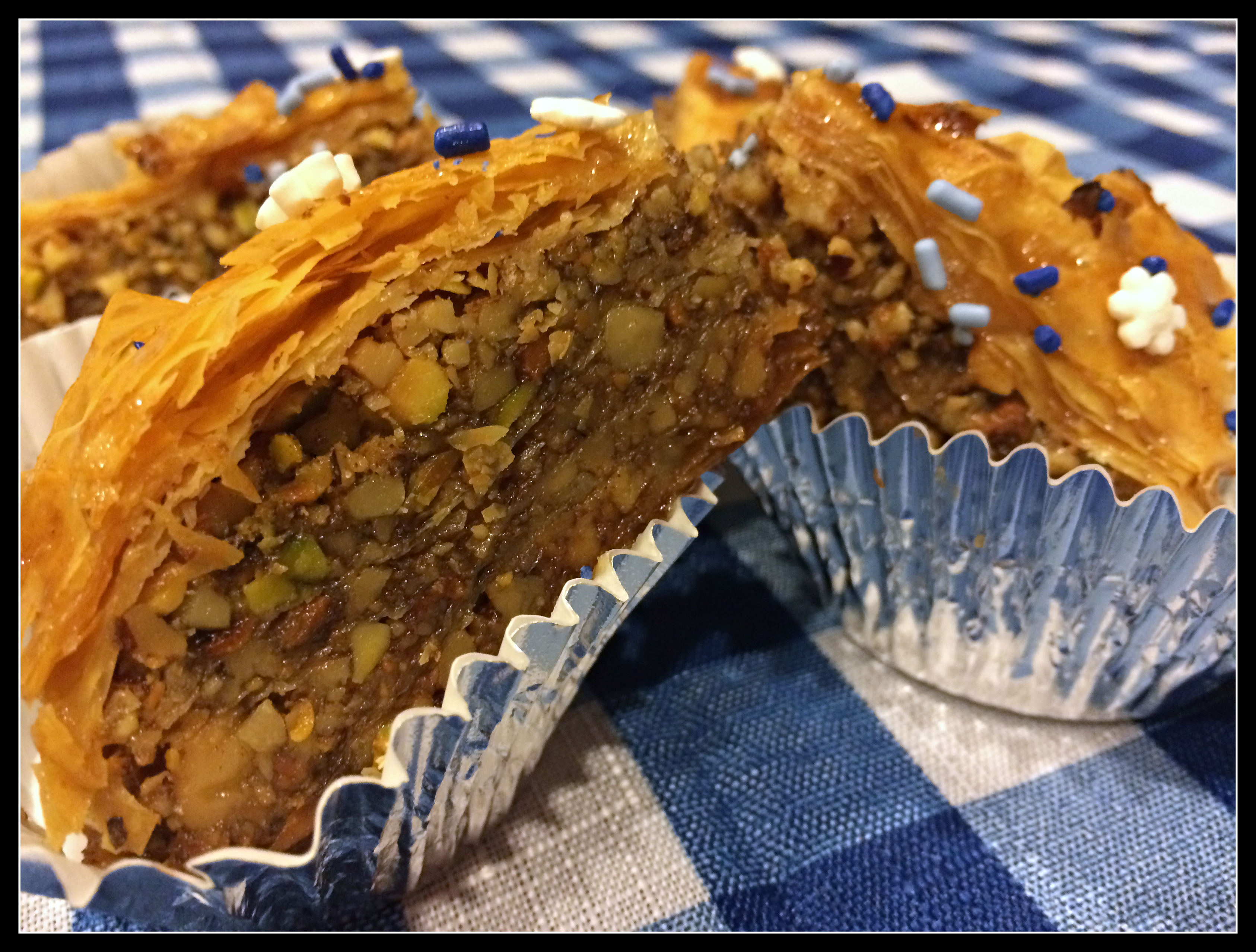 I made baklava as a special treat for a coworker.  Hanukkah starts next week and I wanted to do something to celebrate.
Although the recipe is a little tricky (and messy), the results are delicious.  Definitely prepare nuts ahead of time and get ready to impress your friends.
I recommend using this recipe an excuse to buy a mini food processor.  My 4-cup Cuisinart purchased for $35 from Groupon is a workhorse.   While you can crush the nuts by hand (rolling-pin and freezer bags), the mini food processor is amazing.  Ask for one as a Hanukkah (or Christmas or birthday or whatever) present!
Hanukkah Baklava
 Ingredients:
 I package frozen phyllo dough (16 oz)
2 C walnuts, toasted and ground
1 C pistachio nuts, toasted and ground
1 C pecans, toasted and ground
1 ½ C butter
1 t cinnamon
1 T sugar
 Syrup:
 1 ½ C water
1 ½ C white sugar
¾ honey (I used lovely raw honey from Joe's Farm)
1 t vanilla extract
Optional: ½ t lemon zest and/or 3 drops rose extract
To make syrup:
Boil water and sugar until sugar dissolves.  Add honey, simmer 25 minutes on medium.  Syrup will thicken and coat a spoon.
Remove from heat, stir in vanilla and optional ingredients if using.  Cool.  Can be made ahead of time.
To make baklava:
Thaw phyllo dough in fridge for at least 4 hours, overnight is best.
Heat oven to 350 degrees.
Remove phyllo dough from package.  Mine had 2 rolls of dough, I only needed one.  Hold phyllo dough over pan, estimate size and trim to fit.  Cut Phyllo with a sharp knife or kitchen scissors.  Set phyllo dough aside.  I put mine on wax paper and covered with a damp towel.  It dries out quickly and will crack.
Butter bottom and sides of pan.  In a large bowl, combine walnuts, pistachios and pecans.  Add 1 t cinnamon and 1 T sugar.  Mix well.
Melt butter.  Find your pastry brush.  (Mine was in the back of a drawer behind the potato masher)
Remove damp cloth from phyllo dough.  Peel off 2-3 sheets and put in bottom of pan.  Brush with butter.  Peel off a few more sheets, brush again.  Continue until you have approximately 10 sheets as the bottom layer.  Don't worry if phyllo cracks a bit or wrinkles.  It is paper thin and you'll never notice when it bakes.
Using a half-cup measuring scoop, sprinkle a layer of nuts covering whole pan.  Add 2-3 layers dough, brush with butter.  Repeat nut, phyllo and butter layers.
When the nuts are gone, finish by continuing 2-3 pieces phyllo with butter.
Using sharp knife, cut phyllo into diagonal pieces.  I have no idea why diagonal; it's just how I've always seen it.
Bake at 350 for 45 minutes until phyllo is golden brown.  Stick close toward the end of baking to ensure nuts and bottom later in pan do not burn.
Remove from oven, pour cooled syrup over the top.  Let baklava sit out overnight, loosely covered, for syrup to absorb.  If you put a tight-fitting lid on pan it will become soggy.
Serve at room temperature and charge your friends $3.50 a slice like they do in restaurants.  I mean… share with the people you love most and accept their gratitude.  Whatever works 🙂
If it's hard to remove baklava from pan, try this.  Put pan in rimmed baking sheet; add boiling water around the bottom.  This warms the butter and sugar on the bottom of the baklava, allowing it to release.
Adapted from "Baklava," www.allrecipes.com by NEONWILLIE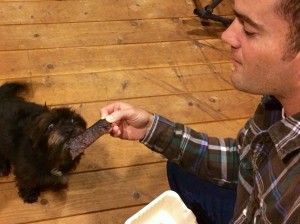 PS.  This is what was going on in the background while I was cooking… my husband brought our dog, Murphy, a rib from Podnah's Pit BBQ on Killingsworth.  If you haven't been there, go on Tuesdays for rib happy hour.  It's amazing… Murphy's expression explains it perfectly!