It's almost Halloween!
Just for fun I threw together Black Cat Cookies for folks at the office.  The cookies are adorable and seasonal with a brownie-like tasty and texture.  While mine are cats, they could easily be owls if you cut orange gumdrop beaks.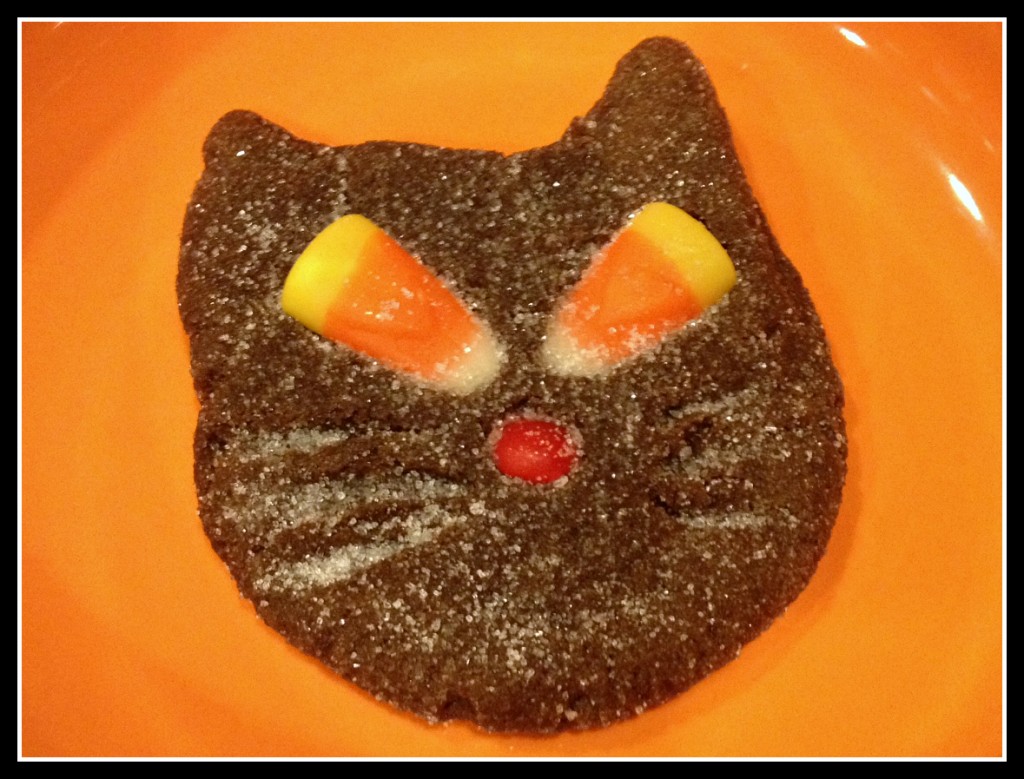 Black Cat Cookies
Makes 27 cookies
Ingredients:
1C butter softened
2C white sugar
3 eggs
3/4 C unsweetened cocoa powder
1T vanilla
1/2 t salt
1/2 t baking powder
1/2 t baking soda
Red hot candies (cinnamon imperials) for noses
Candy corn for eyes
 Directions:
Combine butter and sugar in stand mixer.  Add eggs, vanilla, salt, baking soda and baking powder.  Scrap sides.
Add flour and cocoa powder.  Mix well and scrap sides.
Put mixture in refrigerator for at least 2 hours.  This will help with shaping.
Heat oven to 350.  Line cookie sheets with parchment paper.
Roll cookie dough into balls 1 1/2 inch diameter.  Quit eating the dough because it tastes like brownies.
If desired, roll balls in loose granulated sugar.
Flatten balls on cookie sheet until approximately 1/2 thick.  Pinch top corners of ball into ears.
Bake cookies 8-10 minutes or until set.  Do not over bake.
Remove from oven and quickly press on candy corn eyes and red hot noses.  Use a toothpick to indent whiskers on side of cookies.  If needed, reshape the cookie ears.  Some of mine looked like creepy teddy bears.
Dust with extra granulated sugar if desired.
Leave on cookie sheet to cool for about 10 mins.  It's important to leave on the hot cookie sheet so the eyes and noses can "settle" into the cookie.  Carefully transfer to cooling rack.
Happy Halloween!!!
Original recipe courtesy of Land O'Lakes Butter