Halloween Candy Bar(f) Cookies
It's 10 days to Halloween and I have extra chocolate candy.  This is dangerous because chocolate is never really "extra."  To save myself from myself, I baked it into cookies.
Candy Bar(f) Cookies work with anything.  The leftover Halloween jumble from a bulk bag is perfect.  I used peanut and regular MnMs, Snickers, Milky Way, Nestle Crunch and regular chocolate chips.  If you use flavored candies (Reese's PB Cups, Almond Joy etc) the whole cookie will taste like it.  This is great if one of these is your favorite, otherwise not so much.
The name Candy Bar(f) cookies happened my coworker said "Wow… it looks like Halloween puked on this cookie."  She was right.  Even though these aren't pretty, they are scrumptious!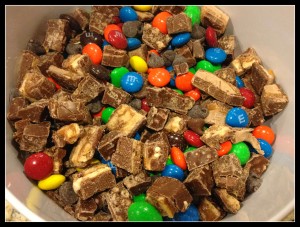 Halloween Candy Bar(f) Cookies
Makes approximately 20 large cookies
Line baking sheets with parchment paper (don't skip… some candies stick when they melt)
Chop approximately 3C chocolate Halloween candy into similar sized pieces
Follow your favorite chocolate chip cookie recipe and substitute 3C chopped chocolate candies plus 1 C chocolate chips
Eat them ALL.  If you make these, I'd love to know what kinds of candies you use.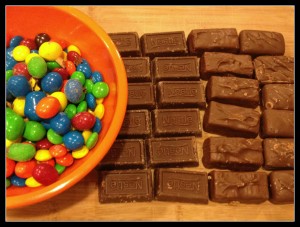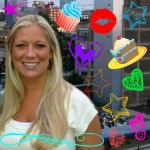 I'm a self-taught Betty Crocker. Food should be pretty, delicious and have sprinkles. Professionally I'm a clinical social worker. Follow me on Facebook and Pinterest- Sugar and Spice Baking Blog- for great recipes, amazing restaurants and culinary adventures.