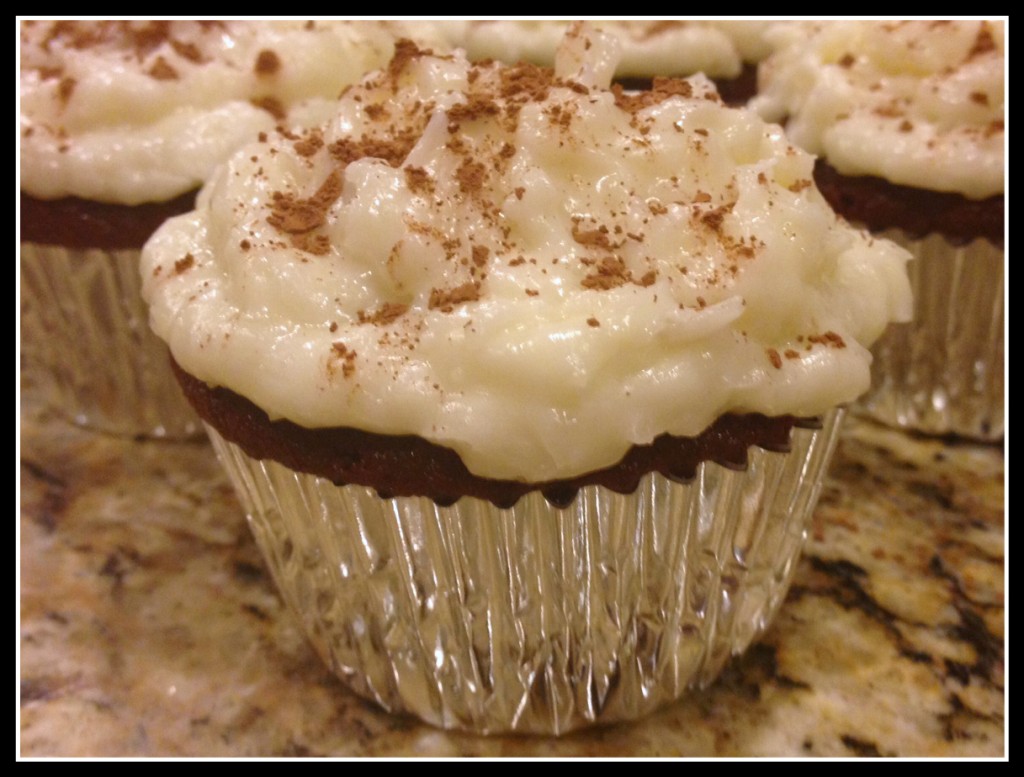 For a long time I thought red velvet was chocolate cake with lots of red food coloring.  Turns out, red velvet cake is much tastier.  Traditionally Southern, the term "red" comes from the chemical reaction between cocoa and buttermilk (helped along with food coloring).  The result- dense, moist and lightly chocolate cake.  Delicious!
This recipe makes 24 cupcakes or 4 8-inch round pans.  I make the quad-layered cake at the holidays and cupcakes during the year.  Top with the coconut cream cheese frosting.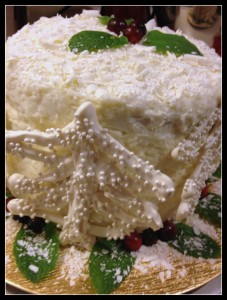 Classic Red Velvet Cake
Makes 24 cupcakes or 4 8-inch round cake pans
Cake:
 3/4 C softened butter
2 C sugar
3 eggs
3 T red food coloring
1 T vanilla
2 3/4 C flour
1/2 C unsweetened cocoa
1 T baking powder
3/4 t baking soda
1/4 t salt
1 1/2 C buttermilk
Heat oven to 350.  Prepare muffin tins or grease & flour 4 8-inch round cake pans.
Beat butter with electric stand mixer until fluffy.  Add sugar, eggs, food coloring and vanilla.  Blend after each addition.
In a separate bowl, whisk together dry ingredients.  Add small amount of dry mixture to butter.  Combine at low speed.  Add small amount of butter milk.  Combine.  Repeat until all ingredients are mixed.
Pour into muffin tins or prepared baking pans.
If using muffin tins: bake approximately 20 minutes until done.  Test with toothpick in center.
If using 4 8-inch pans: Bake all pans at once, rotating top to bottom of after 10 minutes.  Bake 10 more minutes and test for doneness.  Cool and remove from pans.  Frost with Coconut Cream Cheese Frosting.
Coconut Cream Cheese Frosting:
 2 8-oz packages cream cheese softened
1 C butter softened
1/2 t coconut extract
8 C powdered sugar
4 C sweetened shredded coconut
Using electric stand mixer, combine cream cheese and butter.  Add coconut extract.  Add powdered sugar 1 C at a time beating until smooth.  Stir in shredded coconut.
If making the quad-layered cake, add about 1 C frosting between layers and spread the rest on the outside.
If making cupcakes, frost away!  You may even have leftovers.
Recipe from Southern Living Magazine, December 2012, page 86