Pumpkin Chocolate Chip Pancakes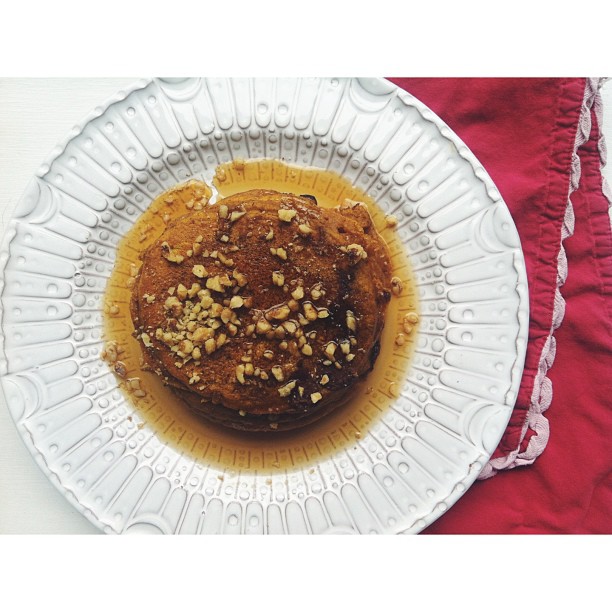 I'll admit, it's raining a little too much, but overall, I am loving the fall time weather. I don't know what it is about fall weather, but I am so much more motivated to cook. And I have been doing just that. In the past 2 weeks, I have made 8 soups, 2 stews, a pumpkin bundt cake, and these pancakes. Now don't get me wrong, I love summer and the gorgeous food that summer produces. I just simply do not like to cook as much when the weather is hot. With the cooler weather, I am loving being back in the kitchen, cooking up some of my favorite comfort foods.
With this rain, and my kids going a little stir crazy, I knew I needed to make a "wow" breakfast on Sunday. These pancakes did the trick. I love using canned pumpkins in my cooking, you can do so much more than simply making a pie. Using one large can of pumpkin puree, I have made pumpkin pancakes, pumpkin and black bean stew and steel cut pumpkin oatmeal. Yes, I'm a little pumpkin crazy, but I won't apologize. I love it.
Yields about 8 pancakes
PUMPKIN CHOCOLATE CHIP PANCAKES:
1 cup all-purpose flour
1 1/2 tablespoons light brown sugar
1 teaspoon baking powder
1 teaspoon baking soda
1/4 teaspoon salt
1 teaspoon cinnamon
1/2 teaspoon nutmeg
1/8 teaspoon ground cloves
1/8 teaspoon ground ginger
1 cup buttermilk, yet any kind of milk will work (Note, if you don't have buttermilk, take 1 cup milk, add 1 tablespoon of white vinegar or lemon juice, stir, let sit 1 minute)
1 egg
1/4 cup pumpkin puree
1/2 tablespoon of butter, melted and cooled or 1/2 tablespoon of vegetable or coconut oil
1/2 cup chocolate chips
1/2 cup chopped walnuts
maple syrup to drizzle
Pre-heat oven to 200 degrees.
Sift together flour, brown sugar, baking powder, baking soda, salt and spices in a medium bowl. Set aside.
In a small bowl, add buttermilk and egg. Mix lightly. Add the pumpkin puree and combine. Pour in the butter or oil and continue to mix.
Add the wet pumpkin ingredients into the dry ingredients. Mix until just combined, it is ok to have some small to medium size lumps.
Heat your cast iron skillet or whichever pancake pan is your favorite. Add 1 tablespoon of butter. Add 1/4 cup batter to the hot pan. Sprinkle on some chocolate chips, I did about 10. Cook until you see small bubbles. Flip and continue to cook for another minute.
Transfer to a plate or baking sheet and keep warm in the oven until time to serve.
Serve with maple syrup and chopped walnuts.