Raspberry Riot Cupcakes
This recipe can be made 2 ways- less time or more time.  Both are delicious and lovely.  They're called Raspberry Riot because people literally fight over the last one!
Note:  If you don't own a cupcake punch, GET ONE.  Mine cost $4 at Bed Bath & Beyond.  Other stores have them too.  Follow the directions and they work great.  Supposedly they can also fill for ice cream cupcakes.  Haven't tried it yet but will experiment this summer.


Less Time Raspberry Riot Cupcakes:
1 box store bought white cake mix, made into cupcakes
Use cupcake punch to remove middles
Use ziplock freezer bag filled with jam to pipe into centers
Frost with cream cheese frosting and top with whole raspberries
More Time Raspberry Riot Cupcakes
Scratch Vanilla Cupcakes- Makes 12 cupcakes
1 stick butter softened
1 1/2 C flour
1 1/2 t baking powder
1 t salt
3/4 C granulated sugar
2 large eggs
1 T pure vanilla extract
1/2 cup milk
1 C ish of your favorite homemade raspberry jam*
Fresh whole raspberries for garnish
Preheat oven to 350 degrees.  Line 12-cup muffin pan
Combine flour, baking powder, and salt in small bowl. In a large bowl, use electric mixer to combine granulated sugar and butter until light and fluffy. Add eggs one at a time. Add vanilla. With mixer on low, add flour mixture alternating with milk.
Put batter into muffin cups. Bake until a toothpick comes out clean, about 20 minutes. Let cool in pan 5 minutes. Transfer to a wire rack to cool completely.
Remove centers with cupcake punch OR use sharp paring knife to cut a 1-inch-deep piece from the top of each cupcake.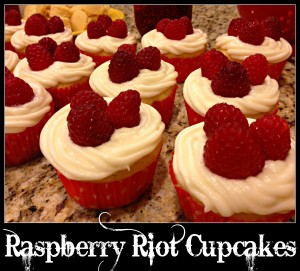 Put jam into ziplock freezer bag and cut off corner.  Use it to fill cupcake holes.  It may take more or less than a cup depending on how deep the holes are cut.
Pipe scratch cream cheese frosting onto cupcakes and top with raspberries.
* Use really good jam.  It ends up seeping into the cupcake and folks get to enjoy the flavor.  I used my husband's raspberry freezer jam.  It's amazing and I'll post the recipe this summer.
Scratch Cream Cheese Frosting
1 package (8 oz) cream cheese softened
¼ cup stick butter softened
2 t milk
1 ½ T vanilla
4 C powdered sugar
 Beat cream cheese and butter until smooth.  Add milk and vanilla.
Slowly add powdered sugar at low speed
Refrigerate remaining frosting
Consider doubling the recipe depending on how thick you like to frost cupcakes and/or how much your family sneaks out of the bowl.  Occupational hazard at my house…
Cupcake recipe adapted from Martha Stewart "Jam Cupcakes with Chocolate Frosting"
Frosting recipe adapted from Betty Crocker's New Cookbook "Cream Cheese Frosting"