Monkey Squares (a.k.a. Banana Bread Brownies)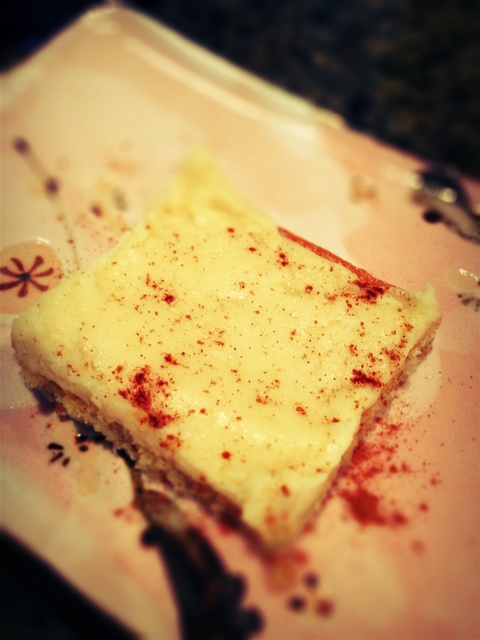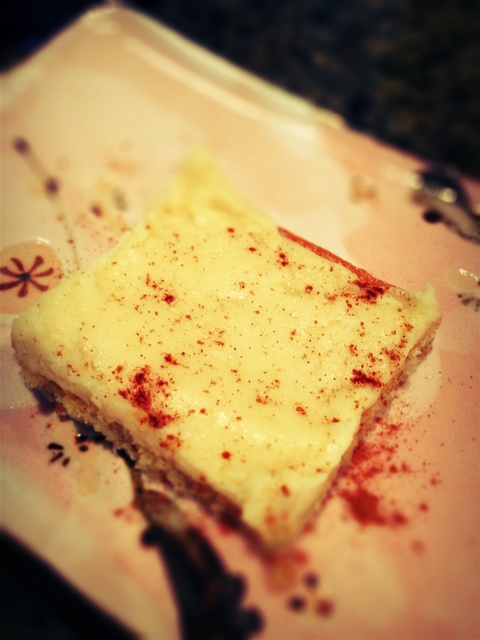 If your household is anything like mine, there are always one or two brown & overly ripe bananas left sitting out that no one wants to eat. The solution: make banana bread or add them to smoothies, but that can be boring. Next time you find yourself with leftover bananas, why not try Monkey Squares? This is a tasty banana bread brownie with a browned butter frosting. Absolutely perfect for potlucks & picnics. I found this recipe via the blog, The Girl Who Ate Everything. These brownies are deliciously moist and oh-so-easy to whip up. The frosting comes together in no time as well. If you are looking for a quick, easy  and delicious dessert, look no further!
Note: I sprinkled cinnamon on top of my monkey squares. The result: Tasty!
Monkey Squares – by The Girl Who Ate Everything
Ingredients:
Banana Bread Bars:
1 1/2 cups sugar
1 cup sour cream
1/2 cup butter, softened
2 eggs
1 3/4 cups ripe bananas, mashed (about 3 or 4)
2 teaspoons vanilla
2 cups flour
1 teaspoon baking soda
3/4 teaspoon salt
1/2 cup chopped walnuts (optional)
Browned Butter Frosting:
1/2 cup butter
4 cups powdered sugar
1 1/2 teaspoons vanilla
about 3 Tablespoons milk or half & half
Instructions:
1. Heat oven to 375 degrees. Grease & flour a 10×15 jelly roll pan or line with parchment paper (for thicker bars use a 9×13 pan). Beat first four ingredients until creamy. Blend in bananas and vanilla for one minute.  Add dry ingredients and blend for one minute. Stir in nuts and spread in pan. Bake 20-25 minutes until golden brown. Cool slightly until warm but not hot and frost with Brown Butter Frosting (recipe below).
2. For the Browned Butter Frosting: heat butter in saucepan over medium heat past the melting point until it is boiling and a delicate brown. Remove from the heat and immediately add the remaining ingredients. This should be thicker than a glaze and thinner than a frosting. Using a spatula smooth over the top of the Monkey Squares immediately. The frosting will be easier to spread once it's on the warm bread.