Etouffée, New Orleans on my mind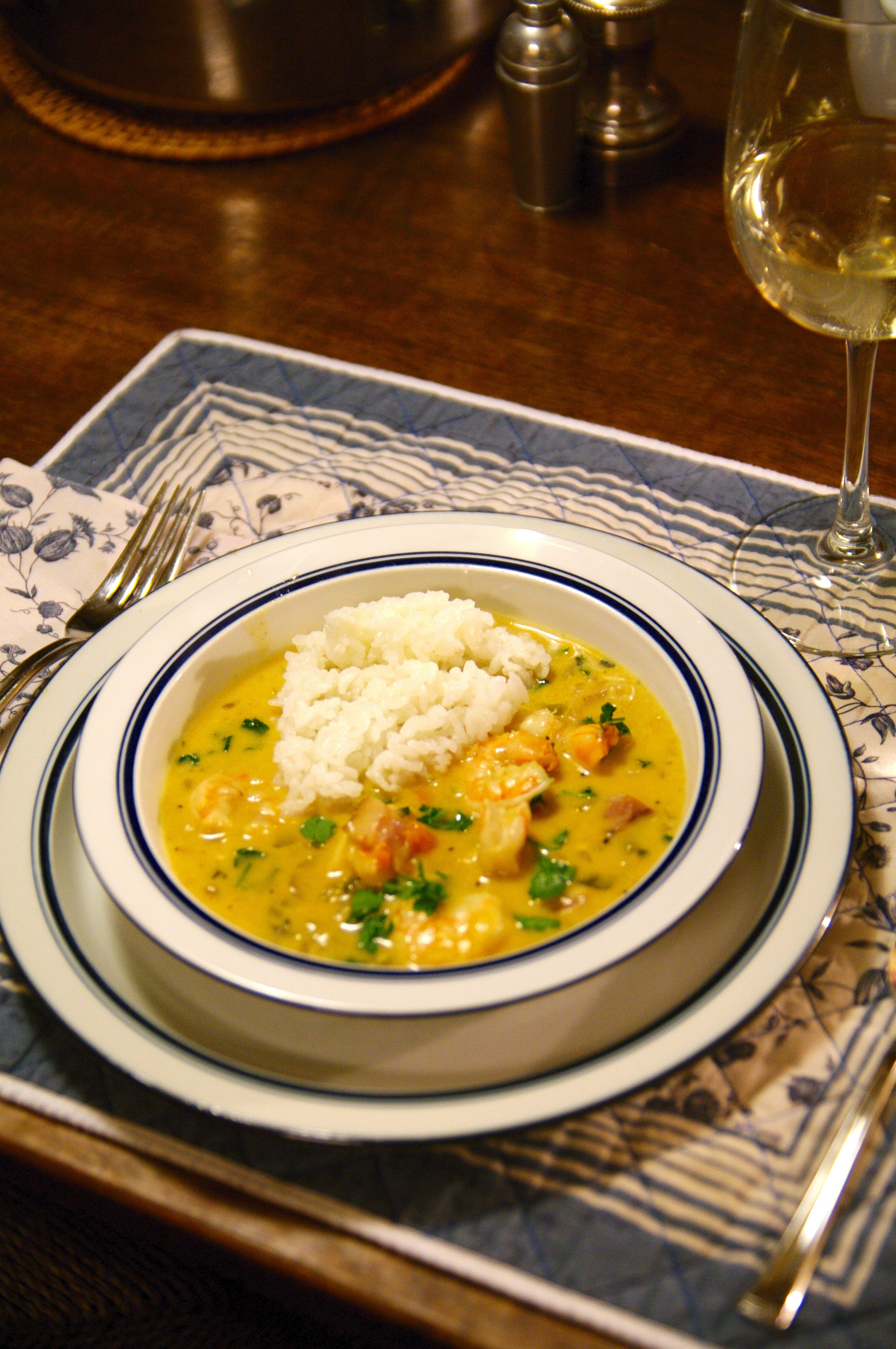 With Mardi Gras approaching, we decided to make étouffée last weekend. New Orleans must have been on our minds.
I wasn't so keen on the idea because I didn't get home from errands until 6 p.m. Saturday, and that's when the Intrepid One and No. 2 son proposed making the spicy Cajun stew. I was about to balk — let's just get on with a simple meal, I was about to say — when they showed me they had prepped everything, and all I had to do was put it together, following the recipe from Saveur's April 2013 issue. Things were looking better when I saw bowls of chopped scallions, onions, green pepper and celery. I looked around and saw a cutting board with finely chopped garlic, thyme and parsley. And the other ingredients were on the counter, ready to be called into service.
OK, I was on board, big-time. All I had to do was get the rice cooker going, make a green salad and put the étouffée together.
Étouffée comes from the French étouffer, to smother or to suffocate, according to the "Food Lover's Companion." It is a hearty stew of vegetables and seafood, often Louisiana crayfish, made with a roux as its base.
I'm glad I didn't settle for simple. This recipe is fabulous, company worthy and not that hard to make.
Crawfish (or in our case shrimp) étouffée
4 slices bacon, finely chopped
8 tbsp. unsalted butter
6 scallions, finely chopped
3 cloves garlic, finely chopped
2 stalks celery, finely chopped
1 yellow onion, finely chopped
1 large tomato, finely chopped
1 green bell pepper, minced
1 ½ tsp. finely chopped thyme
1 tsp. paprika
½ tsp. cayenne pepper
2 bay leaves
Kosher salt and freshly ground black pepper, to taste
¼ cup flour
2 ½ cups fish or chicken stock
2 lb. parcooked peeled crawfish tails
⅓ cup heavy cream
3 tbsp. Original Louisiana hot sauce, plus more for serving
2 tsp. Worcestershire sauce
⅓ cup finely chopped parsley, plus more for garnish
Cooked white rice
INSTRUCTIONS
Heat bacon in a 6-qt. saucepan over medium-high heat until rendered, 3 minutes. Add butter, scallions, garlic, celery, onions, tomatoes, and peppers; cook until soft, 7 minutes. Stir in thyme, paprika, cayenne, bay, salt, and pepper; cook 1 minute. Stir in flour; cook 2 minutes. Add stock and bring to a boil; reduce heat to medium and cook until reduced by one-third, 12 minutes. Add crawfish; cook until hot. Stir in cream, hot sauce, Worcestershire, and parsley; serve with rice and more hot sauce.
 — Saveur, April 2013