Petrale sole with caper sauce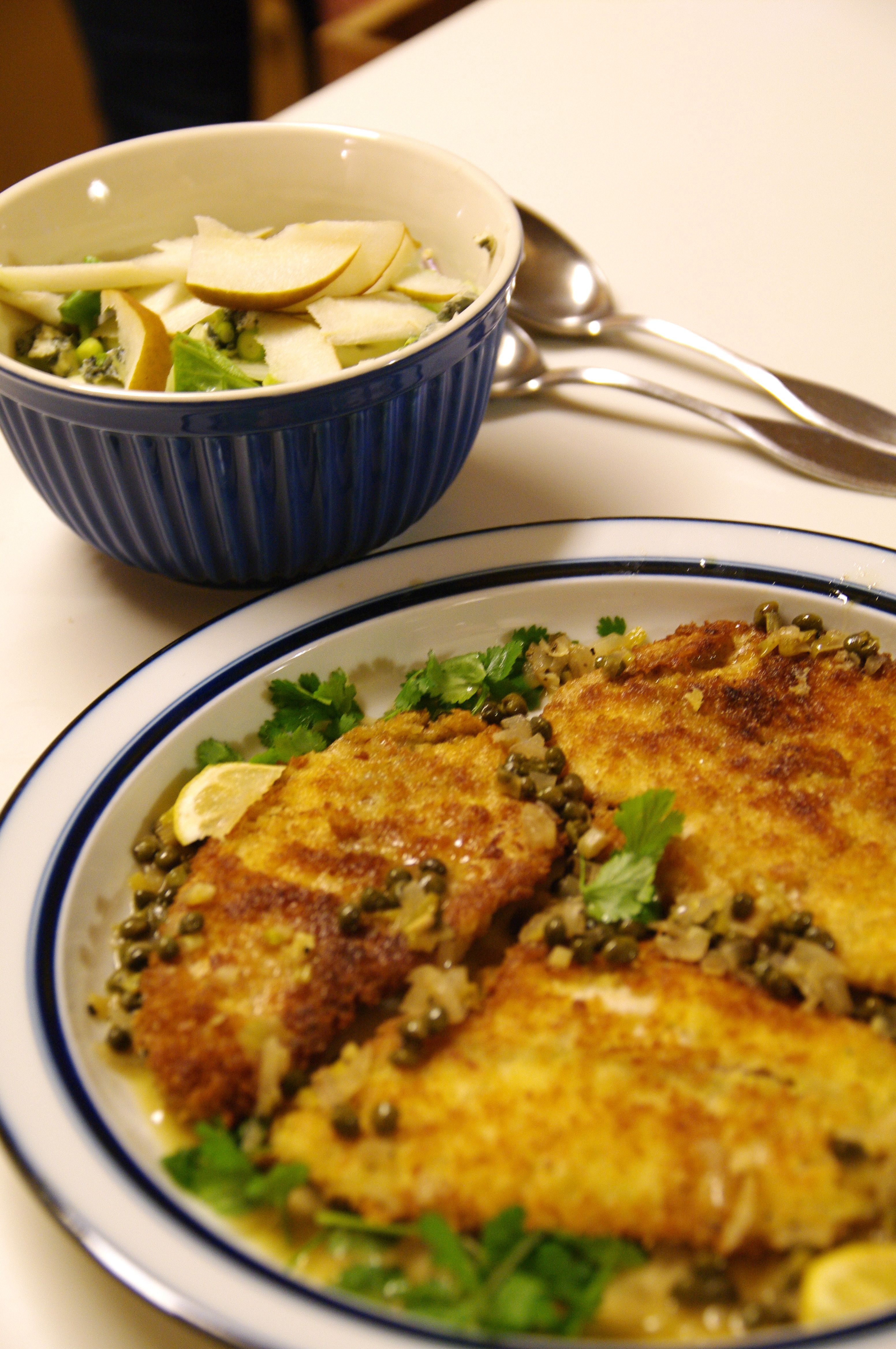 With all the salmon and halibut I have in the freezer, it had been an age since I shopped at Newman's, my favorite fish monger in Northwest Portland. But I was craving something different from the fish from the Great Alaska Fishing Trip (see blog posts of Aug. 18 and Sept. 21). And I needed to step back from beef, chicken and pork.
Petrale sole with capers and lemon sounded awfully good, and I was right. With no guests at the table, the Intrepid One and I fried the fish; made a sauce; and put together a salad with arugula, pears, filberts, red onion and bleu d'auvergne. It was a perfect meal for a day that was damp and chilling. Here's how you do it:
For the fish: Wash the fillets in salt water and then pat dry with paper towels. That's the IO's No. 1 rule when it comes to preparing fish. Next, set up three plates, as shown in the photo. The first is flour seasoned with salt, dried dill and pepper; the second is a beaten egg (I only had one jumbo egg last night so I stretched it a bit with a dash of whipping cream); and the third is filled with panko or Japanese bread crumbs. Roll the fish around on each plate.
Fry the fillets in a couple of tablespoons of olive oil with a dash of butter for flavor. Set them on a serving platter that you've decorated with slices of lemon and Italian parsley.
For the sauce: Sauté about 1/4 cup of onions in 3 tablespoons of melted butter. Add 1/2 cup of wine and reduce the mixture to about 4 tablespoons. Add 2 tablespoons of capers and then squeeze in lemon to taste. Reduce the mixture a little more and then pour around the fish. Season with salt and pepper as you see fit.
Newman's Fish Co. is at 735 NW 21st Ave., Portland.