Salmon with pineapple-chili sauce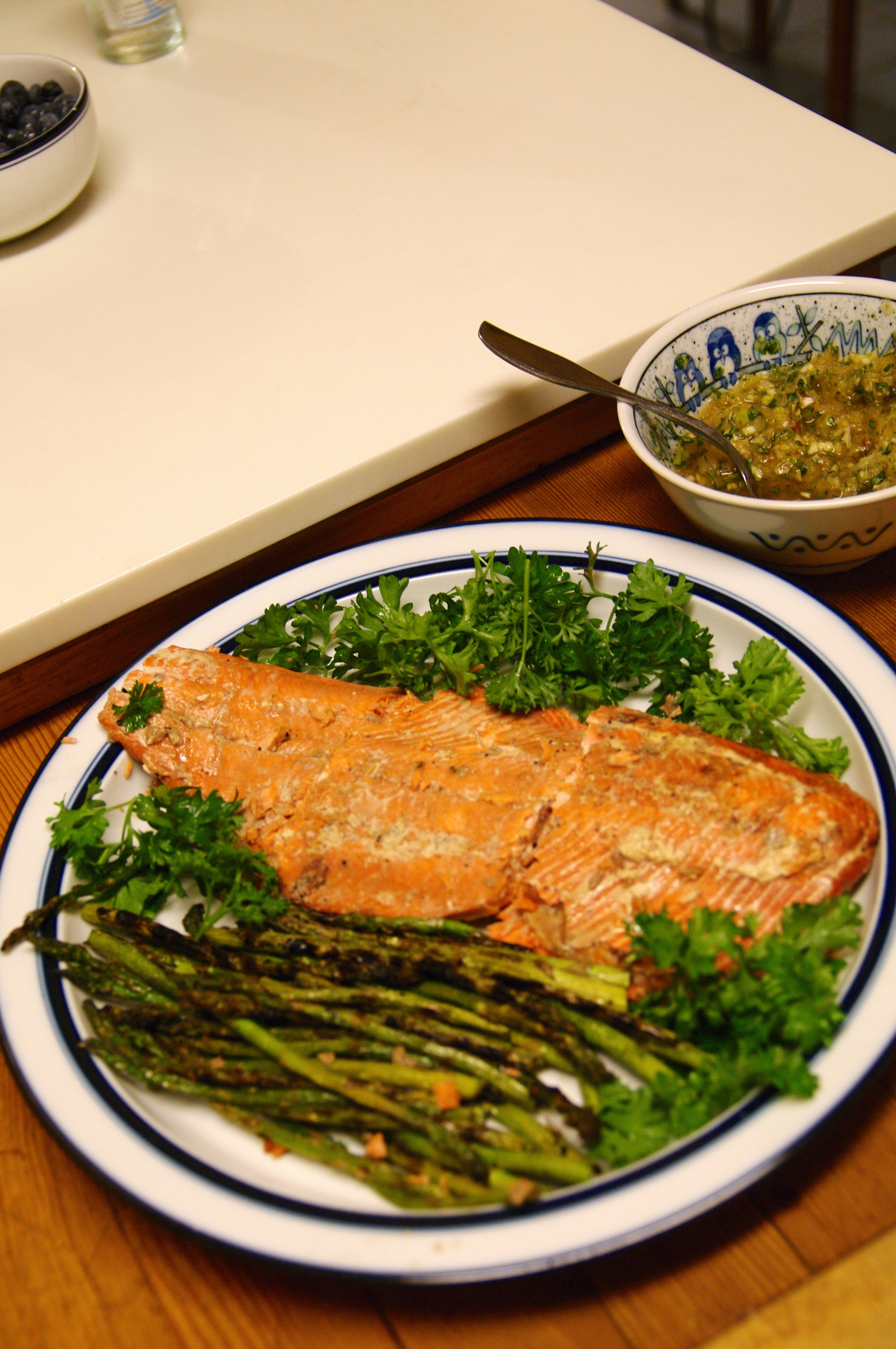 Salmon, salmon everywhere after the great Alaska fishing trip. With a group coming last night, it was an easy choice for dinner. Remember those dangling fish in previous blog posts? I'm working through the freezer.
Having a houseguest for a few days made me want to try something that would be different from the usual grilled dish, something that would make our family friend think about Northwest salmon in a new way. Marcus is an environmental engineer who has landed a job in Vancouver. He is from Los Gatos, Calif. Long ago, his grandmother gave me a gift of a lifetime: She taught me study skills when I was a freshman in high school.
Family connection aside,  I thought about Vietnamese food, and naturally Nancie McDermott's book "Quick and Easy Vietnamese" came to mind.
I chose her grilled tuna steaks with pineapple-chili sauce. We have had this salty-sweet-slightly-hot sauce on tuna as suggested. This time, I thought we would try it with the salmon.
Thanks, Nancie. Every bit of the fish and sauce were gone. We paired the dish with rice and grilled asparagus, letting the fish and sauce dominate.
Fish with pineapple-chili sauce
Marinate the fish:
2 tablespoons fish sauce
1 tablespoon soy sauce
1 tablespoon vegetable oil
1 teaspoon sugar
1/4 teaspoon black pepper
1-1/4 pounds tuna steaks or salmon fillets
The sauce:
1/4 cup fresh or canned pineapple chunks or drained crushed pineapple
3 tablespoons freshly squeezed lime juice (Note from Janet: Be sure you have enough limes to cover the gin and tonics during cocktail hour.)
2 tablespoons chopped green onion
2 tablespoons chopped fresh cilantro
2 tablespoons sugar
1 tablespoon anchovy paste, chopped anchovies or fish sauce (Janet speaking: I used the fish sauce this time.)
2 teaspoons minced garlic
1/2 teaspoon chili-garlic sauce or chopped fresh hot chilies
Nancie's steps
Marinate the fish. Combine the fish sauce, soy sauce, oil, sugar and pepper in a medium bowl and stir to dissolve the sugar. Place the fish steaks in the bowl, turn to coat them well, and let them marinate for 20 to 30 minutes, turning once. Cover and refrigerate for up to a day if you won't be cooking the fish right away.
Prepare the sauce. Combine the pineapple, lime juice, green onion, cilantro, sugar, anchove paste, garlic and chili-garlic sauce in a mini-food processor or blender, and blend until fairly smooth. Transfer to a small bowl and set aside until serving time.
Grill the fish about five minutes on each side. (Janet here: You can consult the Intrepid One's method in my sockeye post of Aug. 13.) Transfer to the serving dish and add the bowl of sauce alongside.
— Nancie McDermott