Hanoi-style street-food classic: Bun cha ha noi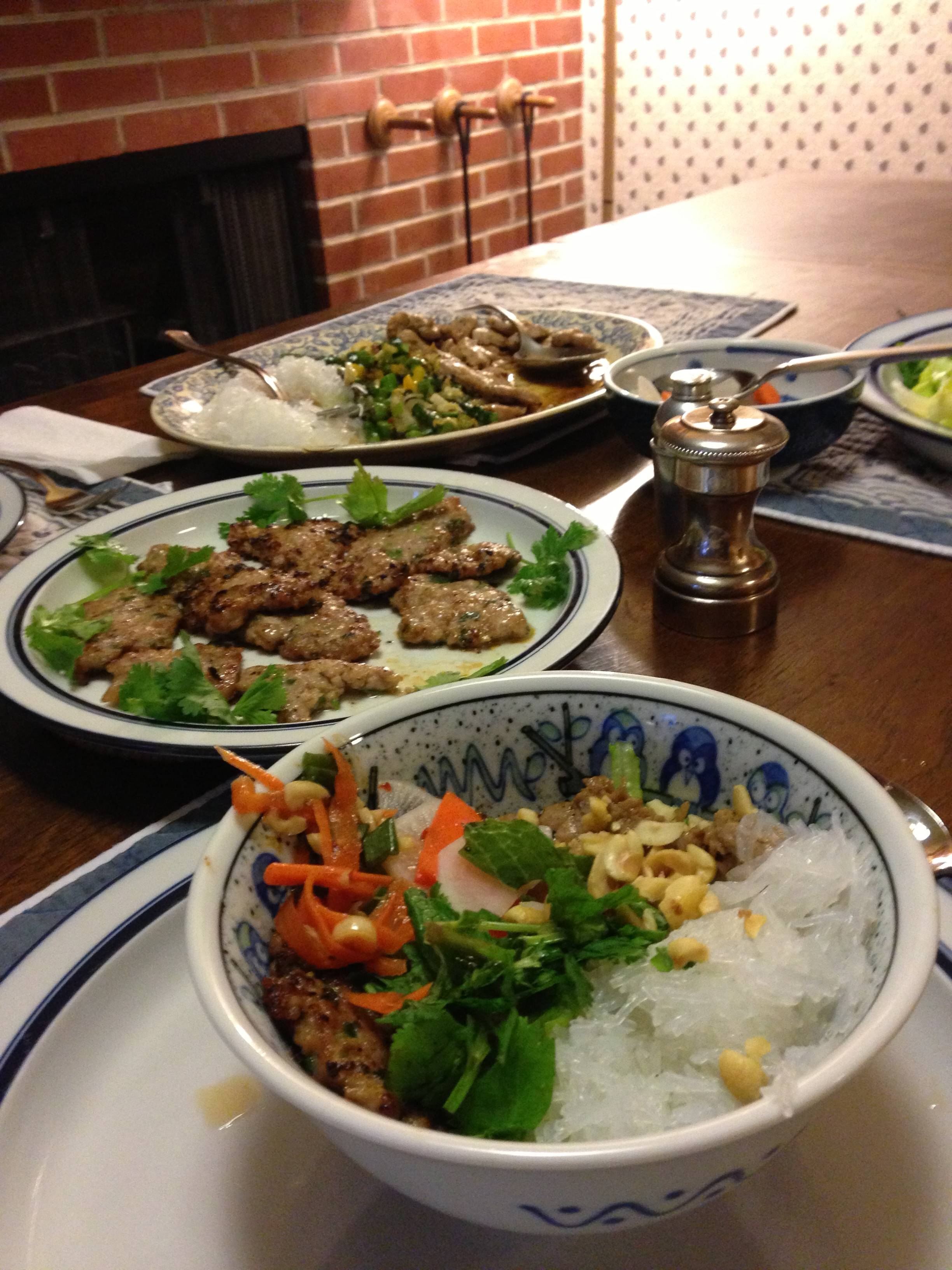 Another dinner and another chance to try a recipe in Nancie McDermott's "Quick and Easy Vietnamese" cookbook. This time "Grilled Pork Patties with Lettuce, Noodles, Peanuts, and Mint, Hanoi Style" grabbed my attention. The Vietnamese name is bun cha ha noi.
This northern Vietnamese dish is available from street vendors and at open-air shops. McDermott says customers search it out when the first aromas of the day fill the air. My kitchen can't deliver that atmosphere, but as I put the bun cha together, I caught whiffs of a great dinner to come.
Now McDermott would be thrilled if you tried one of her recipes. She said in an email when I asked about printing a recipe on "Small Plates" that she loves "cooking, researching, writing, working out recipes … but this, knowing that what I send out there in a bottle onto the ocean so to speak, can lead to someone getting in the kitchen and giving something a whirl and being happy with what transpires" is solid gold.
Even though there are lots of steps in McDermott's recipe, don't be put off. The bun cha goes together easily and the result is golden. Thanks, Nancie.
Grilled Pork Patties with Lettuce, Noodles, Peanuts, and Mint, Hanoi Style from NANCIE MCDERMOTT
For the grilled pork and pork patties
2 T fish sauce
2 T Caramel Sauce or brown sugar (Note from Janet: I used a Brown Sugar Sauce. See below)
2  tsp vegetable oil
1 tsp salt
1 tsp black pepper
1/2 pound fresh bacon or any boneless pork sliced 1/4-inch thick and cut into 3-inch pieces (Note from Janet: I used slices of pork tenderloin)
1/2 pound ground pork
1/4 cup finely chopped green onion
Accompaniments
1/4 pound thin dried rice noodles, soaked in warm water to cover for 20 minutes or more
Double recipe Everyday Dipping Sauce (about 1 cup)
Everyday Pickled Carrots
3 cups shredded lettuce leaves
1/2 cup fresh mint leaves
1/2 cup fresh cilantro leaves
1/2 cup chopped roasted and salted peanuts
To prepare the meet, combine the fish sauce, Caramel Sauce, oil, salt, and pepper in a small bowl of cup, and stir to mix everything well. Put the sliced pork in one medium bowl, and the ground pork in another, and divide the marinade between the two. Turn the sliced pork to coat it evenly and set aside. Add the green onion to the ground pork and its marinade and mix well. Set both bowls aside for 20 to 30 minutes while you prepare the accompaniments, or cover and refrigerate for up to 1 day.
To prepare the accompaniments, bring a medium saucepan of water to a rolling boil over high heat. Drain the noodles and then drop them into the boiling water. Remove the pan from the heat at once and set aside for 10 minutes. Drain, rinse with cool water, drain well again, and set aside. Prepare all te remaining accompaniments and arrange them on serving platters.
When you are ready to serve bun cha ha noi, build a hot charcoal fire or preheat a gas grill. Shape the ground pork into small patties, using about 2 tablespoons for each one. Set aside on a platter, and drain the marinated sliced pork and place alongside them. Cook the sliced pork and patties on the hot grill, turning once or twice until pleasantly browned and cooked through. (You could also cook the pork in 2 tablespoons of vegetable oil in a very hot skillet; or roast in a hot oven until the meat is nicely browned and cooked through.)
Transfer the meet to a serving platter and serve hot or warm. Give each guest a small bowl of Everyday Dipping Sauce and a bowl in which to mix up the bun cha and its accompaniments.
Everyday Dipping Sauce from NANCIE MCDERMOTT
1 T chopped garlic
2 T sugar
1/2 tsp chili-garlic sauce or finely chopped fresh hot red chilies, or 1 tsp dried red chili flakes
3 T fish sauce
3 T water
2 T freshly squeezed lime juice
Combine the garlic, sugar, and chili-garlic sauce in the bowl of a mortar and mash to a paste. (Or combine them on your cutting board and mash to a coarse paste with a fork and the back of a spoon.) Scrape the paste into a small bowl and stir in the fish sauce, water, and lime juice. Stir well to dissolve the sugar. Transfer to small serving bowls for dipping. Or transfer to a jar, cover, and refrigerate for up to 1 week.
Brown Sugar Sauce from NANCIE MCDERMOTT
This is a simple substitute for Caramel Sauce: Combine 1/4 cup of brown sugar and 1/4 cup of water in a medium saucepan. Bring to a boil over medium-high heat, adjust the heat to maintain a lively simmer, and cook until you have a dark, rich syrup, 5 to 10 minutes. Cook and store in a tightly sealed jar for up to 1 month.
Everyday Pickled Carrots from NANCIE MCDERMOTT
1-1/2 cups water
3/4 cup white vinegar
3/4 cup sugar
1 tsp salt
3 cups shredded carrots or 1-1/2 cups shredded carrots and 1-1/2 cups shredded daikon
Combine the water, vinegar, sugar, and salt in a small saucepan and place it over medium heat. Cook for 3 to 4 minutes, swirling once or twice, until the sugar and salt dissolve and the sauce is clear and smooth. Transfer to a bowl and cool to room temperature. (Pour the brine into a cake pan, pie pan, or a metal bowl and place it in the freezer briefly if you're in a hurry.)
Add the shredded carrots to the cooled brine, toss well, and set aside for 20 to 30 minutes. Serve at room temperature, or transfer to a jar, cover and refrigerate until serving time. Scoop out the carrots from the brine as you need them, and store the remainder in the refrigerator for up to 5 days.